Discovering the best food in Istanbul part 2. Street food!
Many times in traveling, the best way to understand the heart of a culture is through the customs and flavors surrounding their food. While nowadays finding great restaurants has become as easy as checking your phone, the experience can sometimes be quite similar city to city or even country to country. Sometimes it is the tiniest hole in the wall venues and food stalls, and carts that give the truest experience of a city's food culture. These are the fun bustling places teaming with locals that add flavor not just to the food but to the experience. Istanbul street food is a must because it brings you into the liveliness of the party, experiencing both cuisine and a bit of Turkish hospitality.
Although it is almost impossible to choose amongst the world of fantastic foods to try when you are out and about in the streets of Istanbul, here's a list of ten that should really not to be missed!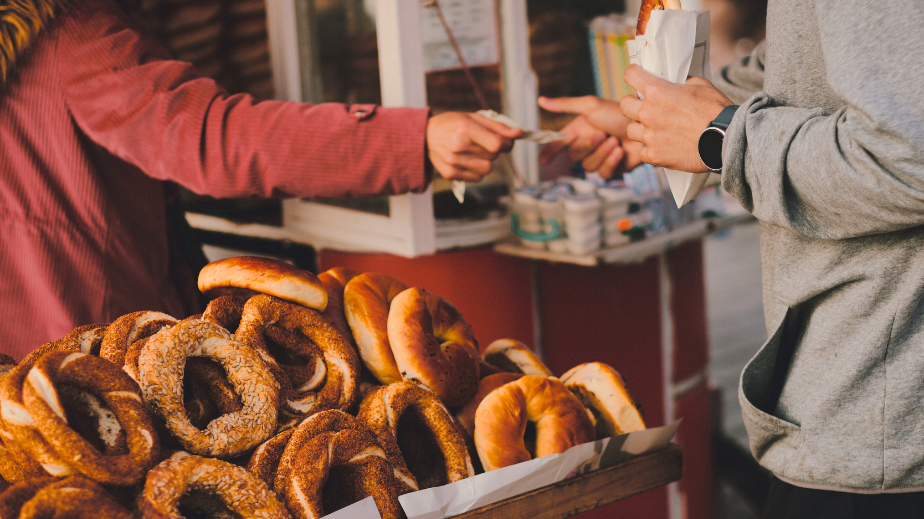 1 Simit
Of all the great street food you find in Istanbul, Simit is king. It is found just about anywhere and is the perfect snack to be had at almost any time of day. Traditionally Simit is served alongside a big Turkish breakfast accompanied by an hourglass cup of good Turkish tea. Jokingly called by some a Turkish Bagel, Simit is quite different. The outside has a lovely crunch to it revealing its soft inner bread. It also has wonderful flavor coming from the molasses wash and toasted sesame seeds its dredged in prior to baking. Don't be surprised if you spot a traditional vendor who still carries his Simit stacked high on a tray carried on his head!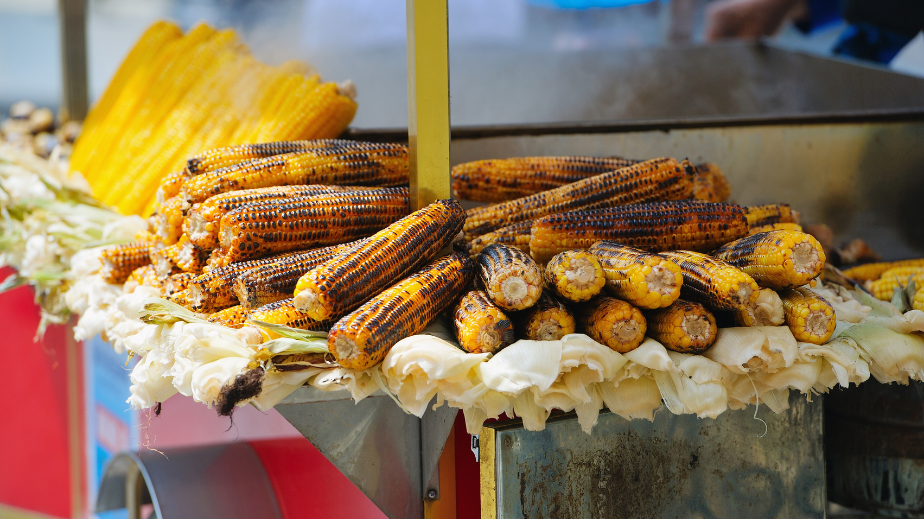 2 Misir (Sweet Corn)
Found in most busy parts of the city are rolling carts with sweet corn and wood burning grills. Boiled and grilled and sprinkled with salt is the most common way to enjoy this quick and healthy snack, but if you prefer can try an array of other toppings for you corn. You'll find everything from the simple ketchup and mayo to hot pepper flakes and more!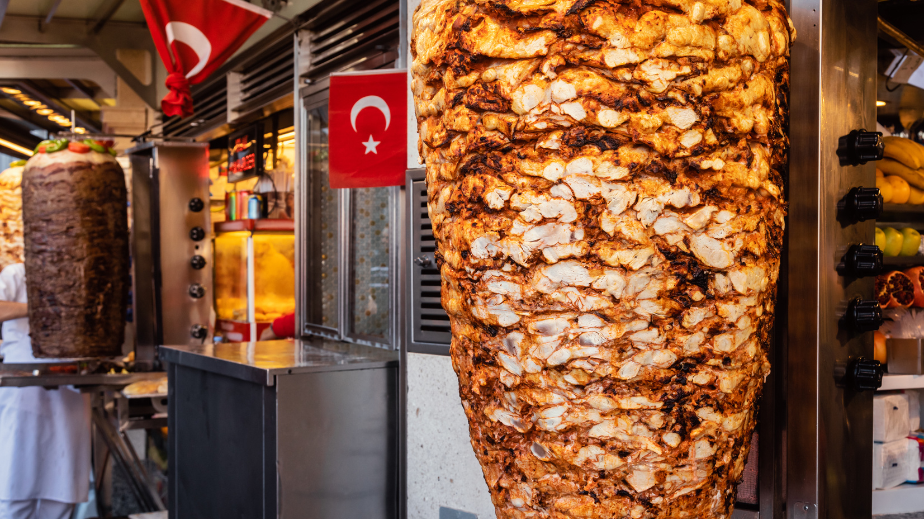 3 Doner Kebab
Along with pizza by the slice, and a hot dog on a bun, Doner Kebab is probably one of the most famous street food in the world. This succulent dish has a long history going back to the Ottoman Empire, but probably (like with pizza and hot dogs too) garnered even more fame as an import, brought around the world by Turkish immigrants. So what exactly is this strange rotating meat?
Kebab, which is typically lamb, but also chicken and veal, begins with marinated slices stacked up and up until it forms a large cone like shape. It is then cooked on a vertical rotisserie. As the meat rotates and cooks, thin slices are cut and the kebab is served a variety of ways. There's the all favorite sandwich accompanied by lettuce, tomato, onions and a variety of sauces. It can be served over rice, or accompanied by fried potatoes, or with flatbread or even in a wrap. There are as many choices of how you eat your kebab as there are vendors who sell kebab. Shop around and find your own favorite!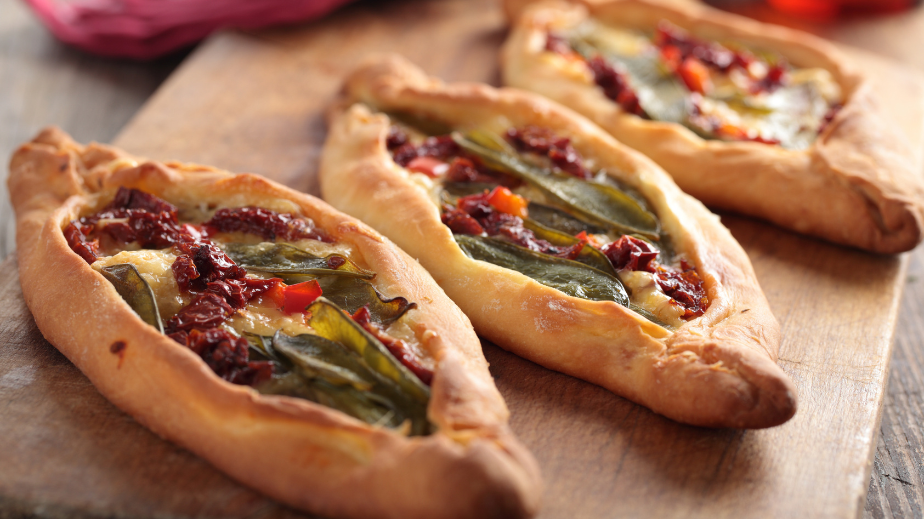 4 Pide
Cooked in a wood burning oven, Pide is a delicious stuffed bread. You can find it in a variety of stuffings from lamb, cheese, spinach, and roasted peppers to name just a few of many options. If you are a bread and pizza lover you will love Pide. Get a few types and share. They make the perfect snack or order a few and make it a meal!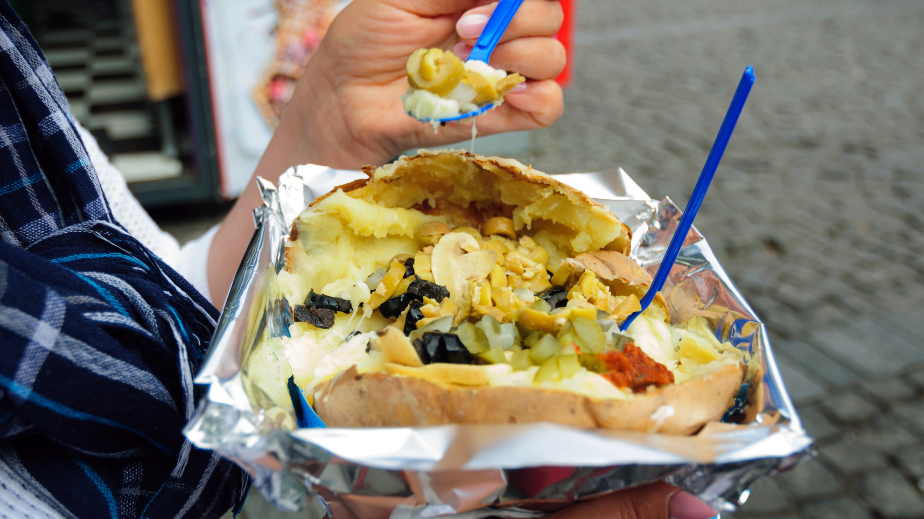 5 Kumpir (Stuffed Potatoes)
If you are looking for a cheap and filling snack, look no further than Kumpir. Istanbul's king of baked potatoes. Loved by the locals and the tourists alike. These are not just your ordinary baked stuffed potato, these big boys (and they are pretty enormous) are only getting started after a good dab of butter and cheese mixed together to formed a rich and creamy base. That's when the toppings come in. No being shy here, the toppings are literally endless and liberally applied. You may prefer pickled vegetables, olives, corn, tomatoes, tuna, mushrooms, maybe some red cabbage, why not? Don't worry about the number of toppings you're adding because as you can see from the regulars around you they're certainly not! Then find a nice place to sit, hopefully with a view of something beautiful and dig in!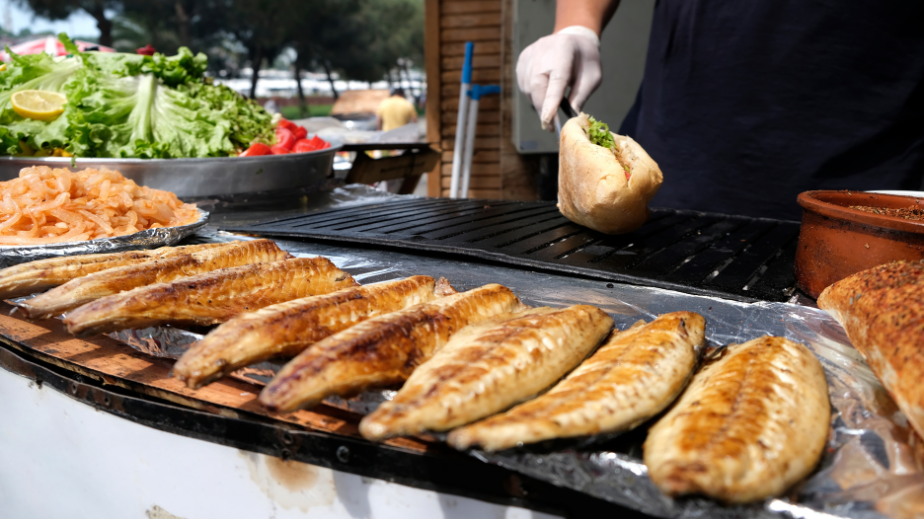 6 Balik-Ekmek (Fish Sandwich)
If out visiting the famous Spice Bazaar, be sure to explore waterfront zone of Eminonu. Here by the Galata Bridge, and its many fishing boats are vendors of one of Istanbul's most wonderful street sandwiches. Balik-Ekmek. It won't be long before you smell the aroma of fresh grilled fish coming from the stands lining the streets near the Golden Horn. This busy zones filled with locals and tourists alike, and many passing on their way to ferries coming in and going out to the Bosphorus. Some stopping to grab a bite in the form of a fish sandwich. Fresh grilled, seasoned mackerel (or similar fish) is served with shredded lettuce, onions, and a fresh squeeze of lemon served on Turkish bread or sometimes in a wrap. It is as delicious as it is simple!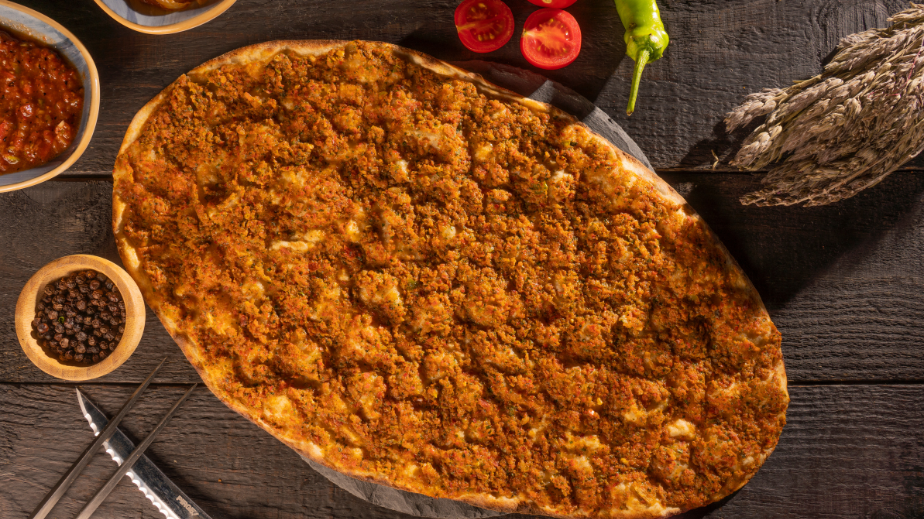 7 Lahmacun (Turkish Pizza)
Lahmacun, translates to dough with meat. It is a popular street food found easily in shops all over the city. It may be nicknamed Turkish Pizza, but it is quite different. It is more of a crispy flat bread baked in a wood burning oven after being topped with a mix of ground lamb, warm spices, peppers, tomatoes, garlic and onions. Unlike pizza which is cut into slices to eat, lahmacun is served with some shredded lettuce, lemon to squeeze over the top and then rolled and eaten by hand. It is crunchy and flavorful and the squeeze of lemon gives it a nice kick.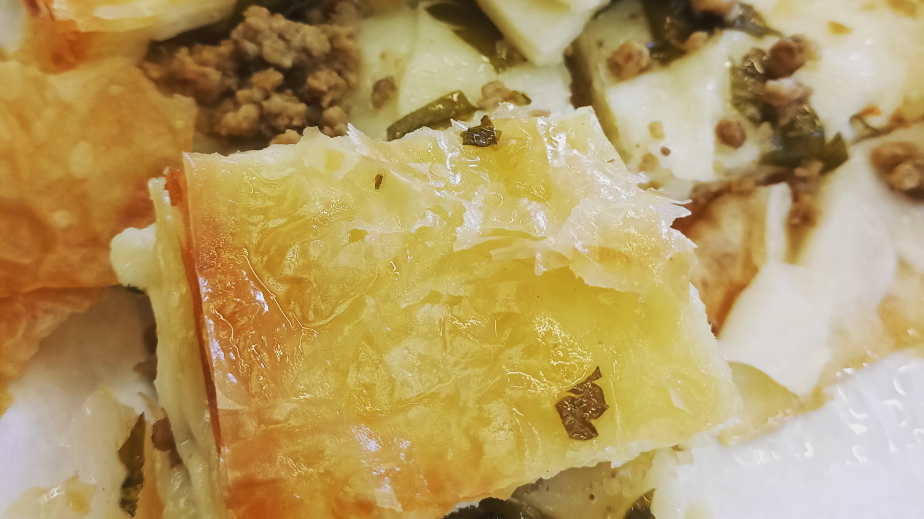 8 Börek (filled pastry dough)
This wonderful savory stuffed pastry is good during breakfast or as an anytime snack during the day and comes in a wide variety of fillings. Made with flaky Yufka which is a similar to a thin phyllo dough. You'll find it sold in squares, rolled, rolled then swirled and brushed with oil and a bit of milk. It can be easily made in a pan so the dough becomes crunchy on the outside and takes on a wonderful flavor from butter. The filling ranges from mixed cheeses, spinach and cheese, meat and cheese and a wide variety others. Best suggestion? Try a taste of them all!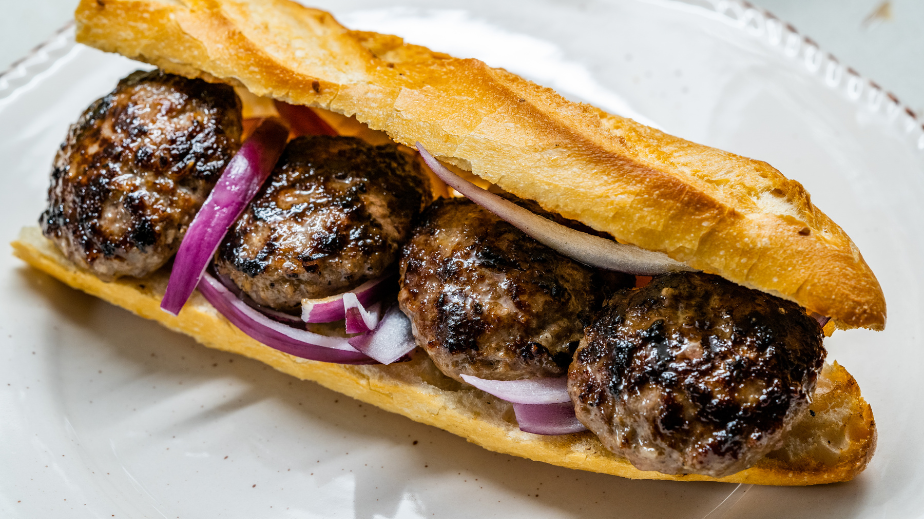 9 Köfte Ekmek (Grilled meatball sandwich)
Now what can fill an appetite better that a meatball sandwich! Good bread, stuffed well with wonderful fried Turkish meatballs on a bed of shredded lettuce, parsley, sliced onions and sometimes peppers. The recipe for these little beauties varies greatly but typically are spiced with cumin, garlic, onion and minced beef, but even the meat can vary. You can find köfte served on a plate with veg and with potatoes but on the street a nice sandwich is perfect for food on the go.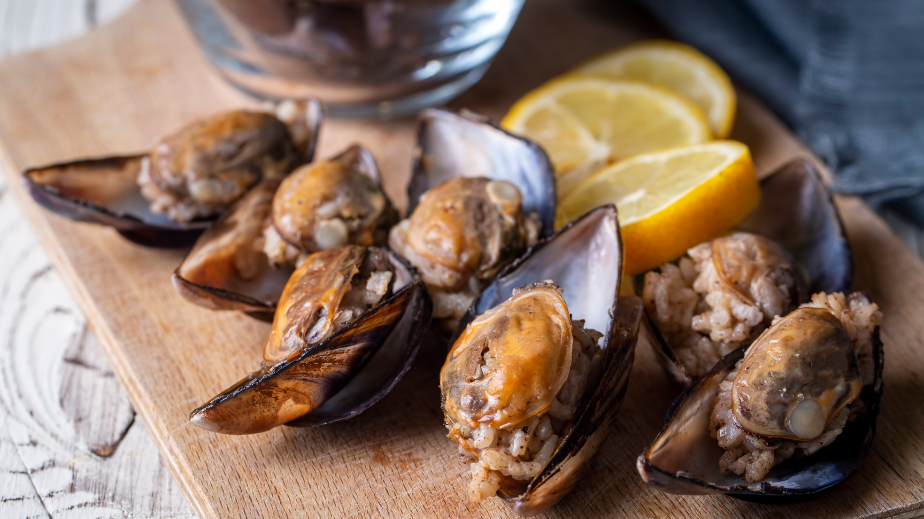 10 Midye Dolma (stuffed mussels)
It is hard to imagine a city on the edge of the Bosphorus, Black and Marmara Sea not having great seafood or great street seafood. Istanbul is full of fish options! Just like the Balik-Ekmek (fish sandwiches), stuffed mussels are an all time favorite among the natives of the city. Found in small shops that specialize in mussels and best yet colorful carts around the water's edge. Midye Dolma is everywhere!
The mussels are first cleaned and cooked, then returned to the shell and stuffed with a rice mixture that includes spices, herbs, currents, and pine nuts. It is cooked again and served with fresh lemon wedges. By watching the locals you'll soon learn to use the top shell as a spoon to scoop out the delicious mussel and stuffing.
From Sultanahmet, Taksim Square, Eminonu to Istaklal Street, you will be sure to find your fill of street vendors and places to try all the street food listed above and so much more. If you have time, don't forget to get to the Asian side of the city and try the food there too. The flavors of Turkish cuisine are enticing so bring your appetite and get ready to enjoy.