Wandering the bewildering labyrinth of Athens is sure to charm even the most jaded traveler. From the many ancient ruins to the grandeur of a modern capital, one is guaranteed to find fresh foods in Athens, at every turn. However, though there may be a guide map for the most famous and beautiful sites, navigating the equally complex and impressive culinary scene can bring fresh-- and after a long day on your feet, likely unwanted-- challenges.
Athens is home to some of the world's most famous dishes, from the globally famous street food that is the gyros, to the honey-sweet delight that is the baklava. With such a daunting array of delicious options, it is helpful to focus on a few of the highlights.
Here is a by no means exhaustive list of 7 of our favorite foods in Athens, the City of the Violet Crown.
1. Gyros
As mentioned, the gyros (yes, the singular has an "s" at the end) is one of the most famous foods in Athens. Consisting of chicken or lamb in a fresh pita and served with sliced tomatoes, onions, cucumbers, and topped with tzatziki, the gyros is a great on-the-go sandwich or burrito-like dish.
Like much of modern Greece, the gyros is an amalgamation of different cultural influences spun out with a true Athenian flavor. In this case, the gyros comes from the Doner Kebab invented by the Ottoman Turks. The difference between the two is mostly around what type of meat is being used-- the Doner Kebab uses lamb and beef, while the gyros is lamb or chicken.
The preparation of the meat plays an even larger factor. The kebab meat is shaved off for the sandwich. The gyros uses thin slices of the meat to give it a fuller, more flavorful texture.
The gyros is a near-ubiquitous item on street corners around the city, so make sure to grab one in between tours of the Parthenon and the historic center of Athens.
2.Kolokythokeftedes
One of the more popular local foods that has yet to gain the international notoriety of the gyros is a fried dish known as Kolokythokeftedes (yes, it is a… long word).
These are lightly fried fritters made primarily from puréed or grated zucchinis. Mint, dill and a variety of other spices are added to provide complexity and freshness, before it is all fried in oil. In addition, many contain fresh feta cheese, providing a rich, creamy interior.
Like most Greek dishes, the ideal "sauce" for kolokythokeftedes is tzatziki. A good vegetarian (or vegan, if made without feta) alternative to the gyros, this is one of the most popular starter or mezze dishes in Athens.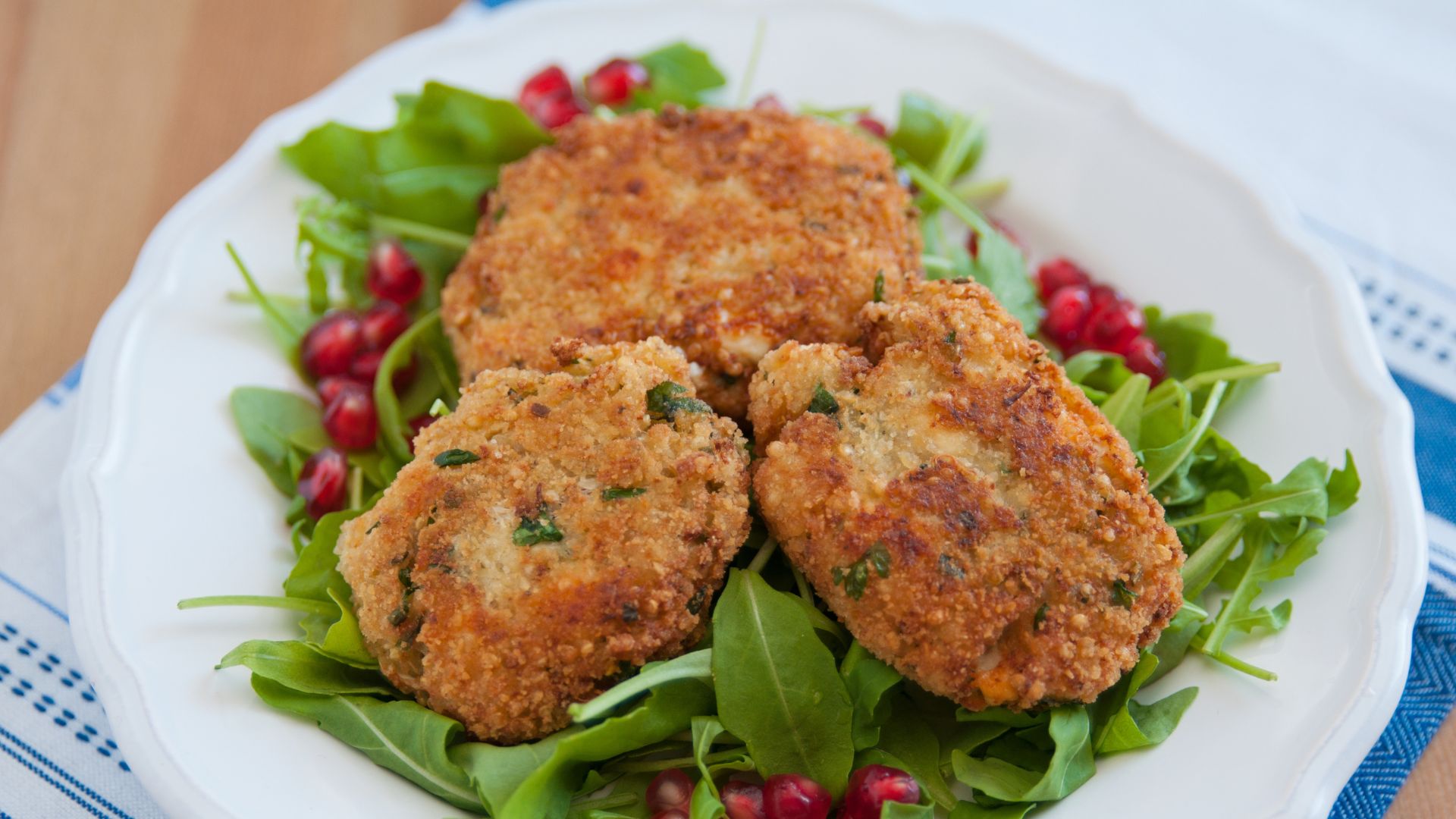 3. Dolmades
Speaking of great Athenian vegetarian dishes, the bright and fresh dolmades provide a great counterpoint to the deep-fried kolokythokeftedes. There are countless variations on this appetizer, but in general dolmades are made with cabbage or brined grape leaves stuffed with rice, herbs, and seasoning. Many recipes will add lemon juice, dill, olive oil, or a number of other ingredients to provide a deceptively complex food.
Though frequently vegetarian, some of them also include minced beef or pork, adding a savoriness to them as well.
Though these are some ways they can be prepared, there is a lot of room for creativity, and every Greek grandmother will have her own variation, likely handed down from her own grandmother.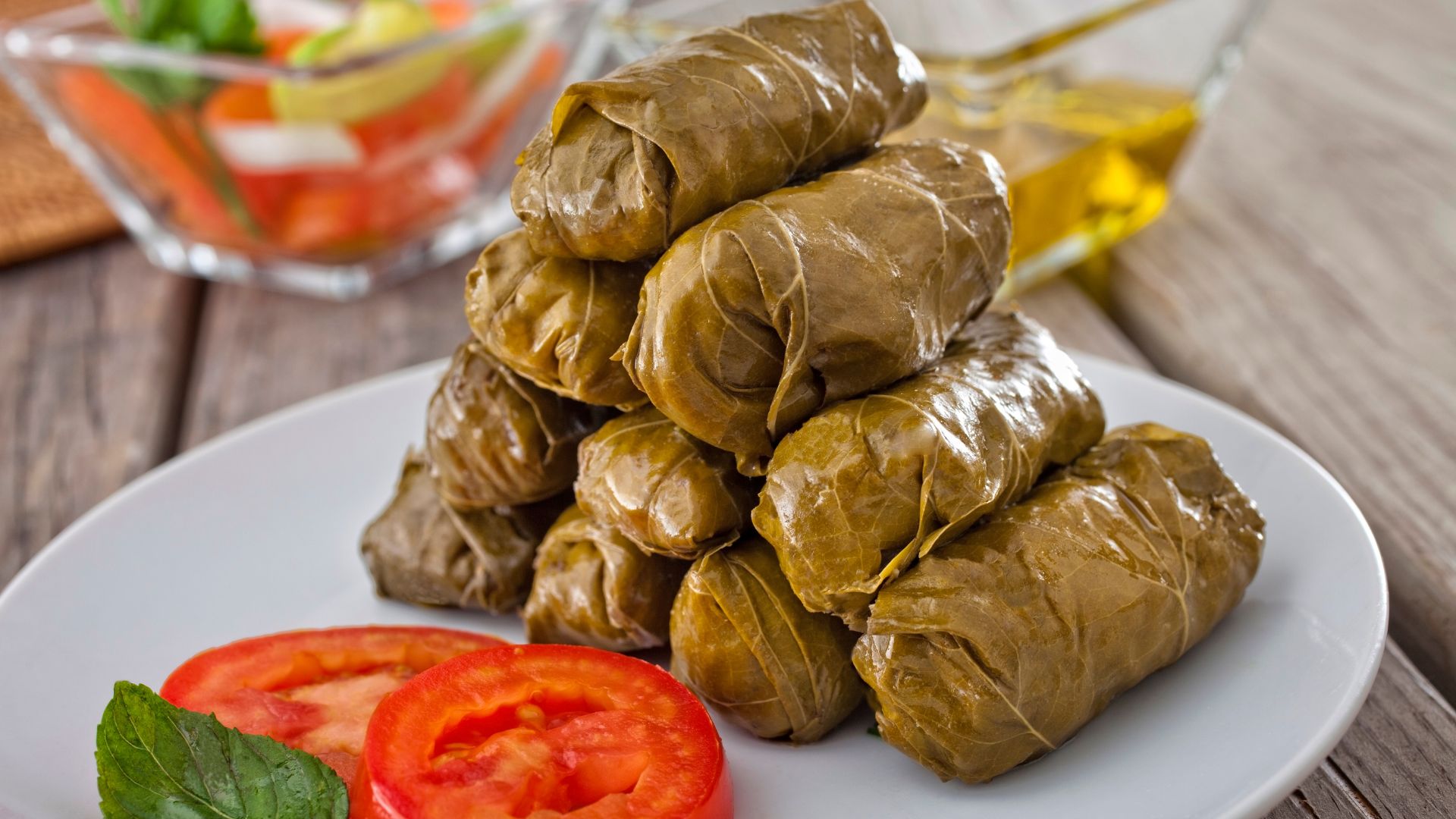 4.Souvlaki
Another Greek dish known around the world is the remarkably versatile souvlaki. Similar in some ways to the gyros, the souvlaki is one of the oldest dishes in Greece, with archaeological evidence suggesting meat (typically pork) has been cooked in this manner since 2,000 BCE.
Souvlaki itself is very simple and consists of meat being charcoal grilled on skewers, and then served anywhere from in a pita (like its cousin, the gyros) with tomatoes, onions, lemon, and sauces, to straight off the skewer in a bed of rice and accompanied by condiments and sides, like french fries.
Though simple, its enduring presence in Greek cuisine is a testament to the rich and accessible flavor.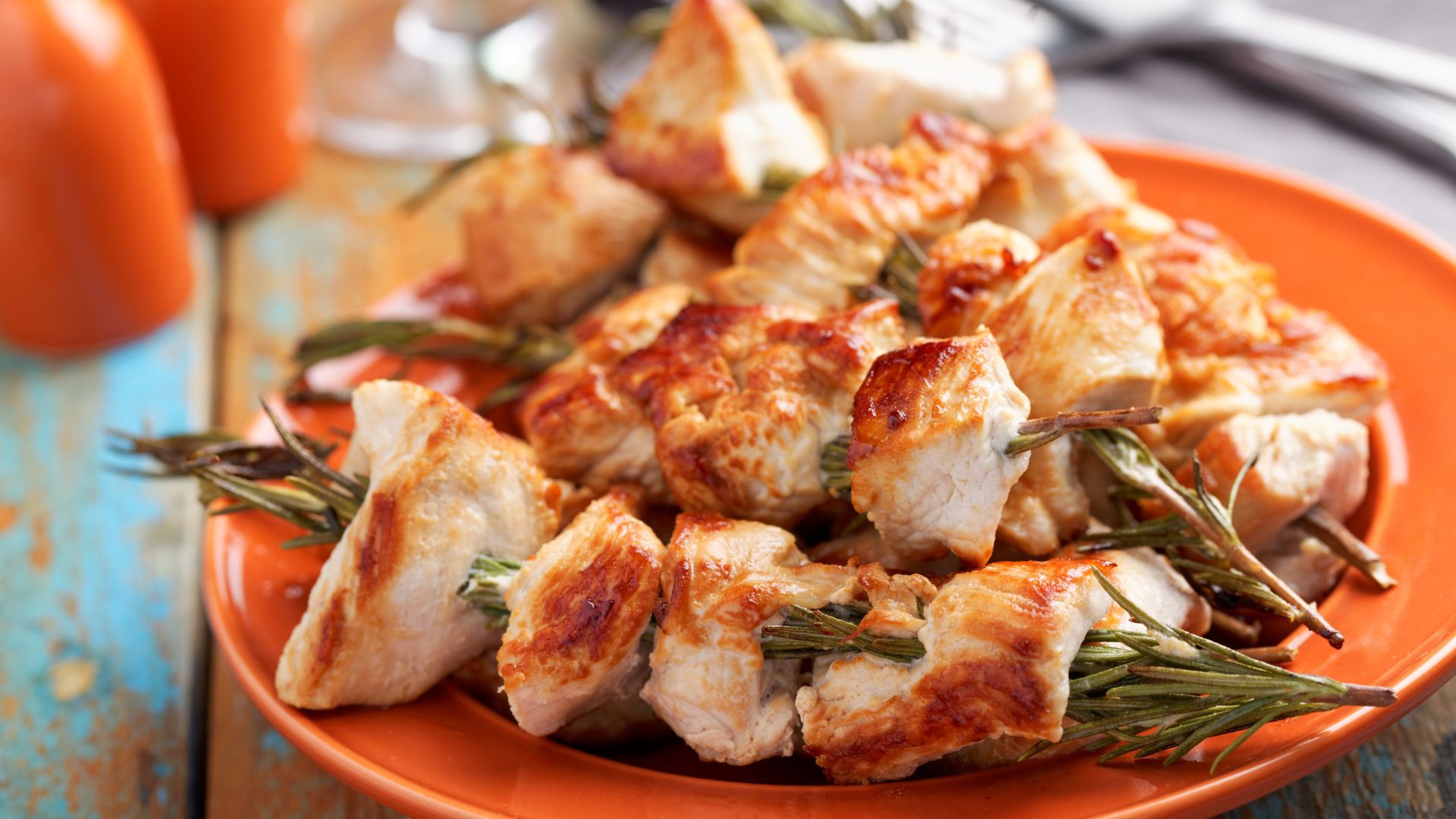 5. Moussaka
At first glance, a moussaka can appear like Greece's response to lasagna.
A deeper look though reveals a delicious and complex dish with a lot of variety.
Moussaka typically consists of layers of minced lamb, sliced eggplant sautéed in olive oil, and tomato pureed with garlic, onions, cinnamon, allspice and black pepper. Other regions prepare it with anything from potatoes or cabbage substituting the eggplant, to a custard top layer popular in the Balkans.
Order the traditional Greek one and you will find it also topped with cheese and delicious béchamel sauce.
6. Spanakopita
Spanakopita is a filo pastry pie filled with chopped spinach, feta cheese, onions or scallions, egg, and seasoning.
Hearty and filled with vitamins, spanakopita can be found throughout the city, from the terraces of restaurants overlooking the Adriatic to busy modern patisseries, where you will rub elbows with politicians, businessmen, and grandmas alike.
Ariston near Syntagma Square is a popular local spot sure to impress any critic.
7. Baklava
Finally we've made it to the highlight of any meal-- dessert! The baklava is easily one of the most famous desserts from the Mediterranean world.
Though the exact origins are not certain, some historians consider the baklava a derivative of a similar dessert made as far back as the 8th century BCE by the Assyrians. Its modern form likely took shape during the Ottoman Empire in the 16th century.
Another filo pastry dish like the spanakopita, the baklava is made of honey and chopped nuts-- usually walnuts or pistachios, though hazelnuts are frequently used as well-- and served cold or at room temperature.
For a classic and locally favorite spot, go to Varsos (5 Kassaveti 5, Kifissia). Varsos has been serving baklava since 1892, giving it over a century to perfect its delicate recipe.