Istanbul- The Spice Market: All you need to Know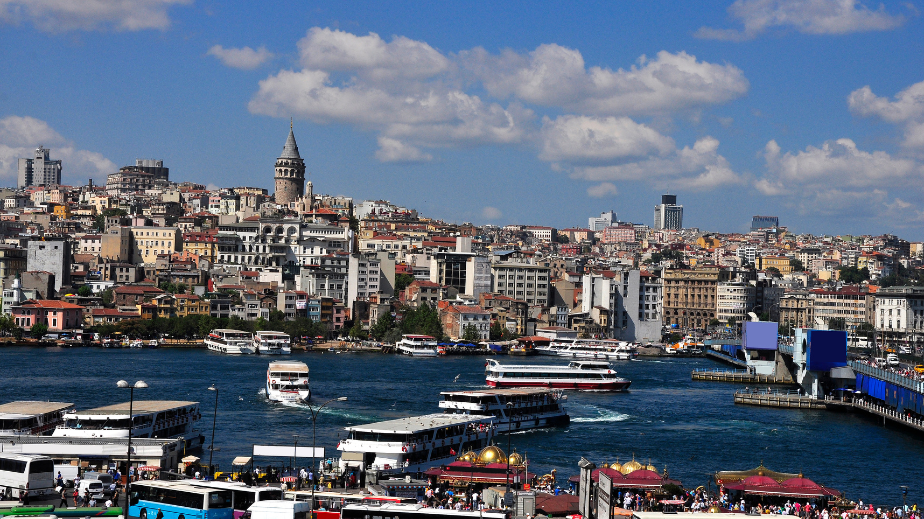 The bustling harbor-side district of Eminönü, sits on Istanbul's famed Golden Horn, in the old part of the city. Here ferries load and unload thousands of passengers a day on their way to multiple destinations on the Bosphorus Sea. Others arrive by car or even by foot by walking the Galata Bridge, which connects Eminönü, with the Beyoğlu district across the Golden Horn. They come for the lively energy of the district, or sometimes just to watch the fishermen along the bridge. Others come to try the famous grilled mackerel sandwiches (balik ekmek) and the many wonderful treats from local street vendors and restaurants. But most visitors come for the shopping!
It's in this colorful neighborhood that will you find the Mısır Çarşısı, also know as the Spice Market. Mısır Çarşısı, means Egyptian Market, as Egypt was the hub of incoming exotic spices from far off places like India, and South-East Asia, going back as far as the time of Alexander the Great. The market was built in the 1660's, designed by the court architect of Sultan Mehmet the 4th, Mustafa Aga. It was part of the Yeni Mosque complex (the "New Mosque" complex). The market helped create income for the maintenance of the mosque, other included structures and its charities. The design is an interesting L shape, with beautiful vaulted ceilings. From its very beginnings it became the center of the spice trade for Ottoman Istanbul.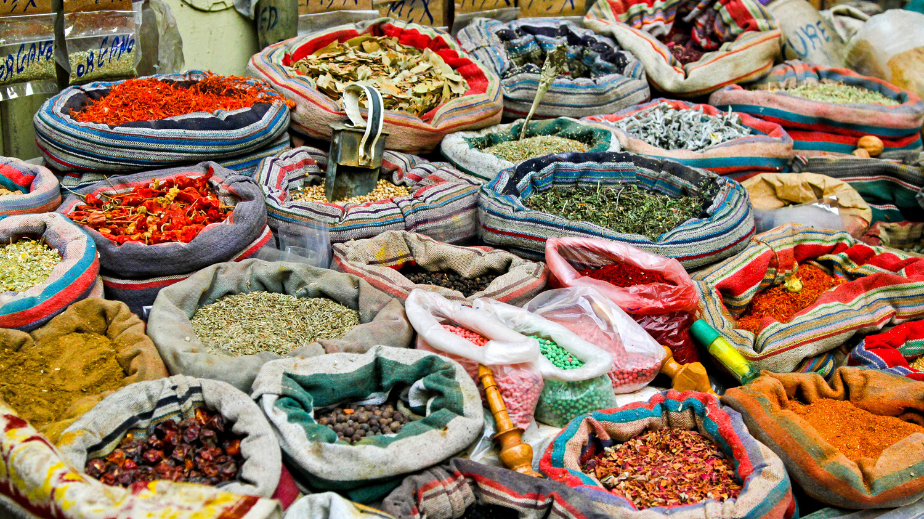 What to find in the market.
If you love to cook or if you just love to eat, this market is the place to visit. There are approximately 85 shops! Many continue the tradition of exotic spices. The colors and the perfumes surround you as you pass by. Friendly vendors are ready to explain spices you've never heard of or seen before. How many types of spices? The numbers are seemingly endless. From cinnamon, cardamon, cloves and turmeric, to curries, spice mixes for fish, meats, vegetables and so many more.
Loose teas also fill the aisles. Their flowers, colors and scents entice you to enter. Rose, jasmine, apple, white teas, green teas, relaxation teas, and love teas! Don't be surprised when you are offered a traditional cup of Turkish Tea while you look around since Turkish hospitality abounds in the Market! The selection is vast, and there are teas for all tastes and also for natural remedies. Floral, herbal and fruit teas all ready to be packaged and brought home.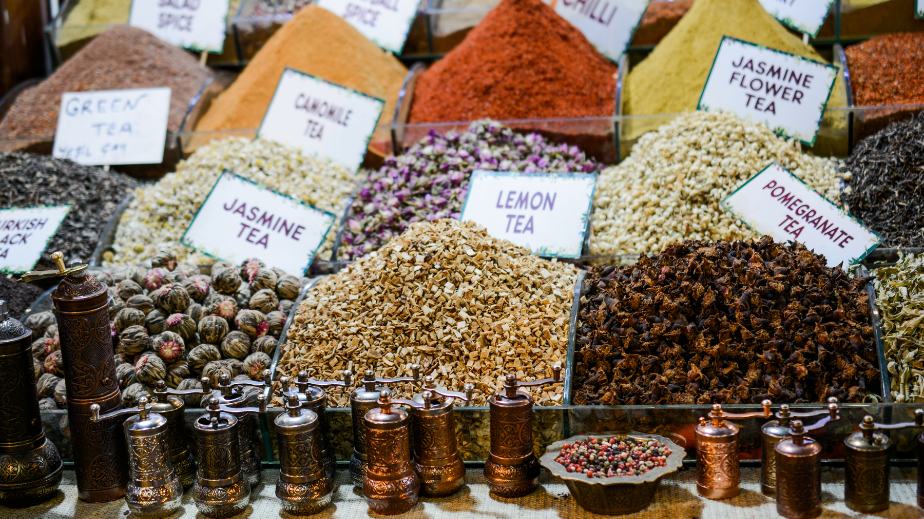 You'll also find a huge selection of nuts and dried fruits. Almonds, cashews, pistachios top the list and once again don't forget to graciously accept a taste here and there. Sweet and colorful dried fruits are also in abundance. You can also have fantastic combinations of the flavors of both! Figs, dates, and apricots stuffed with walnuts, or dried dates, stuffed with almonds. The combinations are endless.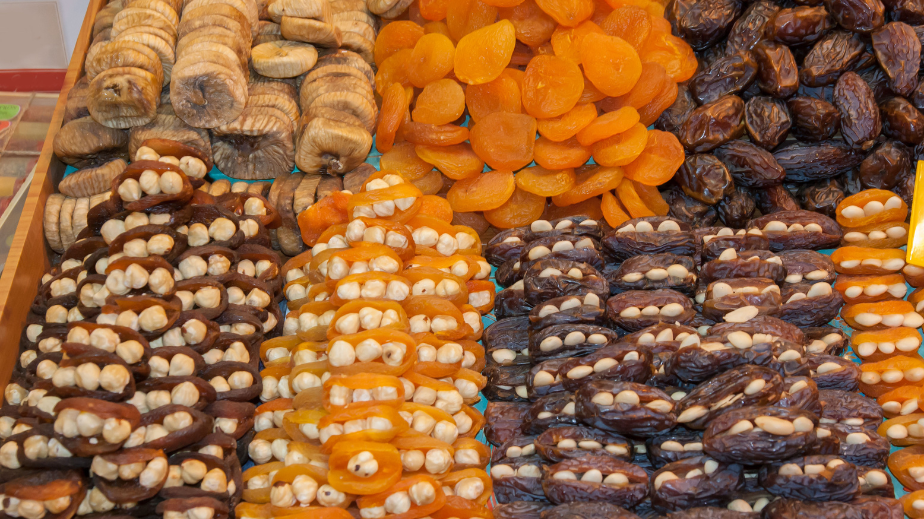 You will also find a large array of local honey and honeycomb. And what is honey perfect to accompany? Cheese! Yes cheese, glorious cheese! In Turkey cheese is a staple even for breakfast. (in another blog we can dive into Turkish breakfast!) Both soft and hard cheeses can be found. Goat cheese, sometimes mixed with sheep or with cow's milk are very popular. Just like the other vendors you will encounter in the market, the cheese vendors take amazing pride in their products and are happy to let you taste samples of the best of the best. They'll gladly share the secrets of their products. There are almost 200 varieties of cheeses, so surely you'll find one that suits your fancy!
Salty, tangy and sweet. Something for all tastes.
If you're a fan of the delicacies from the sea, don't forget to visit the vendors who sell Caviar. There are many types to choose from. You probably won't get free samples of the Beluga but they are happy to help you pick the best type for your budget. On the more tangy side, how about some fresh pomegranate juice as your take your stroll. Or may try it mixed into fresh squeezed orange juice? If you like that tart flavor of pomegranate why not look for a popular sauce called Nar Eksisi. This tangy liquid is a favorite in Turkey and is often used in salads instead of vinegar. For those who prefer the sweet side, you don't need to go far. Rows of pastries grace the market and are just too irresistible to walk by. Who could pass up Baklava! That delicious flaky layered, honey drenched pastry filled with nuts and pistachios. You'll find the traditional triangular pieces but also a huge number of variations including some that seem like little bird nests. These are a must, and you don't have to look hard to find the perfect Turkish coffee to accompany them.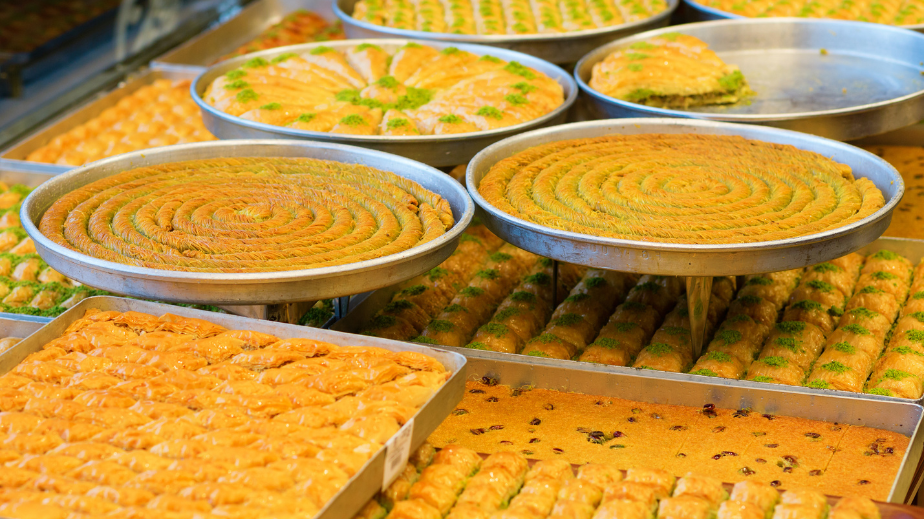 Turkish delight!
Have you ever tried Turkish Delight or wondered exactly what it is? This beloved treat also known as lokum, is a combination of sugar, and cornstarch. With the addition of flavors it creates and gummy, or chewy sweet. The traditional flavors are floral, like rosewater or bergamot, or orange blossom, and can sometimes contain pistachios or other nuts which add a delicious flavor plus crunch. They are cut into little cubes and dusted with powdered sugar to keep them from sticking. You'll find them as a treat on their own or sometimes accompanying a cup of a tea. The history and origins of this confection are debated. They could go back as far as the sixteenth century or more possibly an 18th century confectioner whose creation became so popular with a Sultan that he was made the court's chief confectioner.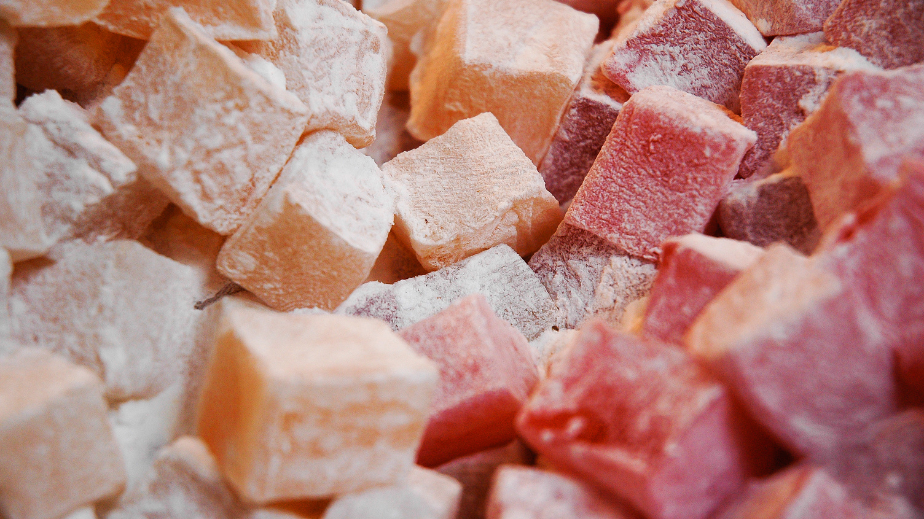 And much, much more.
Today's market has greatly expanded its selection from the traditional items to items geared also for tourists. That makes the Spice Market a bit of one stop shopping if you're looking for gourmet and exotic food items, glass lanterns, ceramics or a copper Turkish coffee pot, you can find it right here.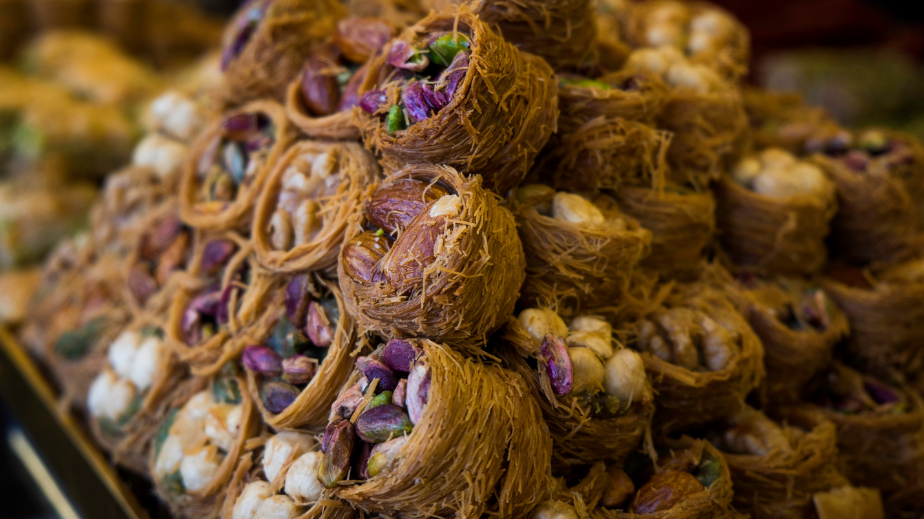 Don't miss this fantastic slice of Turkey's culture and history. It's a short walk from many of the center city sites and well worth the trip. So bring your appetite and lots of room in your suitcase and enjoy a visit to the Spice Market. You won't be disappointed!