10 Best Beaches in Mykonos
The stunning beaches of Mykonos make it one of the most popular tourist destinations in Greece. Aside from golden sands and crystal clear waters, Mykonos is also known for its party scene. Many of the beaches are popular for their lively beachside nightclubs with visiting DJs. Others are perfectly suited for diving, snorkelling and swimming as well as more adventurous water sports. With so many to choose from, it can be hard to decide which beaches are the best for you. Here is our pick of the 10 best beaches on Mykonos.
The southern coast of the island has the best beaches, as they are the most sheltered from the winds. However those in the north of the island are less crowded and some remain refreshingly unspoiled. You can hire a car to explore the island or use the local bus and there is also a water taxi which serves the southern beaches.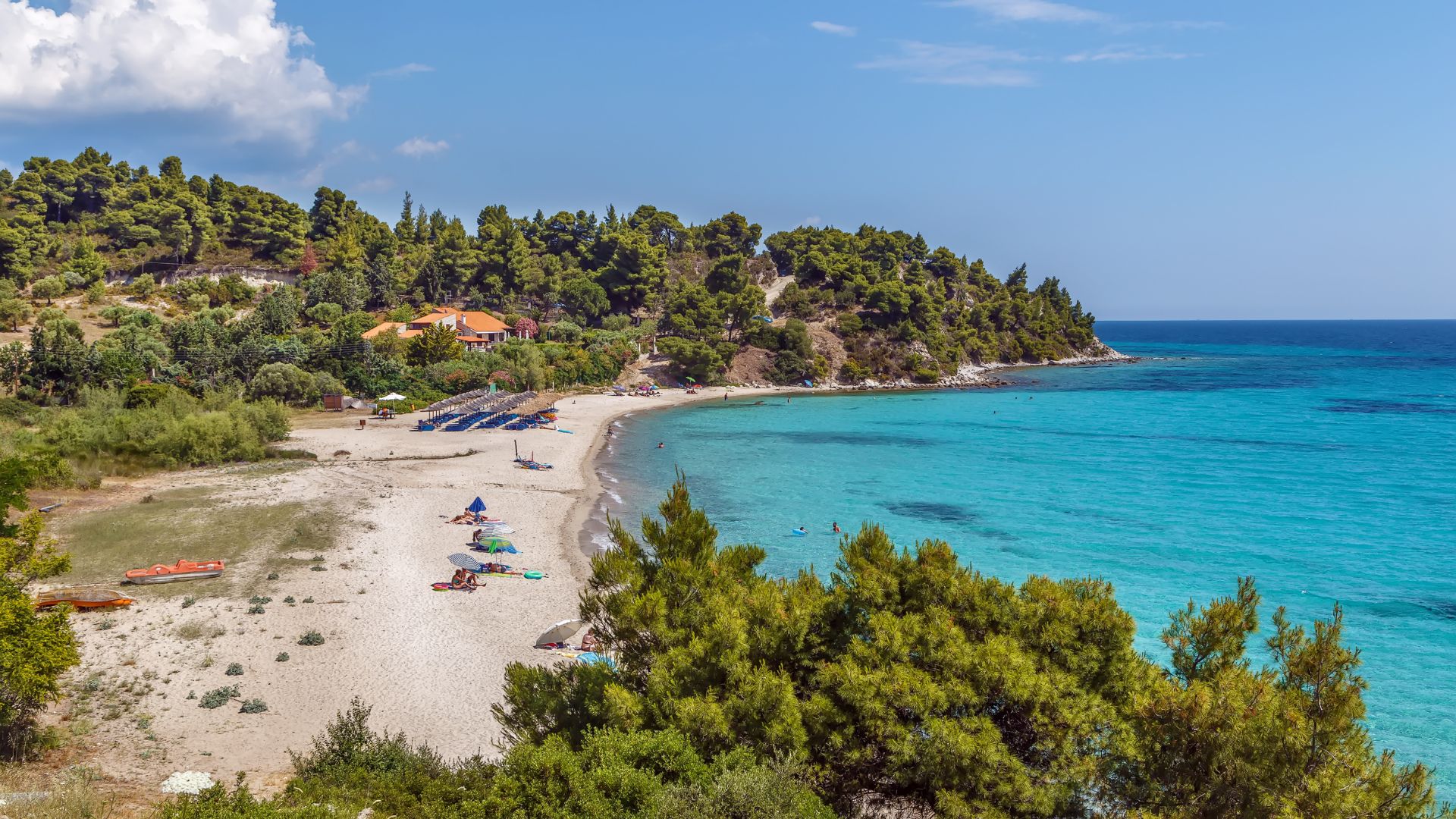 Agios Ioannis Beach is a picturesque beach with white sand and turquoise waters. Narrow and rather secluded it is a great spot for swimming, snorkelling, and sunbathing. Agios Ioannis is one of the most beautiful beaches and is usually quieter and less crowded which makes it a popular choice for families. There are two tavernas on the beach as well as beach clubs offering sunbed rental or you can set your towel down free of charge. It's just 10 minutes by car from the centre and during the summer there are regular buses until late.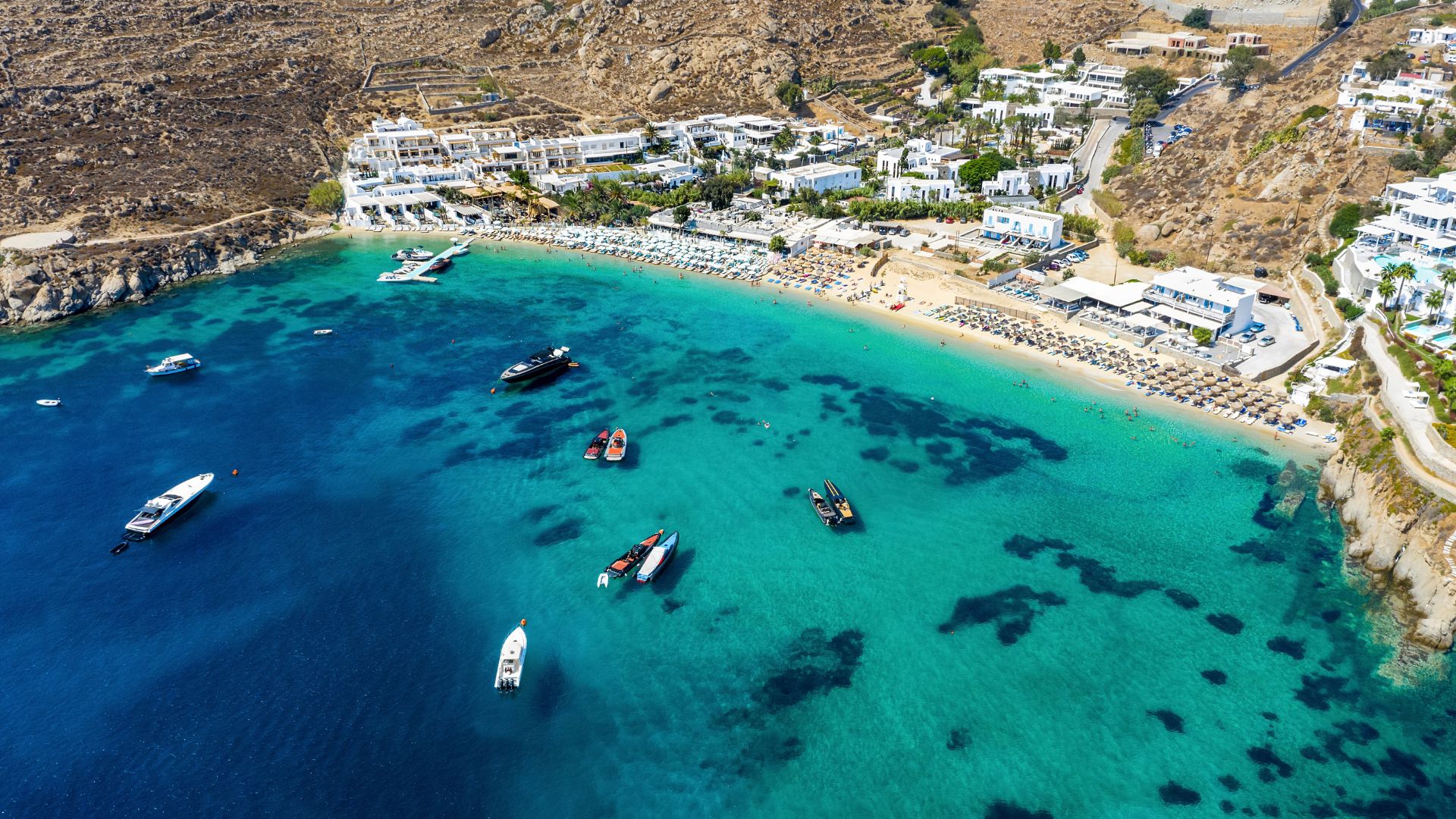 Psarou Beach is a stunning beach set in a magical cove protected from the wind. Its calm waters and soft golden sand make it a great spot for swimming and sunbathing. Near the water there are a few luxury resorts, but it is most known for its upscale beach club and restaurant Nammos and the Nammos Village luxury mall. Psarou is on the local bus route, alternatively you can walk to nearby Platis Gialos for the water taxi.
Lia Beach on the northeast of the island is a great spot for swimming and sunbathing and the shallow clear waters are great for snorkelling. Lia is 14km east of the centre and has no public transit which makes for a quiet spot, great for those looking for serious chilling out. There is one taverna on the beach which serves delicious local specialities as well as great Italian food. Lia also has a trendy beach club but is a far cry from the atmosphere of the party beaches. Lia is a great choice for couples as it is still somewhat secluded and unspoilt.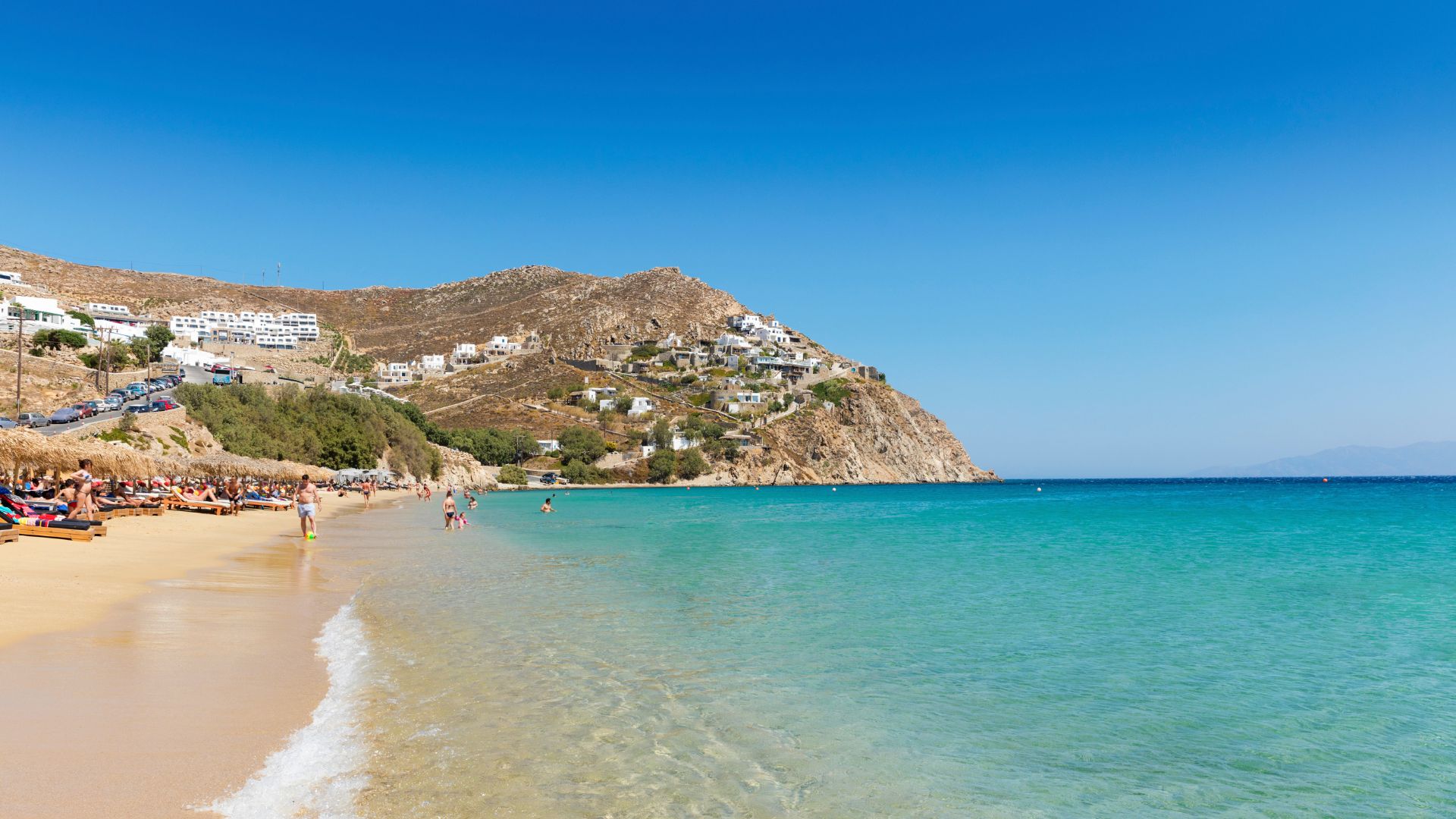 Elia Beach is the largest stretch of coast on Mykonos, it has a laid back atmosphere, but boasts plenty of amenities including a restaurant and a bar. For adrenalin junkies there are plenty of activities available including jet-skis, parasailing, and windsurfing. Almost all of the beach is taken up by sun loungers and parasols, save a small stretch in the corner where you can lay your towel. This part of the beach is popular for nude sunbathing and welcomes a gay friendly crowd. Elia is serviced by the local bus and the water taxi.
Platis Gialos is the best beach on Mykonos. A large beach with several large hotels along the edge, Platys Gialos has ample restaurants and bars as well as a mini mart. The shallow, clear waters are an excellent choice for swimming or water sports. This wide beautiful beach is popular with families and young couples. The beach has a relaxed atmosphere, but if it a little too sedate for you, it is on the water taxi route to Ornos in the west or the party beaches in the east (Paraga, Paradise, and Super Paradise) as well as being served by the local buses.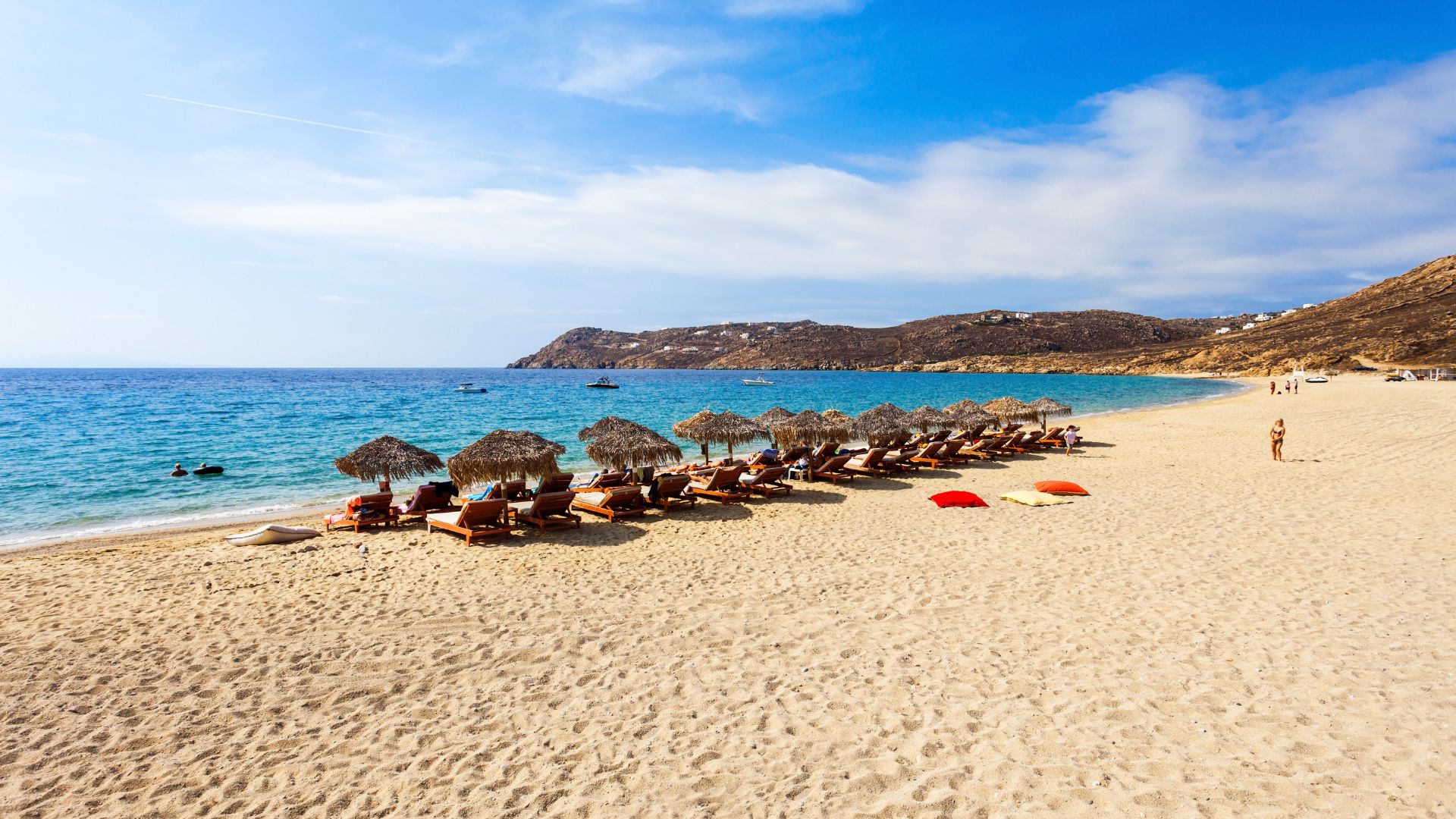 Ornos Beach is the most family-friendly of Mykonos but is also known as a trendy spot thanks to it many amenities. With a resort atmosphere, you'll find plenty of restaurants and bars as well as a full range of beach activities from windsurfing to diving. The beach is also a popular stopping-off point for boats and yachts and can get crowded. Ornos is only two miles from Mykonos capital and can be easily reached by bus.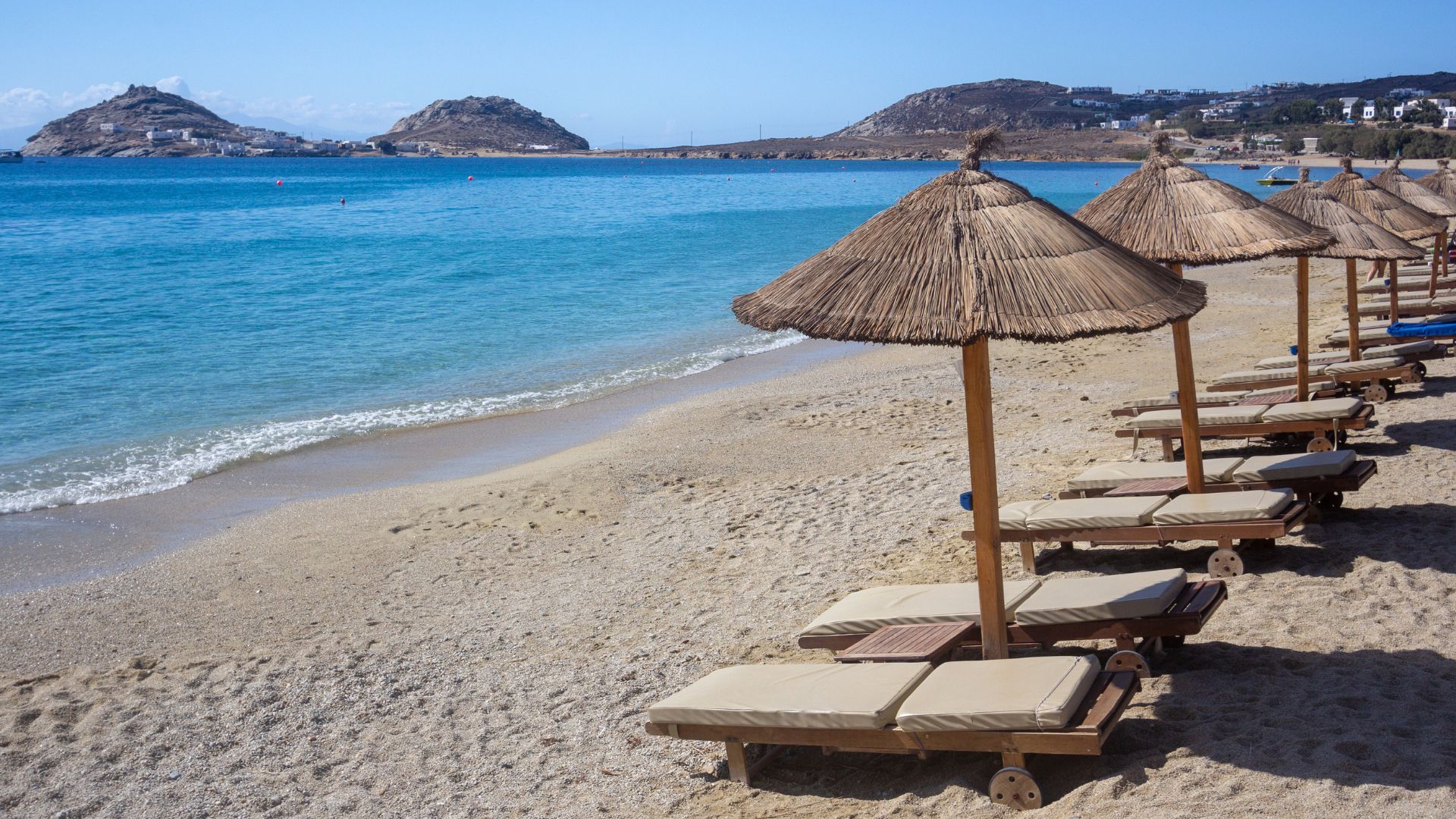 Kalafatis Beach is Mykonos' only Blue Flag beach. Located on the coast of a tiny village of the same name this long, wide tree-shaded beach is remote enough to never get very crowded, even in the peak season. The north end of Kalafatis beach is best known for windsurfing and boasts a water sport centre with scuba diving. The south end of the beach is frequented mostly by swimmers and snorkelers. Kalafatis has plenty of free space to lay your towel as well as sunbeds and umbrellas for rent. The beach is adapted for travellers with disabilities with a SEATRAC access ramp into the water.
Agios Stefanos is the beach closest Mykonos Town. Set in a natural bay and facing southwest, this sandy beach with shallow water is popular with both couples and families. The beach is known for swimming and its fantastic sunsets. Watching the ferries and cruise ships arriving and departing is a popular view from the beach. There are the usual sunbed rentals as well as space to lay your towel and amenities include a few casual tavernas and a mini market as well as frequent bus connections to the Old Port of Mykonos Town and the ferry port.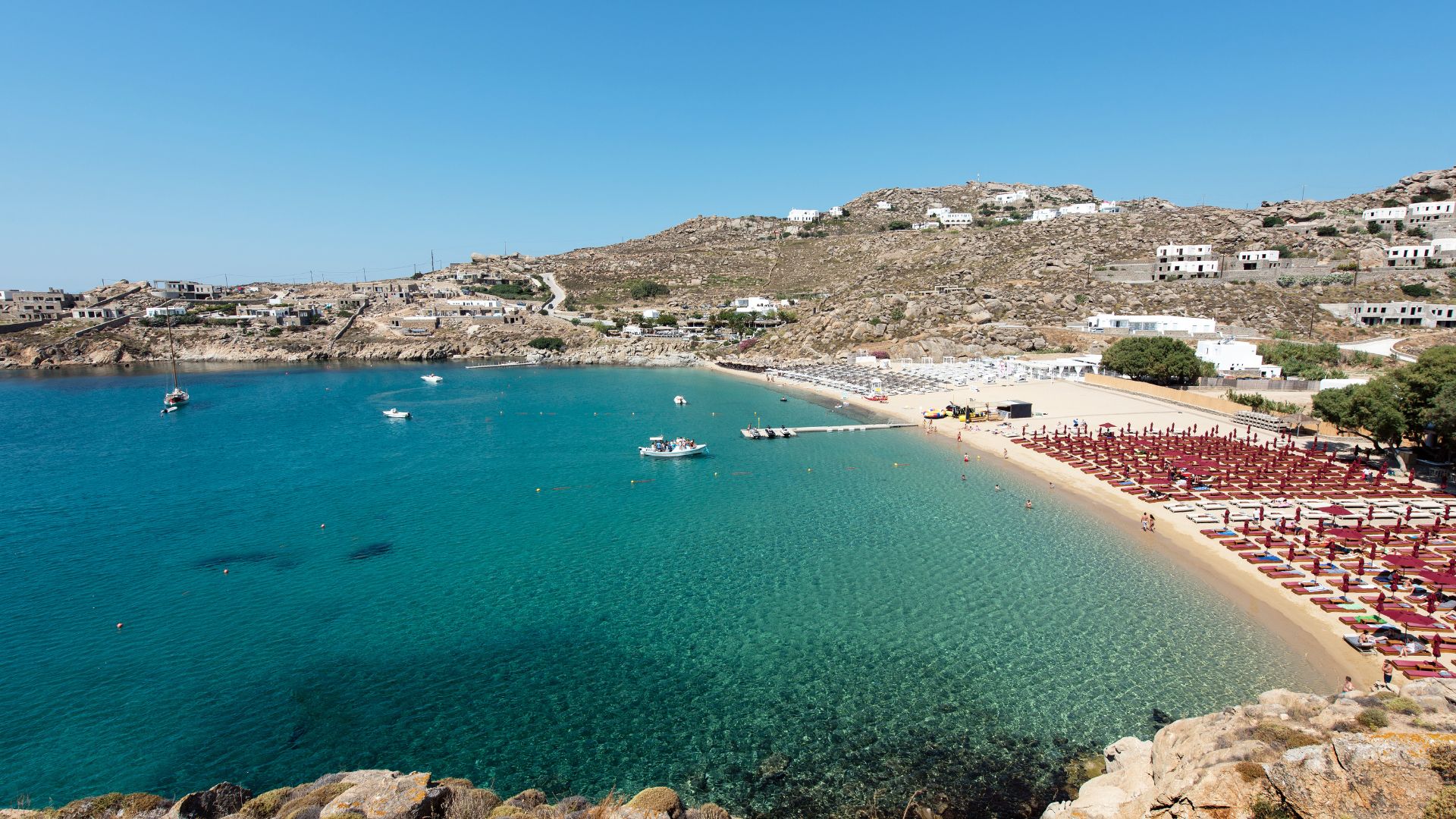 Paradise Beach is undeniably the most famous and the best party beach. Known for its white sand, turquoise waters and lively atmosphere, it has several beach bars and restaurants. Popular with a younger crowd, it is fairly quiet during the day with sunbathers sipping cocktails under umbrellas. By mid-afternoon, the party atmosphere begins and continues until sunrise at the clubs on the beach.
Super Paradise Beach is another popular party beach in Mykonos with several beach clubs and bars, known particularly for gay friendly party nights. It is also popular with families and honeymooners thanks to its calm, shallow waters. The beach is entirely taken up with sun loungers and umbrellas for rent, although you should arrive early to secure one thanks to the popularity and vibrant nightlife of the beach.