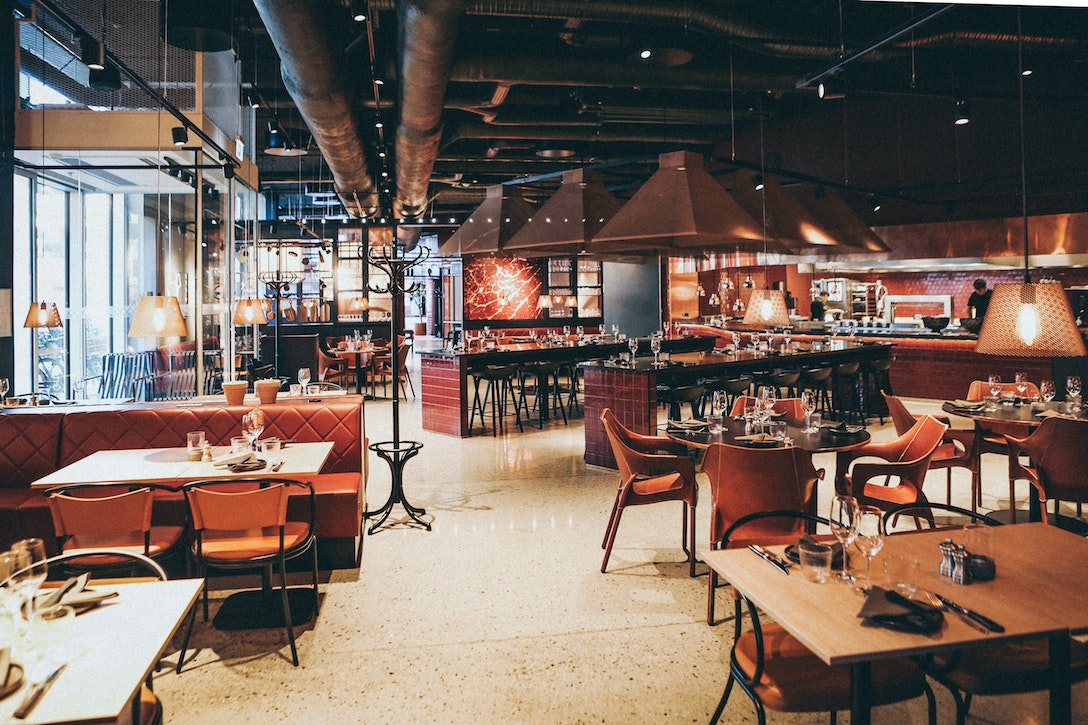 This week we're happy to feature a guest blog written by our friend Geraldine from Geraldine Walks. Geraldine is sharing with us 10 of her favourite places to eat in Rome. Buon appetito!
Before you say arrivederci to Roma's charming alleys, fountains, and monuments, you must first be able to say "delizioso" to every meal you'll take in this city. To achieve that, we're giving you a cheat sheet on the ten best restaurants in Rome and where to find them.
Are you and your belly ready for a sumptuous treat? Dig in!
1. Altrove
Bright. Fresh. Light. That's what Altrove Ristorante is known.
Its minimalist white interior makes it attractive for everyone who wishes to chill and take a moment to enjoy their meal without being distracted by grandiose elements inside the restaurant. It's not that it's a bad thing to dine in a glamorous setting.
The best thing about their meals is that they fully embraced Italian cuisine and added their flair to it. Who says risotto should be boring? In Altrove, they creatively invent their recipe without being disrespectful of the culture.
Where to find it: Via Girolamo Benzoni, 34
2. Bistrot64
For a taste of Japanese and Roman cuisine fusion, go to Bistrot64. It also has modern minimalist features but with meals that aren't minimal when it comes to spices and cooking techniques.
This French-inspired bistro (interior-wise) offers a 5-course tasting menu for those who want to be all fancy and rich without actually being broke during their stay in Rome.
It's one of those Michelin-starred restaurants in the city that will indulge you but won't leave you begging for scraps the next day.
Where to find it: Via Guglielmo Calderini, 64
3. Epiro
You probably wouldn't expect to find a terrific place to eat in front of a marketplace. But in Roma, anything is possible. Thanks to Alessandra Viscardi and Marco Mattana for the birth of Epiro.
The dishes aren't only good in photos; they are also fantastic once they're served in front of you. Pair them with wine, and you will surely have one of the best meals of your life right here in Rome.
Where to find it: Piazza Epiro, 26
4. Fernanda
If you're looking for a more peaceful place to have your lunch or dinner, visit Osteria Fernanda and be amazed by the amount of energy they put in their meals without the fear of paying a ridiculous amount.
This humble eatery in Trastevere has ticked all the traditional aspects of an Italian dish and then fused with a kick of creativity to adapt to modern times. It may look like one of your fancy Roman restaurants, but in reality, the elegance of the place can be found in their meals. Their cozy interior is a close second.
Where to find it: Via Crescenzo del Monte, 18/24
5. Fratelli Mori
Dining at Fratelli Mori is like having a hearty meal at home because of how cozy it is. It has a very rustic feel with Roman poetry written on the walls. Every romantic traveler would probably find themselves falling in love with this osteria in a heartbeat.
It's even perfect for families and big groups! Diners wouldn't care if you laugh out loud or share stories with your friends as if you're the only people in the room.
Expect to get your dose of classic Italian recipes when you visit Fratelli Mori.
Where to find it: Via dei Conciatori, 10
6. Giulia
When in Rome, it's reasonable to want to taste the Renaissance period, even if it means dining at a restaurant that isn't really from that period but is surrounded by historical grounds that have seen the Renaissance era.
Giulia's big windows will give you enough view of the outside where cobblestone streets can be seen while you devour your aglio e olio. Pair it with their best bottle of wine, and you might even forget where you are exactly.
Where to find it: Lungotevere dei Tebaldi, 4/4a
7. Imàgo
With a gorgeous city like Rome, who would be able to say no to a dining experience with a view?
Well, Imago is one of the best options out there combined with their complete fine dining excellence. The background music is enough to make you want to act properly and eat your meals with grace.
The Executive Chef's unparalleled talent will send you to Italian cuisine heaven, no doubt about that.
Where to find it: Hassler Hotel, Piazza Trinita dei Monti, 6
8. Marigold
The Marigold looks and feels like a cozy breakfast nook that you would want to spend your entire day.
They offer the best bread in town; they're so good you'd be tempted to try all of them in one sitting. But a word of advice, don't do it. Take it one day at a time as if you're walking straight into your breakfast table at home while waiting to be served with the best avocado toast in the world.
Don't be mistaken; you can also have your lunch here. Marigold serves one of the best pasta in town, one that you would never forget even after years of not having a bite.
Where to find it: Via Giovanni de Empoli, 37
9. Mercerie
Have you ever heard of a fancy take on street food? If not, let Mercerie teach you the ways.
Their dishes are hip, street, and modern but with a flavorful touch of creative Italian charm. The chefs knew from the beginning that they wanted to go all out innovative about the dishes that come out of their kitchen, thus creating Mercerie High Street Food.
Where to find it: Via di S. Nicola de' Cesarini, 5
10. Moma
With an extensive wine list to make you all silly and flushed, dining at Moma will probably be the best decision you'll ever have to make when visiting Roma.
Moma is the type of restaurant that you'd happily spend your money on because of the superb quality of the dishes. It's not awarded a Michelin-star for anything. It's perfect for work meetings or casual meals during lunch, but it's get fancier and more intimate come dinner time.
Where to find it: Via di S. Basilio, 42
Whatever it is you wish to do in Rome, make sure eating plenty of authentic Italian dishes and a few inventive ones is your top priority.
A few extra vacation pounds right in the middle of your belly won't hurt if you fully enjoyed the meals you took during this trip. Oh, don't be guilty. You'll burn it when you go home, which means you'd be ready for another city's gastronomic experience. It's a cycle, and you can't run away from it easily, especially with the most impressive meals on the planet!