Perhaps we're biased, but we think Rome might just be the most wonderful city on earth to visit on vacation. With majestic ancient monuments and awe-inspiring Renaissance artworks, breathtaking scenery and food to die for, a trip to the Eternal City can be a life-changing experience. Having said that, nobody ever said that Rome is the most visitor-friendly city in the world, and it's not always easy to make the most of your time here. To give you the best chance to make your Roman adventure unforgettable for all the right reasons, check out our list of 5 things you should never do in Rome on vacation!
1. Don't arrive at the Colosseum or Vatican without buying tickets in advance
We'll start with the golden rule of what not to do when visiting Rome. If you're the kind of traveller that likes to wing it, hates making plans and loves letting yourself be guided wherever the prevailing breeze takes you, then we're with you...usually. But sometimes you've got to compromise, and nothing will take the wind out of your sails quicker than the blunt reality of staring into a 3-hour queue outside the Vatican Museums or Colosseum. Rome welcomes more than nine million visitors every year, and you really don't want to waste your precious time in the city stuck behind all that lot!
Fortunately, it's easy enough to get yourself to the front of the queues in double-quick time by thinking ahead. Book your reserved entrance time-slot at the Vatican Museums on their official website. You'll still have to queue to get through security, but you'll skip the interminable walk-up line. If you REALLY hate queuing and crowds, then consider a special early-entrance Vatican tour with an accredited company that will get you inside before the hordes descend, and even let you see the Sistine Chapel in relative peace.
Same deal at the Colosseum. You don't want to be stuck outside the world's most iconic ancient monument in the blazing sunshine any longer than necessary, so make sure to book your timed entrance via the Colosseum's official website. As with the Vatican, if you really want to get the jump on other visitors, then consider booking a Colosseum tour that will reduce queuing times to the bare minimum.
A final unmissable site in Rome where reserving your tickets in advance is obligatory is the Borghese Gallery. The Galleria Borghese might be our favourite small museum in the world, with highlights by Titian, Raphael, Caravaggio and Bernini all displayed in the epic surroundings of a Baroque Villa – but if you want to get in here you simply have to book your tickets well in advance via the official website, or reserve a guided tour of the Borghese Gallery with an accredited company. Believe us, it's worth it!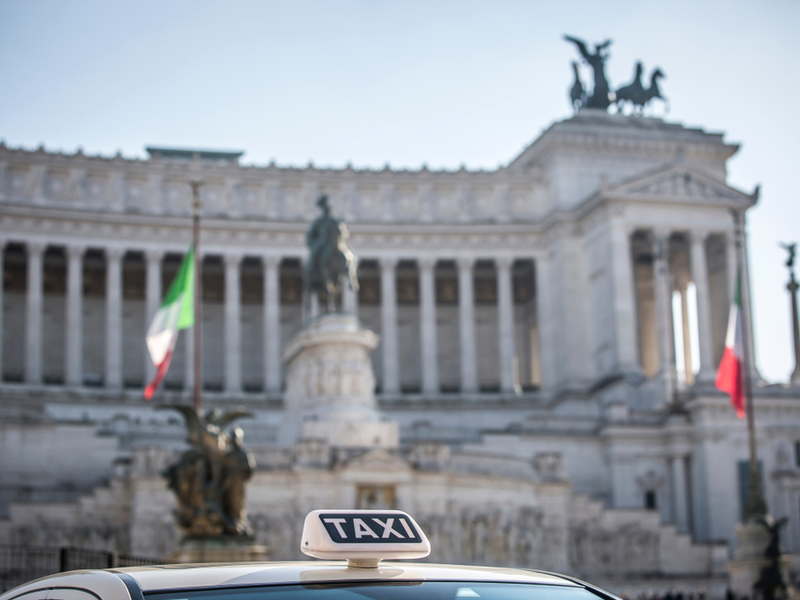 2. Don't rent a car or take taxis everywhere
If you're the kind of person whose car is an extension of their body, it can be tempting to head straight for the car rental when you touch down in Rome. Resist the urge, and leave Messrs Herz and Avis for another adventure. The Eternal City is such a densely layered network of streets, squares and monuments spanning thousands of years of urban development, that attempting to drive here can quickly become a confusing and stressful nightmare. You won't be able to get anywhere near the main sites, and you certainly won't find anywhere to park. That's not to mention the somewhat eccentric approach many Romans take to the concept of road safety. So leave the dare-devil driving to the locals, and lace up your walking shoes!
What about taxis, I hear you ask? Whilst hailing a cab can get you across town or to the train station in double-quick time, unless you're in a rush we still think you should walk wherever you can. The city centre is compact enough to make walking between the sites easy, and much of the Eternal City's innate charm lies in the unexpected things you might chance to see on the way – an unknown church or a gurgling Renaissance fountain; an artisan's workshop or a purveyor of religious vestments; a tucked-away bar where venerable locals play chess and shoot the breeze under the shade of a fig tree, or even an enticing gelato shop offering tantalising scoops of heaven that'll give you the strength to keep on walking.
Trust us, Rome is a city to be seen on foot.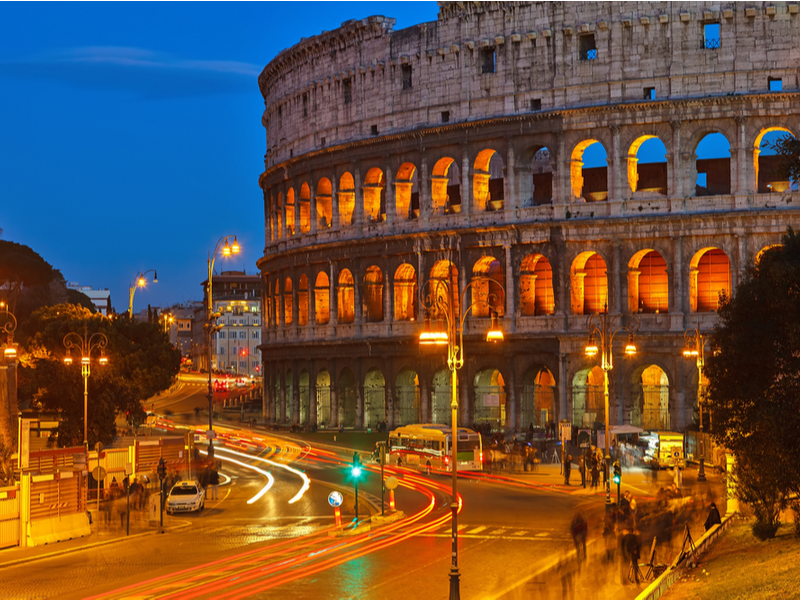 3. Don't visit Rome's monuments at popular times
In case it needs spelling out one more time, Rome can get seriously crowded – especially during the summer months. And nothing ruins the romance of a visit to the Pantheon, the Spanish Steps or Trevi Fountain more than being squashed in nose-to-tail with thousands of other people with the same idea. If you visit in the afternoon in high season, you're liable to need a catapult to propel your coin into the Trevi's waters from a distance, and forget about getting decent photos. Add in pushy flower sellers and massive school groups doing the rounds, and things can get positively Dantean.
Instead, plan to do a lot of your exploring at night. The centre of Rome is almost unbelievably picturesque in the tranquillity of a starry evening, its monuments beautifully lit and bathed in moonlight. The later the better: start your night-walking trek after midnight and there's a good chance you'll have the city largely to yourself.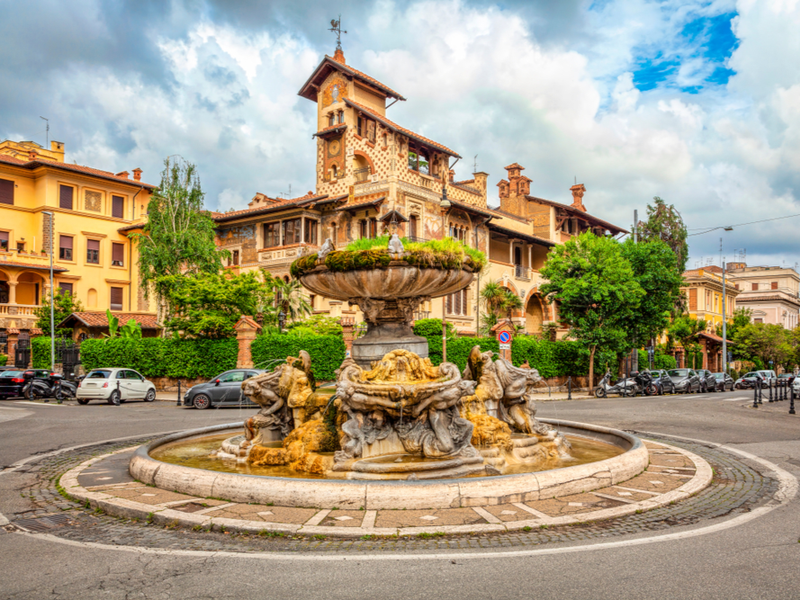 4. Don't limit yourself just to the city centre
There's so much to see and do in Rome's historic city centre that it can be tempting to spend all your time here. You certainly won't run out of things to do, but if you limit yourself to the centro storico you'll be missing out on the endless variety that makes the city so fascinating. Rome is much more than an urban museum, so make sure to take at least a couple of trips out to some of the more suburban quarters of the city where most of the locals actually live. Find out what makes them tick and be rewarded with a very different atmosphere full of lively bars and restaurants, great street-art and the bustle of one of Europe's most vibrant cities.
We recommend checking out Garbatella, whose beautiful early 20th-century architecture is a landmark in public housing, and where restaurants like Tanto Pe' Magna still preserve the atmosphere of a bygone era in the city's history. Whilst here, take the chance to visit the Centrale Montempartini, a disused power station that's now a museum housing magnificent ancient sculptures amidst the massive decomissioned machines. Hop on the Metro's B line heading south and you'll be there in 15 minutes. Or try rough and ready Pigneto, the eastern Roman neighbourhood that these days might just be the most happening quarter in the entire city.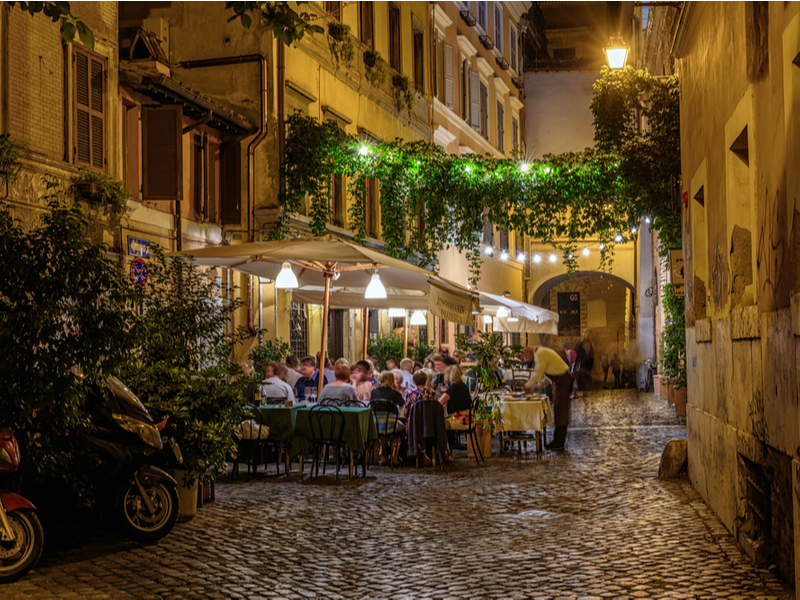 5. Don't Eat at Tourist Traps
In Rome, you can easily eat like a king...or like a pauper. If you know where to go, the culinary experiences on offer in Rome are a match for any city in the world - but many visitors have a very difference experience indeed, and the internet is full of horror stories of sub-par meals offered at vastly inflated prices. The good news is that you don't need to be a local with decades of insider knowledge behind you to eat well in the Eternal City. If you follow some simple rules to avoid tourist traps out for your money and offering little in return, it's actually pretty hard to go wrong.
Rule 1: Never eat right next to major monuments or tourist sites if you can help it. Sure that ringside seat on Piazza Navona might look enticing. Of course, that view of the Colosseum from your table is pretty darn romantic. But if you choose to stop off at a restaurant like this, your chances of getting authentic Roman fare at Roman prices are pretty much zilch. That's not to say that there aren't great restaurants in the historic centre. There are, and how! It just means that it pays to wander around that next corner, to head down that side-street or alley in search of some hidden gem that most tourists aren't going to find.
Two of our favourite affordable central restaurants are Da Gino al Parliamento and Osteria del Pegno – but there are many, many others! If you venture further afield to the suburbs, you'll find yourself eating where the locals eat – try for areas like Garbatella, Pigneto, San Lorenzo and Testaccio.
Rule 2: Don't eat anywhere where there's a hawker outside trying to entice you in with the supposedly great value and variety of the fare on offer. Real Roman restaurants catering to locals simply don't do this. They don't need to drum up passing trade as they have loyal local clientele already, and can rely on word of mouth alone to keep their tables full. So next time you hear someone trilling 'table for two?' or trumpeting a great value tourist menu as you wander past, keep on walking!
Rule 3: Related to rule 2. If you pass a restaurant with a menu in 14 different languages outside, accompanied by helpful explanatory photographs, don't go in. Locals don't need pictures explaining to them what a dish that their grandmother made for them when they were kids look like – these places are geared exclusively to the passing tourist trade, with quality control and prices to match. They'll also probably be serving generic 'Italian' food rather than genuinely Roman staples. You can do better. If you want to find out where to eat Roman food at its authentic best, check out our guide to Rome's classic dishes and where to eat them!