In an increasingly divided world, there are a few things around which almost everyone can unite: a desire for world peace, perhaps, or the adorability of Labrador puppies. Oh, and the deliciousness of pizza. A magically simple combination of elastic dough, rich tomato sauce and lashings of fresh mozzarella, pizza is one of the world's most beloved foods for good reason. Whether you're a fan of deep-dish Chicago-style pies, cheese-heavy New York numbers as big as a manhole cover or thin and crispy Roman versions, it's all good. No room for pizza fascists here!
Naples and the Origins of Pizza
But whilst we don't believe in food fundamentalism, to really understand pizza you need to try it in its birthplace and spiritual home - Naples. Already in the 16th century Neapolitans were tucking into tomato-less pizzas (a lard and basil loaded version known as pizza mastunicola), and the city boasts the world's oldest pizzeria - L'Antica Pizzeria Port'Alba has been making pizzas nonstop since 1738, opening their doors to the public in 1830. According to legend the classic margherita pizza was conjured into being across town at Pizzeria Brandi in 1889, where chef Raffaelle Esposito wanted to impress the visiting Queen Margherita with a dish that reflected the new Italian flag: red tomatoes, green basil and white cheese.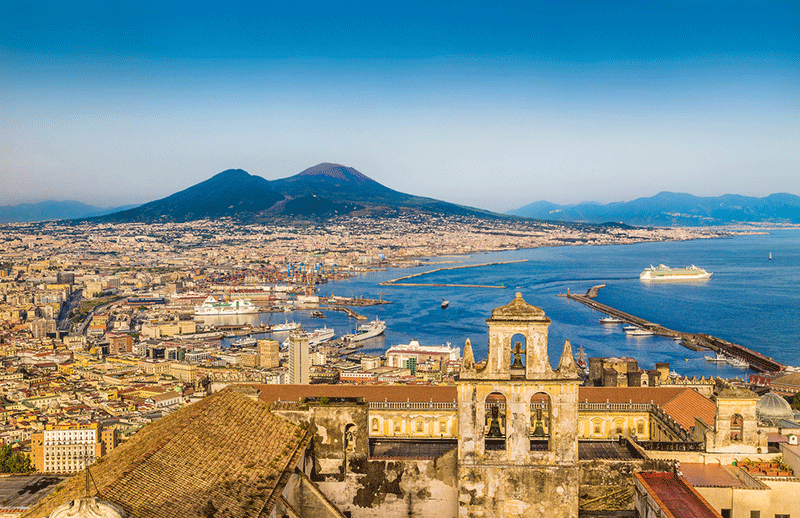 So intrinsically linked are Naples and its favourite dish that the art of Neapolitan pizza has even recently been accorded UNESCO protection as an object of 'intangible cultural heritage.' But Neapolitan pizza isn't just authentic: it's (in our opinion) the tastiest in the world. Naples boasts by far the richest and most exciting pizza culture anywhere, with literally hundreds of top-notch pizzerias gracing every street and piazza of the metropolis. But don't take our word for it. If you want to taste pizza as nature intended, then you've got to head to the source: that's why we created our guide to where to go to get the best pizza in Naples!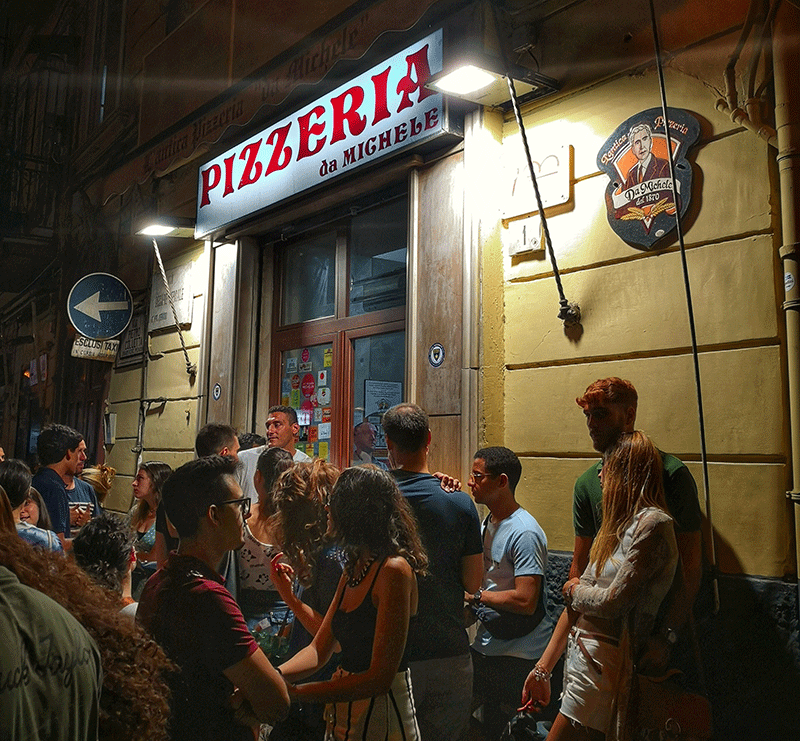 1 - L'antica Pizzeria Da Michele
No surprises here: we simply had to start our list with the big-daddy of Neapolitan pizzerias. Da Michele has been on the go since 1906, moving into their current premises in 1930. Occupying two Spartan rooms brightly lit with the glare of fluorescent bulbs on an unassuming side street, da Michele is the kind of joint that to describe as 'no-frills' is an act of wild exaggeration. But the massive, thin but chewy pizzas on offer here are just about as good as it gets - and cost a pittance. If the difficulty of choosing from a long menu brings you out in a cold sweat, then Da Michele is definitely your place. Here the menu runs to precisely two options - pizza margherita or pizza marinara (tomatoes, oregano and garlic, no cheese). If you're feeling ritzy, you can get double mozzarella on the former. To drink, it's beer, coke or water. If simplicity is next to godliness as the saying doesn't quite go, then da Michele is heaven itself.
Although a firm favourite amongst Neapolitans for over a century, da Michele only shot to global fame when it put in a star turn in the life-affirming Julia Roberts vehicle Eat Pray Love back in 2010. But don't hold that against it – there might be more tourists than the old days, but nothing has really changed here, and the temptation to cash in seems to have been resisted. The queue outside is always enormous, but that's just part of the fun. Get your number from the till, grab some beers from a nearby shop and hang out in the street with everyone else until your turn comes to enjoy some of the best pizza in Italy.
What to order: If you're going as a couple, get one margherita and one marinara and share them.
Da Michele, Via Cesare Sersale, 1, 80139.
2 - Starita a Materdei
Located between the exhilarating Sanità and Materdei neighbourhoods, with their fascinating catacombs and cemeteries, Starita is one of the city's most beloved pizzerias. As if to prove its unimpeachable Neapolitan bonafides, hanging in pride of place on the wall are the giant fork and ladle used by local icon Sophia Loren in Vittorio di Sica's classic 1950s film L'oro di Napoli. These days the fourth generation of the Starita clan continue the family business, serving up some of the best pizza in Naples. If the pared down minimalism of da Michele's menu isn't your bag, here you'll be spoiled for choice with over 60 different pizzas to choose from. If you've got a sweet tooth, make sure to try their angioletti, fried pizza dough topped with nutella.
What to order: Try the Neapolitan classic Salsiccia e Friarielli (sausage and broccoli rabe), or go for the intensely tomatoey Marinara, considered by many to be Naples' best.
Starita a Materdei, Via Materdei 27–28.
3 - Antica friggitoria Masardona
If the carb count of a traditional Neapolitan pizza somehow isn't quite doing it for you, then you need to get acquainted with a classic Parthenopian variation on the theme - pizza fritta, or fried pizza. Pizza fritta is just what it sounds like - pizza dough that's been deep fried instead of cooked in the oven. The heat causes the dough to pucker and swell, creating a pocket inside perfect for stuffing with an endless variety of ingredients.
As with most great culinary innovations, here too necessity was the mother of invention. After the bombs and bullets of the second world war had left Naples a deprived and smouldering wreck, even humble pizza became something of a luxury - requiring wood-fired pizza ovens that guzzled plenty of precious fuel. And so the pizza fritta was born as the traditional pizza's poorer cousin. Cheap and simple to prepare and easily sold to hungry passersby from a stand or off the back of a cart, it has traditionally been the preserve of female entrepeneurs (as seen in Sophia Loren's character in L'oro di Napoli). Enjoy the heart-stoppingly calorific treat at its best at antica Friggitoria La Masardona, near the city's main station, where they've been deep-frying pizza since 1945.
What to get: try the classic Reginella, stuffed with ricotta, cicoli (fatty fork), buffalo mozzarella, cherry tomatoes and basil.
Antica friggitoria Masardona, Via Giulio Cesare Capaccio, 27, 80142.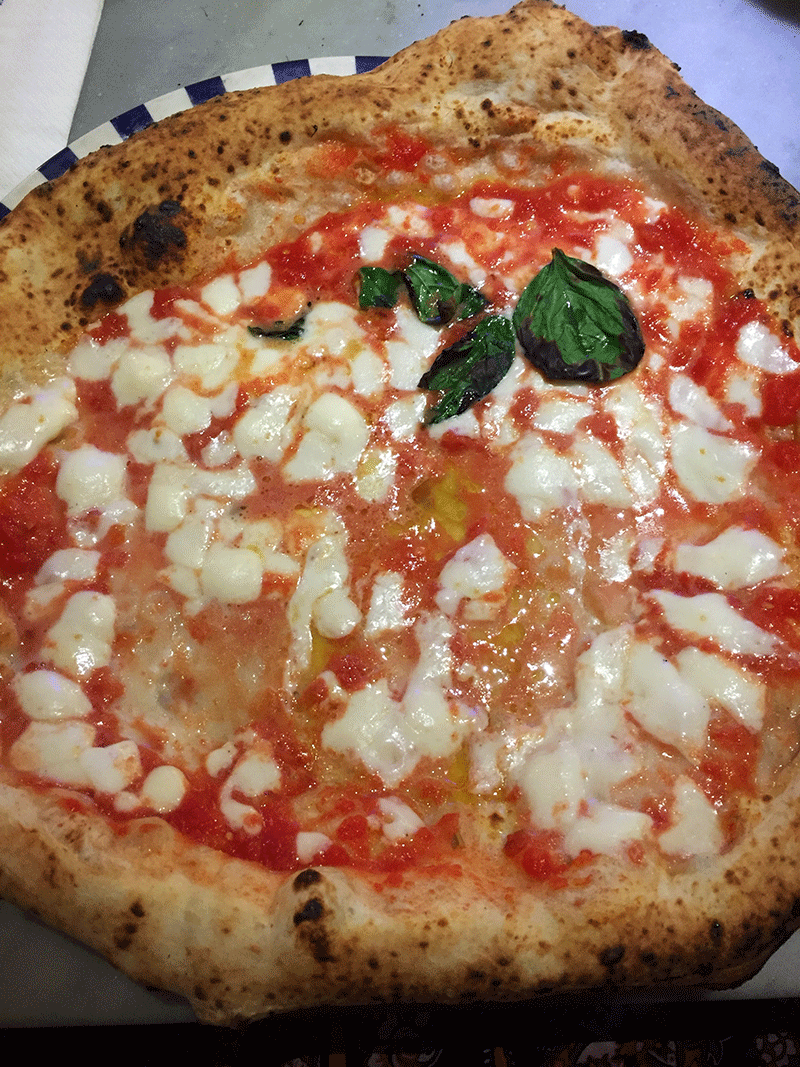 4 - Gino e Toto Sorbillo
Strategically located on central Via dei Tribunali, you'll have little difficulty finding iconic Sorbillo. There's always a huge throng clogging the street outside the venerable institution, as beeping vespas attempt to thread their way through the oblivious crowds. As a slice of Neapolitan street theatre it's hard to beat, and the inevitable wait to be seated is more than worth it. Pizza runs in the family veins: founded in 1935 by Luigi Sorbillo and Carolina Esposito, the couple had a staggering 21 children, each of whom became pizzaioli in their own right. Luigi's grandson Gino is the current proprietor; his sobriquet, 'Pizzaman,' tells you all you need to know.
The secret to Sorbillo's top-notch offerings lies in the unimpeachable provenance of their raw ingredients: creamy mozzarella from Agerola, tomatoes grown on the slopes of nearby Vesuvius, and olive oil from local Campanian producers. Many maintain Sorbillo is the best pizzeria in Italy, and no trip to Naples is complete without a visit. Note that there are two outlets next door to each other on Via dei Tribunali, run by different brothers: the original instutition is at no. 32. If the queues are too daunting, try your luck at Di Matteo just down the road at number 94, whose fried treats are every bit as mouthwatering as their pizzas.
What to get: Keep it simple with a classic margherita; or try the Elena, with artichokes and basil.
Via dei Tribunali 32.
5 - Pizzeria Da Attilio
At the heart of the vibrant Pignasecca market you'll find Pizzeria da Attilio. Running the ovens is Attilio, whose grandfather (also Attilio) founded the pizzeria in 1938. In conjunction with his mother Maria Francesca, Attilio the younger has been making pizzas here for over 50 years, getting a start in the kitchen when he was just 6 years old. With its classic 1960s interior and walls covered in scrawled drawings and letters from customers down the decades, stepping into da Attilio at first seems like entering a time capsule.
But appearances can be deceiving: there's plenty of invention on the menu, from pizzas with pumpkin and porcini to crispy pancetta and pistachio. In addition to the feather-light pizzas, don't miss out on Attilio's bacetti ('little kisses') – miniature rolls of pizza dough spiralled like a snail's shell and stuffed with ricotta and provola cheese. If you come at lunch time and are feeling a bit pizza'd out, then try the pasta dishes cooked up by Maria Francesca - cucina povera staples pasta e fagioli and spaghetti alla puttanesca.
What to get: Plump for the Carnevale, a star-shaped pizza topped whose eight points are stuffed with ricotta, topped with fior di latte, sausage, tomato and hard cheese.
Da Attilio, Via Pignasecca, 17.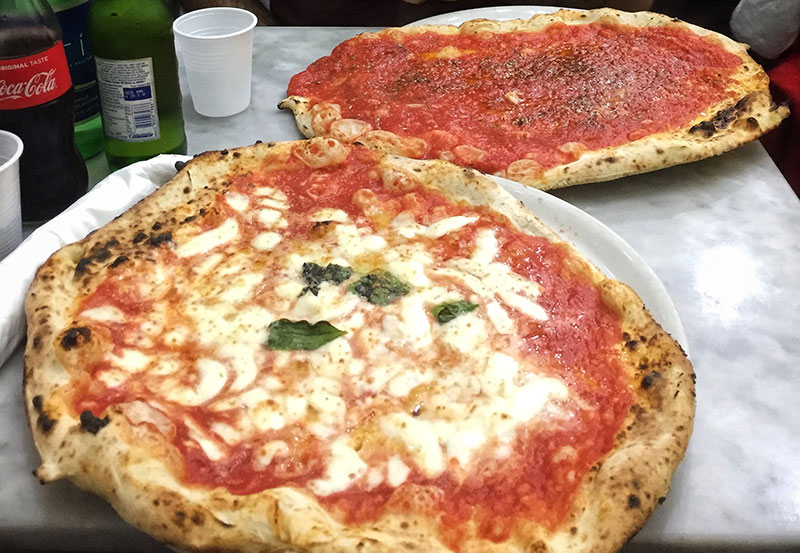 6 - Trianon
Across the road from da Michele, equally historic Trianon loses little in comparison with its more internationally renowned neighbour. Trianon is one of Naples' most enduring pizza institutions, first opening its doors way back in 1923. Almost 100 years later and the pizzeria is still run by the descendants of founders Ciro and Giorgina Leone, who continue their tradition of pizza 'a ruota di carretta' - a pizza as big as a cartwheel. Trianon was founded in the ferment of the period between the two world wars, when a hungry populace was always in need of sustenance. Trianon's cartwheel sized pizzas were the perfect solution, capable of keeping hungry labourers going for the entire day.
After the second world war Trianon enjoyed an exalted status as something of a finishing school for the city's piazzaioli, and the beautiful interior also speaks of that distant age with marble-topped tables, lacquered wooden chairs and ornate mirrors on the walls from which you can glimpse smartly turned out pizzaioli rolling out their dough and thrusting pizzas into the red hot flames of a beautiful tiled oven. Added bonus? Unlike da Michele, you usually won't have to cue for long to enter the labyrinthine multi-level pizzeria - if you lose patience across the road or are simply too hungry to wait, give Trianon a try!
What to order: Try the Sostanziosa – substantial by name and substantial by nature, this is a satisfying margherita base topped with ham, a runny-yolked egg, pecorino cheese and basil.
7 - La Notizia
If you've feel like the traditional Neapolitan pizza varieties have taken you as far as they can take you but are still craving more, then give La Notizia 94 a whirl. Here master pizzaiolo Enzo Coccia seeks to bring pizza to a higher creative plane in what he describes as his 'lab.' Leaving margheritas, marinaras and their derivations far behind, here pizzas topped with Sicilian caponata (sweet and sour vegetables), salt cod or zucchini pesto and smoked bacon are the order of the day. Playing fast and loose with the rudiments of pizza in Naples is a seriously dangerous business, but Coccia is an old hand and manages to pull it off with aplomb. Traditionalists needn't worry though: you can still enjoy Coccia's masterful hand and commitment to highest quality ingredients at La Notizia's other shop down the road at number 53.
What to order: Pizza Baccalà in Cassuola at 94, or the Pizza San Gennaro at 53.
Pizzeria La Notizia, Via Michelangelo da Caravaggio, 53 and 94.