Venice is a city of many charms, and the food culture of the Serenissima is just as impressive as the art and culture for which the Floating City is renowned across the globe. Perhaps unsurprisingly for a city surrounded by water, fish in all its forms tends to be front and centre on menus in Venice. From sardines to anchovies, salt cod, shrimp, squid and more, Venice is a pescatarian's dream. The beating heart that sustains kitchens all across the city, from five-star restaurants to nonna's stove, is the magical, dream-like Rialto Market, where freshly caught fish from the Venetian lagoon and the wider Adriatic Sea arrive each morning to be flogged by charismatic fishmongers plucked straight from the scenes of a vibrant picaresque novel. If you want to understand the cuisine of Venice, then you need to start right here.
But whilst the delights of the sea play a starring role, there's plenty more to enjoy when in search of the best foods in Venice. Read on for our guide to 10 dishes that you need to try when in the Floating City!
Baccalà Mantecato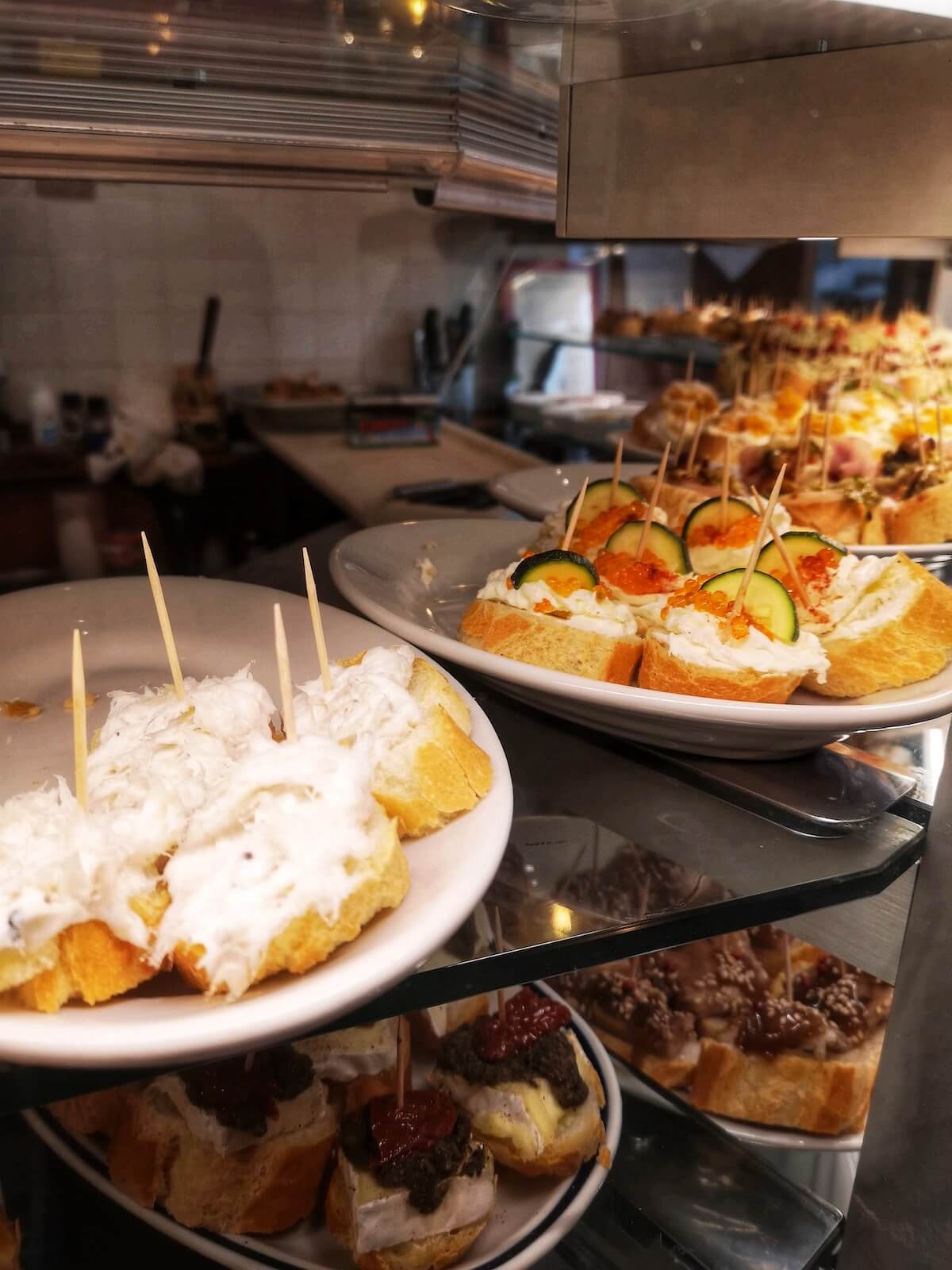 Perhaps the quintessential Venetian dish, baccalà mantecato is a creamed dried cod recipe that has a rather unexpected history. Cod is obviously not a Mediterranean fish, so how did this cold-water native end up becoming one of the most popular staples of the Venetian tradition? Well, the story goes that a Venetian merchant sailor by the name of Pietro Querini got himself shipwrecked off the Norwegian archipelago in the winter of 1432. Forced to spend 3 months with the fishermen of Røst, Querini developed a taste for the local air-dried fish and loaded his vessel with stockfish for his return journey to Venice. The delicacy proved an immediate hit, and a new addition to Italian cuisine was born. In the classic recipe the rehydrated stockfish is poached gently in milk, mixed with oil and seasonings and then blended until smooth before being served on bread as part of a plate of cicchetti.
Sarde in Saor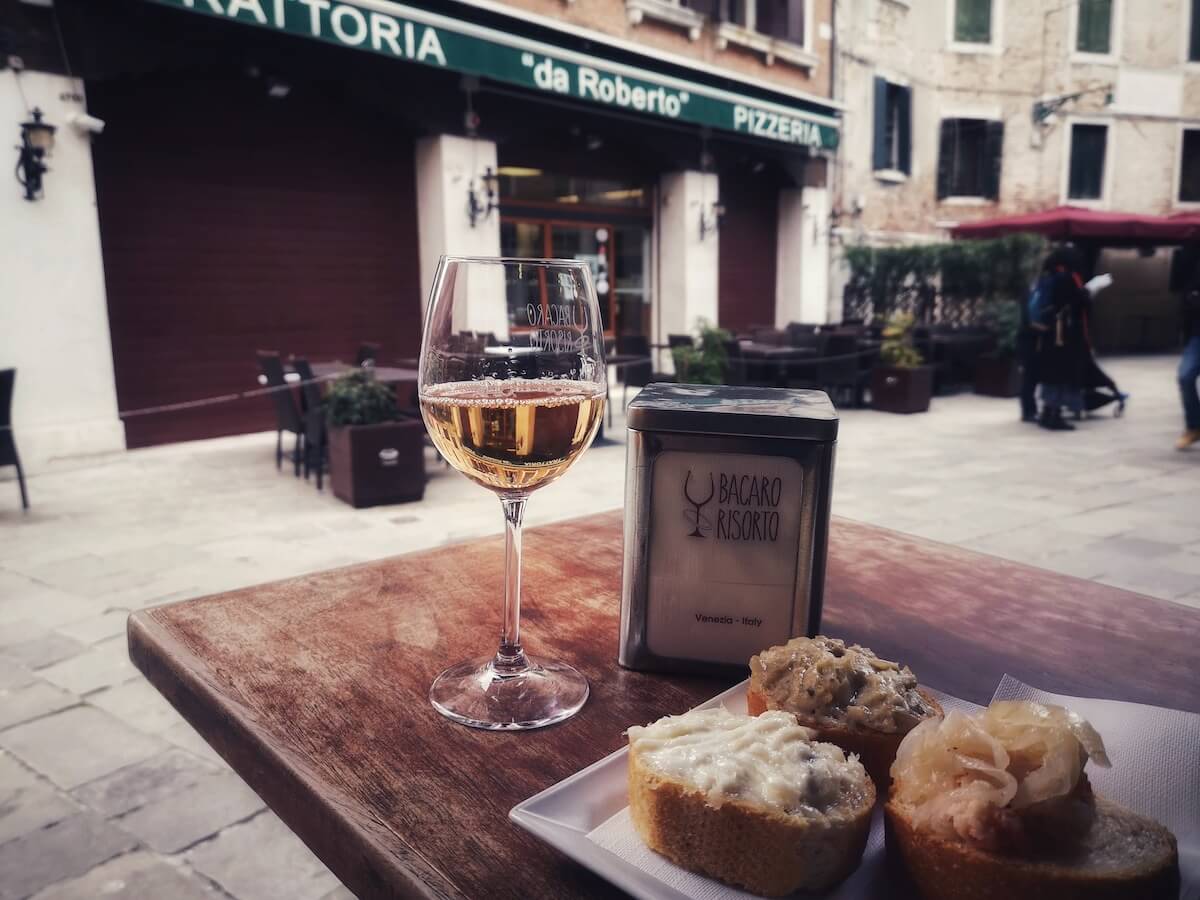 Sweet and sour, Italian style. Sarde in saor is a wonderful Venetian antipasto dish made with fried sardines layered with onions, raisins and pine nuts marinated in vinegar and sugar. Saor means 'taste' in local Venetian dialect, and it's easy to see how this classic sardine starter got its name! You'll find sarde in saor as a cicchetto in any bacaro worth its salt.
Bigoli In Salsa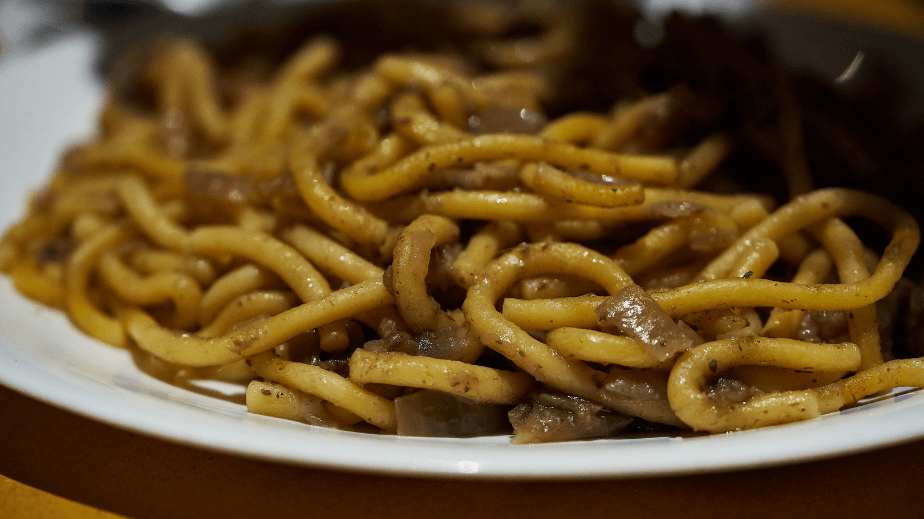 The most traditional pasta recipe in Venice, you'll find bigoli in salsa on almost every menu in the city. Bigoli are a thick long pasta reminiscent of Tuscan pici, made from semolina flour and water, and are typically tossed in a salty savoury sauce of anchovies, onions and white wine. Simple, potent and delicious, you need to try bigoli in salsa when in Venice!
Pasta / Risotto con Nero di Seppia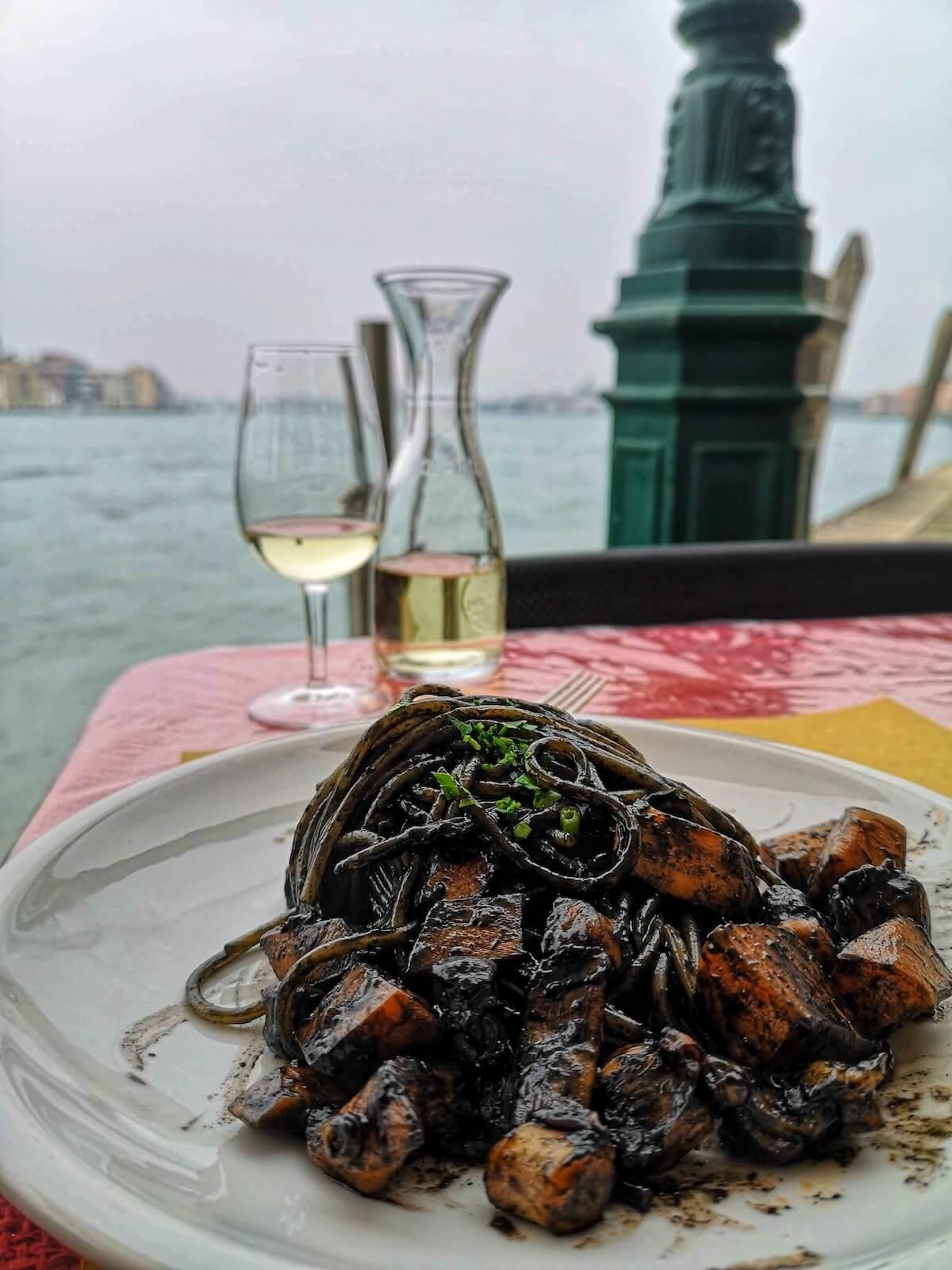 Be prepared to look like an extra from a horror movie after polishing off a plate of squid-ink pasta or risotto, which will stain your lips and teeth a Gothic shade of black -but don't let that put you off what is a real culinary delight. Seppie (squid) are found in plentiful supply in the waters of the Venetian lagoon, and if you find yourself in the Rialto Fish market during your stay in Venice you'll no doubt see endless cephalopods weighing down the stalls. The best way to try squid in Venice is this uniquely rich and savoury sauce made with the ink that the animal squirts at predators in the wild.
Risotto de Gò
Introduced by traders from the east in the 15th century, Italians quickly developed a taste for rice. The warm and humid climate of northern Italy made it perfect for cultivating the exotic grain, and rice was soon successfully cultivated in abundant quantities in the floodplains of the Po Valley. Until midway through the 19th century, a kind of rice known as 'nostrale' was the only variety that was grown. All that changed when a Jesuit priest brought 43 different rice seeds back from the Philippines, including the starchier, creamier varieties that are fundamental to making risotto. In fish-mad Venice, the best way to sample Italy's great rice dish is in Risotto de Gò - ghiozzo gò (goby fish) is a small ray-finned fish native to the Venetian lagoon that makes for a particularly delicious stock, the key to this classic Venetian risotto.
Risi e Bisi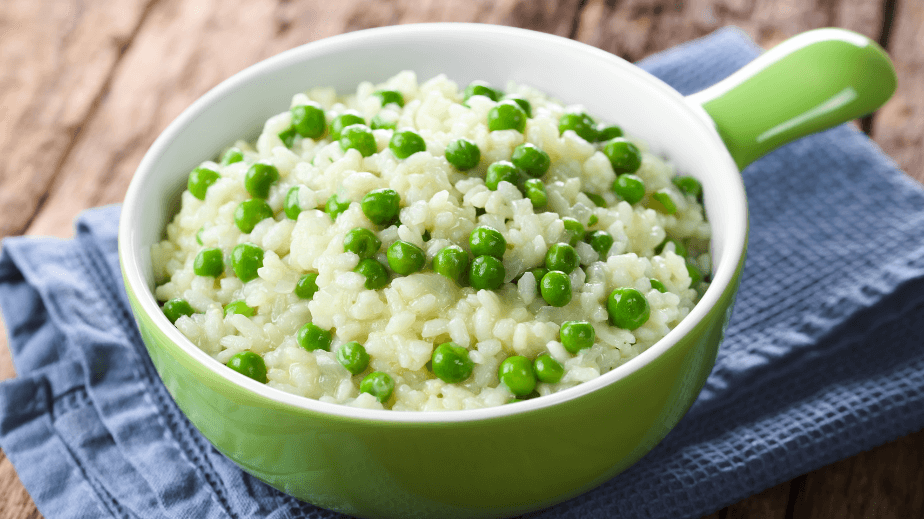 Nothing could be simpler than this combo of rice and fresh Spring peas, but then again why complicate such a perfect marriage? Another example of Venice's love affair with rice, the dish is traditionally served on the feast-day of the city's patron Saint Mark on the 25th of April, when local peas are delectably sweet.
Fegato Alla Veneziana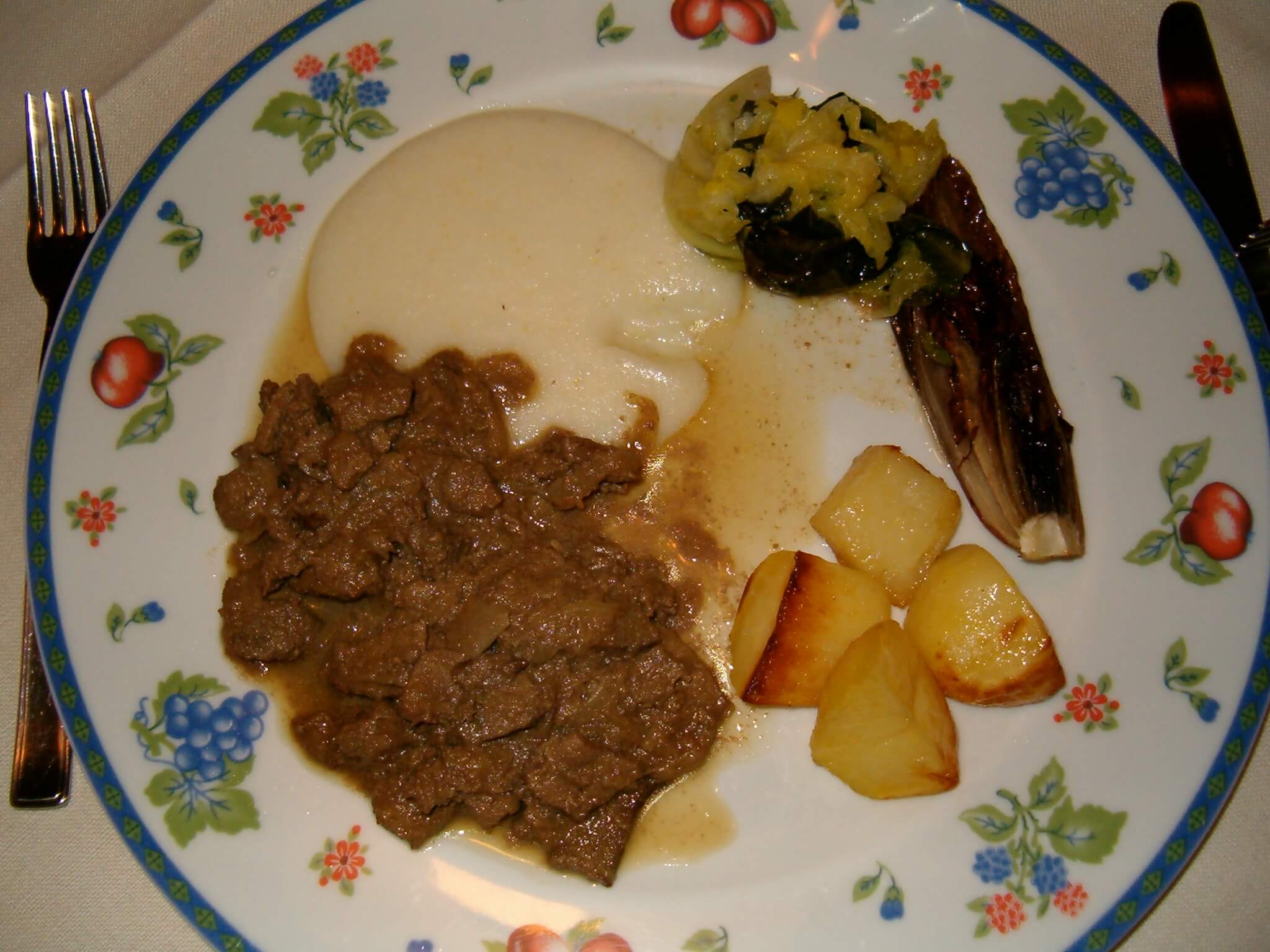 Photo by Xaura, CC BY-SA 3.0, shared on wikimedia
Rome might be more famous for inventive culinary experiments centred around the so-called quinto quarto (the fifth quarter, or in other words offal), but the Serenissima's take on liver and onions might be enough to win over all but the most squeamish to the delights of this cucina povera staple. Tender and flavour-packed calf's liver is combined with slow-cooked onions (for the purists these must come from the Veneto town of Chioggia, renowned for their sweet and delicate alliums). Served up with a generous helping of polenta ( a kind of corn-flour mash not dissimilar to American grits), it's perfect comfort food when the nights are drawing in.
Moleche Fritte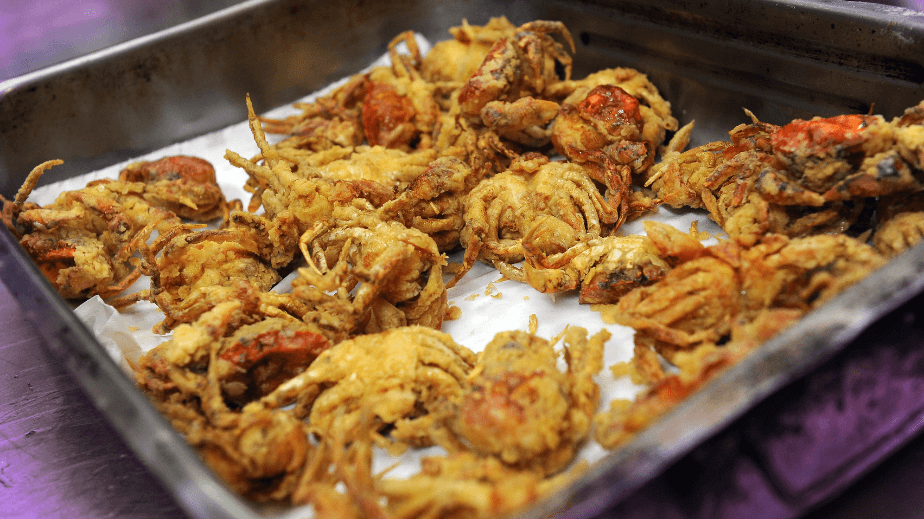 If you're lucky enough to be visiting Venice in late Spring, then the delectable little green crabs known in Venetian dialect as moeche need to be on your gastronomic bucket list. In April and May the crabs shed their soft shells, and keen-eyed Venetian fishermen harvest them up in the brief period before they form new hard carapaces. They are incredibly tender when deep-fried, which tends to be the way Venetians like them best.
Polenta e Schie
Venetians love polenta, that wickedly good thick corn porridge that tends to come in thick slabs, almost as much as they love rice, and it's a particularly sound match when paired with freshly caught shrimps from the lagoon. Schie are diminutive and rather shabby-looking grey crustaceans that taste a lot better than they look. Once a common staple of fishmongers across Venice, schie aren't as easy to find these days and you're likely to only find an authentic version of the dish in the city's better restaurants.
Tramezzini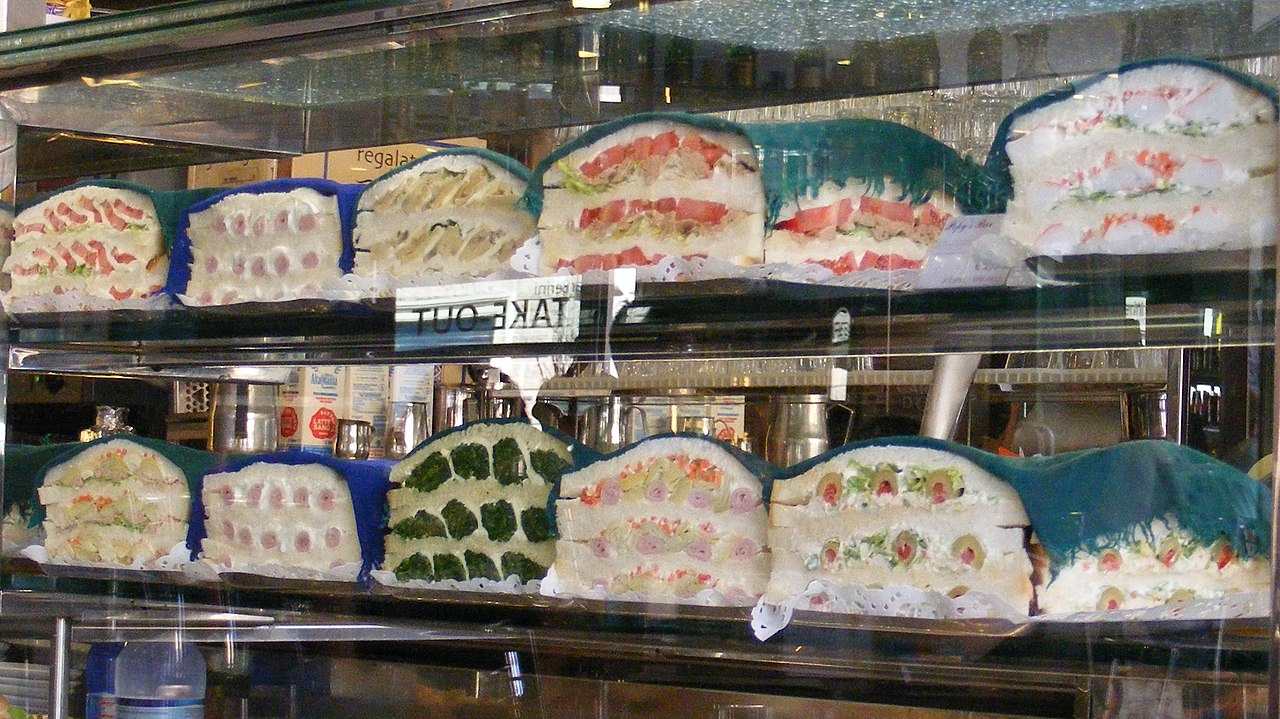 "What's the big fuss", you might ask yourself, the first time you hear about these little triangular sandwiches of soft white bread with the crusts cut off that Venetians tend to go ga-ga for. Bear with us; tramezzini add up to a lot more than the sum of their parts, and they're utterly delicious. Delectably moist and addictively moreish, tramezzini come in a bewildering array of fillings from fishy delights like tuna, shrimp, and salmon to classics like asparagus and egg, ham and mushroom and much more. Always super cheap and available almost anywhere, the tramezzino is the Venetian pick-me-up snack without rival.
We hope we've whetted your appetite for the delights of Venetian cuisine with our top 10! If you'd like tips as to where to sample some of these Venetian staples at their best, then be sure to check out our guide to the best bacari in Venice. If you're planning a visit to Venice and want to make the most of your time in the city with expert-led private tours, then have a look at Through Eternity's best Venice tours here!