When in Venice, if you want to eat and drink like a local then you need to acquaint yourself with the city's bacari - traditional hole-in-the-wall wine bars that serve up an array of small-plates and crostini known as cicchetti alongside generous pours of local wine and, of course, spritzes. Piled high with meat, vegetables and all manner of seafood, chowing down on cicchetti in a bacaro is the best way to get an authentic taste of Venice. What's more, these traditional watering-holes are usually incredibly good value and won't break the bank - unlike many of the city's high-end restaurants. Read on for our guide to 7 of our favourite haunts in the Floating City!
Cantine del Vino già Schiavi
Dorsoduro 992, Ponte San Trovaso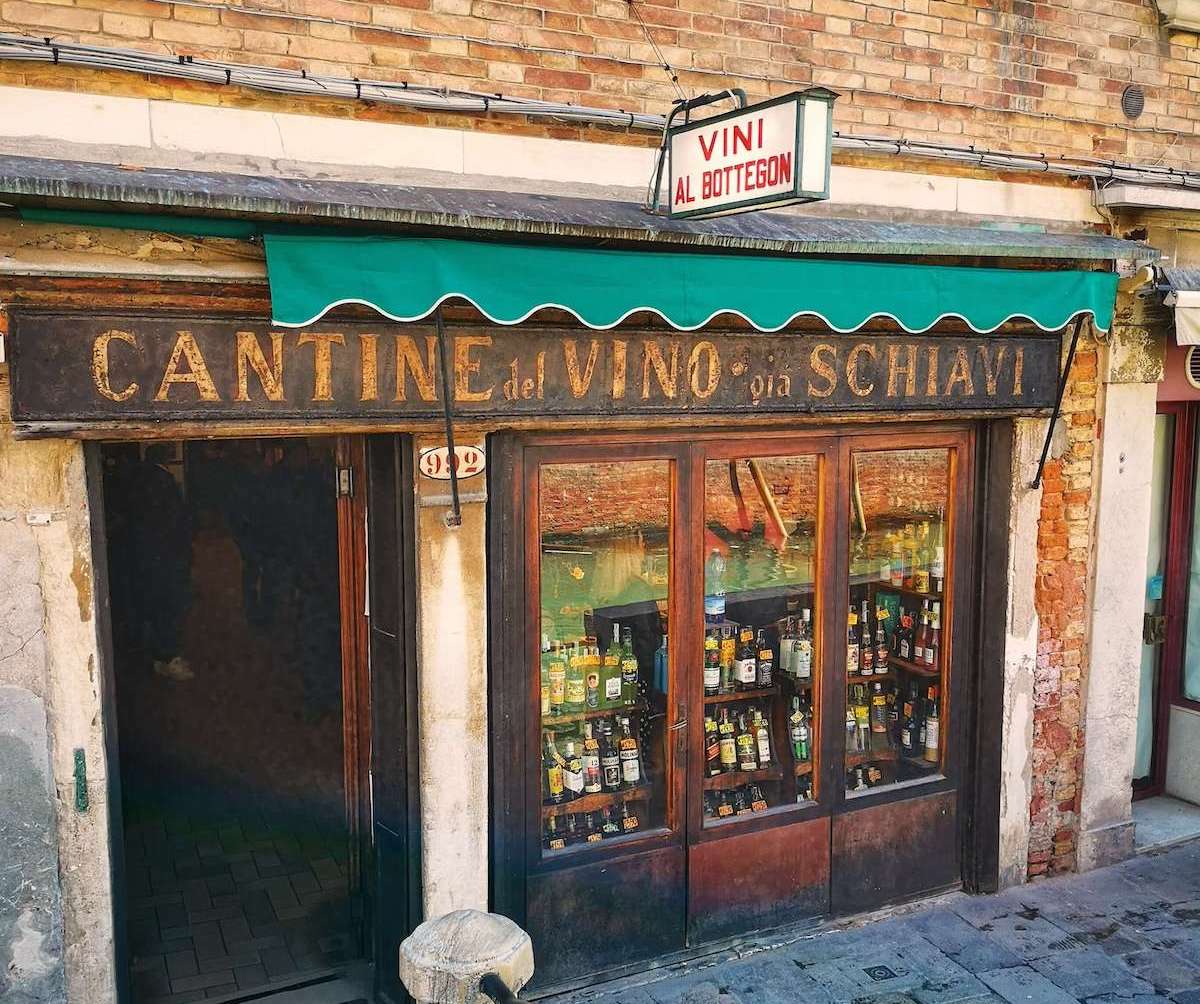 Time seems to stand still in this Dorsoduro institution hidden away in the atmospheric tangle of alleyways and canals near the Academia Gallery. As a wine-shop the Cantinone (as it's known locally) offers a fine selection of bottles to take away, but we recommend that you stop a while at the old-fashioned marble bar, order a glass or three of local red or white and get stuck in to the marvellous array of cichetti on offer behind the glass display. Each day the woman of the house and local legend Sandra whips up combinations that could include classics like sarde in saor (sweet and sour sardines) or modern flourishes like raw tuna with bitter cocoa. Things often get busy at the Cantinone, so you might find yourself perching on the lovely little bridge of San Trovaso outside as you devour your delicious morsels.
Osteria all'Arco
San Polo 436, Calle dell'Occhialer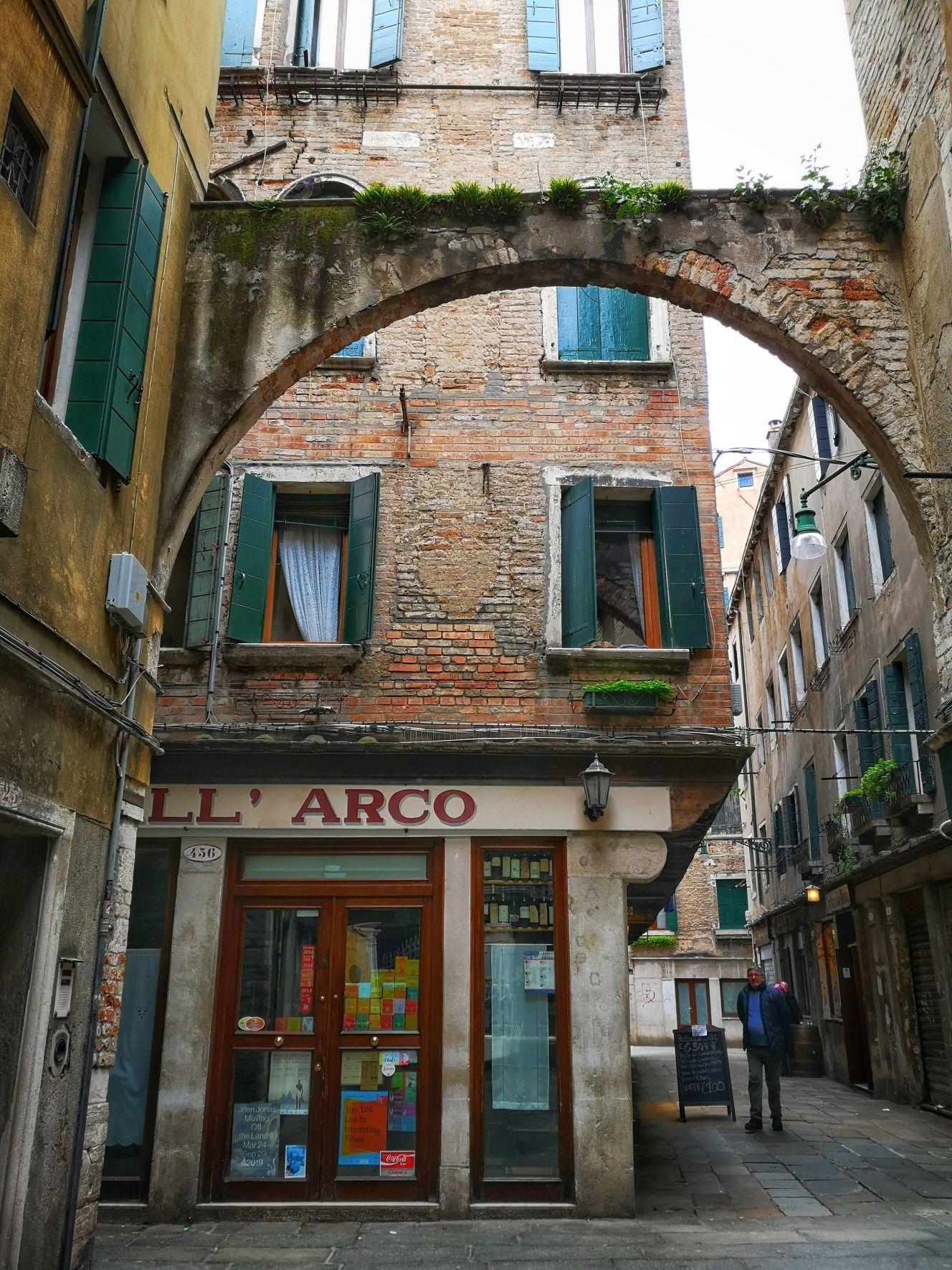 Strategically located near to the Rialto Fish Market, all'Arco's tiny interior is hardly big enough to swing a cat in. You can forget about finding a seat here (although in theory there are three tables to fight over) but that just adds to the character. Push your way to the bar, order a glass of sparkling white wine and load your plate high with the extremely moderately priced cichetti. Father and son team Francesco and Matteo Pinto are renowned for serving up some of the finest baccala mantecato (creamed cod) in the city, but that's far from the end of the culinary treats on offer: all'Arco's proximity to the fish market means that all of the fishy offerings are exquisitely fresh - try the anchovy and onion combination for a an explosion of savoury goodness. Plate and glass in hand, all that remains is to find yourself a likely corner from which to watch the thrilling street-theatre that is a Venetian bacaro in full swing.
Cantina do Mori
San Polo 429, Calle dei Do Mori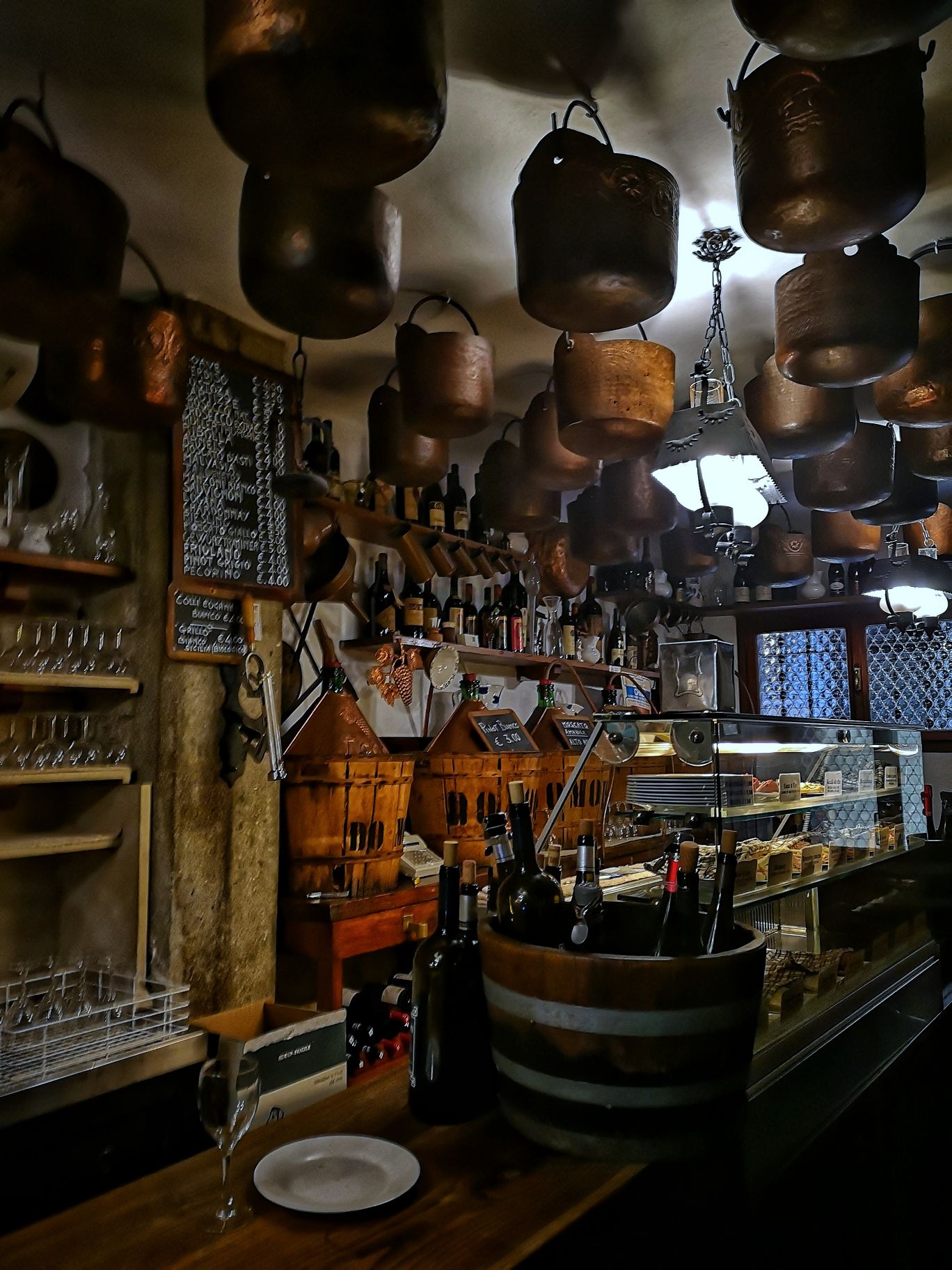 The air of history hangs heavy over this extraordinary bar only steps from the Rialto bridge. Founded just a decade after Columbus set sail for America, the story of Do Mori extends all the way back to 1462. It's unsurprisingly the oldest bacaro in Venice; perhaps more surprisingly, it seems like not much has changed in the intervening 550 odd years. This rustic tavern owes its name to two Moors who once served up wine here to thirsty passing sailors, and the battered copper pots and cauldrons hanging from the ceiling easily conjure up a distant past of derring-do. Mornings see old-school traders from the Rialto Market arriving to whet their whistles and sample the house tramezzini, known as francobolli or postage stamps for their diminutive proportions. You could do worse than to follow their lead!
Bacaretto da Lele
Fondamenta dei Tolentini, 183
View this post on Instagram
Enticingly perched right on the edge of one of the most picturesque canals in Venice, cheery no-frills da Lele has been serving up Venetian classics since 1968. Incredibly low prices (cichetti will set you back €1 each, while a small glass of wine is even less) ensures that the bar is one of the most popular in the city, drawing a vibrant young crowd every day to while away the sunset hours at the water's edge. Don't let the queues put you off - service here is extremely efficient, and you'll reach the bar in no time. If you'd like to rub shoulders with real Venetians, then Bacaretto da Lele needs to be on your list.
Arcichetti Bakaro
Campo dei Tolentini 183a
View this post on Instagram
If da Lele is too crowded for your tastes, then fear not: its neighbour Arcichetti Bakaro is a worthy alternative, with a number of tables up for grabs on picturesque Campo dei Tolentini in the shadow of the church of San Nicolo. With the bar expertly tended by Sam, whose flowing beard and jaunty beret are as legendary as his larger-than-life personality, you can be sure that the spritzes are top-notch, the beer cold and the cicchetti always freshly-made at this popular neighbourhood haunt.
Osteria al Ponte
Cannareggio 6378, Ponte del Cavallo
A real locals' haunt located on a lovely little bridge leading to magnificent Campo Santi Giovanni e Paolo, Osteria al Ponte is a popular hangout for doctors from the old hospital nearby. A bright red facade outside leads into an unassuming interior concealing a kitchen of real quality. The enticing small plates on offer include fried tuna meatballs, mozzarella with cuttlefish ink and excellent cheese boards. Well-chosen wines by the glass and spritzes run for as little as €2.50. Osteria al Ponte is the perfect pit-stop in the Cannareggio quarter if you're heading to Basilica dei Santi Giovanni e Paolo and Verrocchio's stunning equestrian monument to Bartolomeo Colleoni in the adjacent piazza.
Enoteca al Volto
Calle Cavalli 4081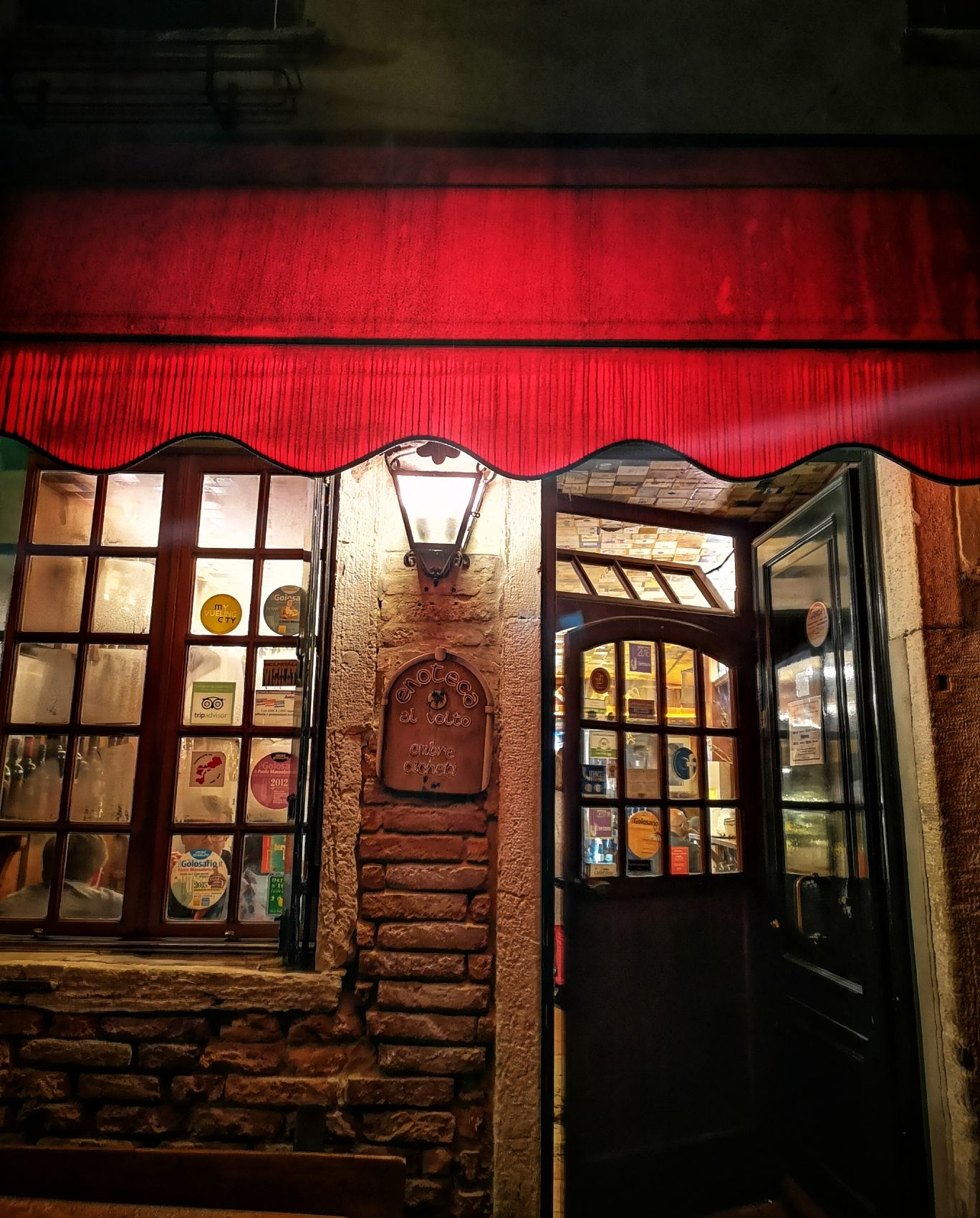 After a dark night's wandering along the waterfront of the Grand Canal, pulling open the doors of this old-fashioned enoteca down a nearby side-street and finding the cheerily-lit space within buzzing with chat and laughter is one of Venice's great little pleasures. If you're hungry you can get a full meal here, but it's just as much fun to linger by the bar wolfing down incredibly moreish tramezzini - traditional Venetian sandwiches stuffed to bursting with enticing fillings. Try the prawn or tuna offerings and you'll see what we mean. Make sure to pair with an ombra or three - an unpretentious little glass of house wine that won't break the bank.
We hope you enjoyed our rundown of some of the best wine-bars in Venice! Through Eternity Tours offer a range of itineraries in the Floating City. If you plan on visiting Venice and want to see the city through the eyes of a local, then check out the Venice tours on our website today! We'd love to show you around.
To learn more about the rich food culture of Venice, be sure to have a listen to our podcast where we go in-depth on the cuisine of the Veneto: TE Talks - The Food, Wine and Cocktails of the Veneto.