The Christmas period is upon us, and the enchanting streets of the Eternal City look as if they've been plucked straight from the pages of a fairy-tale. You might not think of Rome as a city to visit in the depths of winter – if you're planning a European break this holiday season it's a good bet that northern cities spring more easily to mind, with their medieval houses and snow-covered lanes, cheery taverns and bustling Christmas markets. But as the dying year prepares to take its final bow, Christmas is actually one of our favourite times of year to get to grips with the Eternal City.
Why? Firstly there aren't so many tourists about, meaning you can explore the city's monuments in relative peace, and the weather is still mercifully mild; the streets are beautifully lit up with Christmas lights, and the historic centre is packed with locals drinking in the seasonal spirit – its the one time of year when the Romans themselves descend on the centre en-masse and locals easily outnumber the out-of-towners!
Traditionally the festive season begins with the feast of the Immaculate Conception on December 8th, and concludes with the celebration of Epiphany – or the Befana to Roman ears – on January 6th. That's almost a whole month of festive fun to take advantage of - but what should you do and see to experience the magical winter atmosphere of Christmas in Rome at its best? Read on to find out!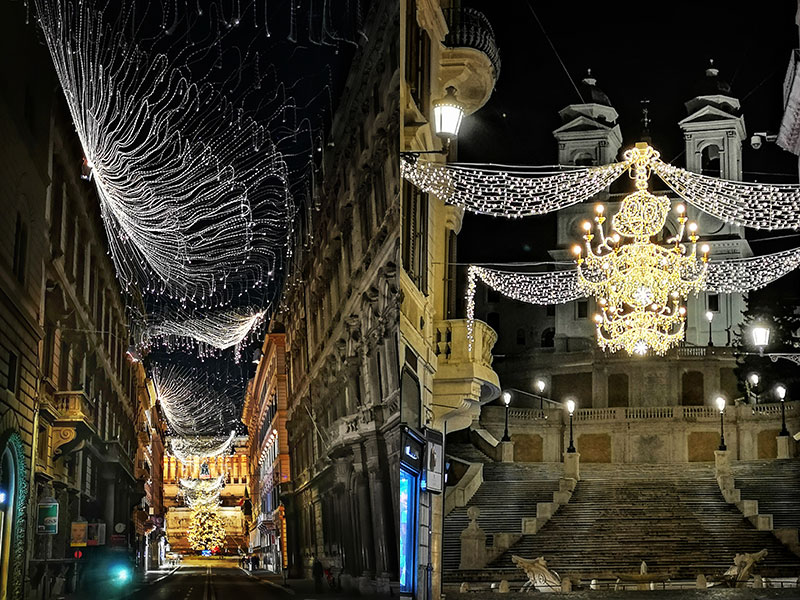 1. Enjoy the Christmas Lights
Rome looks great at any time of year, but the city takes on an altogether more magical dimension when the Christmas lights go on to mark the beginning of the festive season on December 8th. The most spectacular tend to be found on Via del Corso, Rome's most important shopping street, and this year is no exception. A stunning tangle of silvery threads stretch across the rooftops above the street, suspended against the night sky as they snake their way for over a mile from Piazza del Popolo in the north to Piazza Venezia in the south.
To create the effect, fully 190 kilometres of (energy efficient) fibre-optic cable were installed, along with 10 big screens beaming iconic moments of Roman film history into the night sky. No less impressive are the golden lights and chandeliers studding nearby Via dei Condotti, marvellously framed by the designer stores lining the street, with the Spanish Steps completing the scene in the distance. In fact, everywhere you go in the historic centre this Christmas the streets and piazzas are beautifully illuminated, from Via del Babuino to Via dei Coronari, from Piazza Navona to Campo dei Fiori. To get the full-on Roman Christmas effect, take a midnight stroll through deserted streets.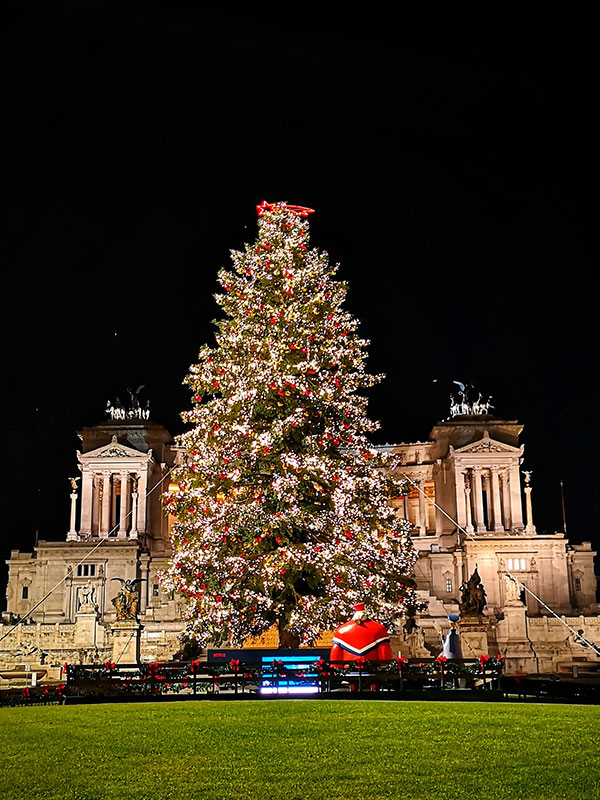 2. Gaze up at the Christmas trees in St. Peter's Square and Piazza Navona
Rome's central Christmas tree catapulted to unwanted worldwide attention back in 2017, when the massive but somewhat bedraggled looking spruce in Piazza Venezia became the object of global social-media ridicule. The doughty tree – rechristened Spelacchio (baldy) on account of its battered appearance - quickly found a place in Roman hearts, and is remembered fondly to this day. This year's tree (sponsored and paid for by Netflix) is more of conventional beauty, a 70-foot behemoth hailing from the rugged wilds of northern Italy. Illuminated by 80,000 red and gold lights, it will lit 24/7 until January 6th.
The city's other tree you need to see occupies pride of place in front of St. Peter's Basilica across town, right at the centre of the iconic Bernini-designed Piazza San Pietro. Each year the Vatican's tree is donated by a different community from around the world, and this year's 85-foot incumbent comes from the wooded mountains of Trento in northern Italy. The tree will be in place until January 12. Visit at night, when both tree and basilica are spectacularly lit against the surrounding darkness. Better yet, head to St. Peter's square for midnight mass on Christmas Eve, or come the following day at noon for the Pope's Urbi et Orbi address, both of which draw huge crowds of worshippers.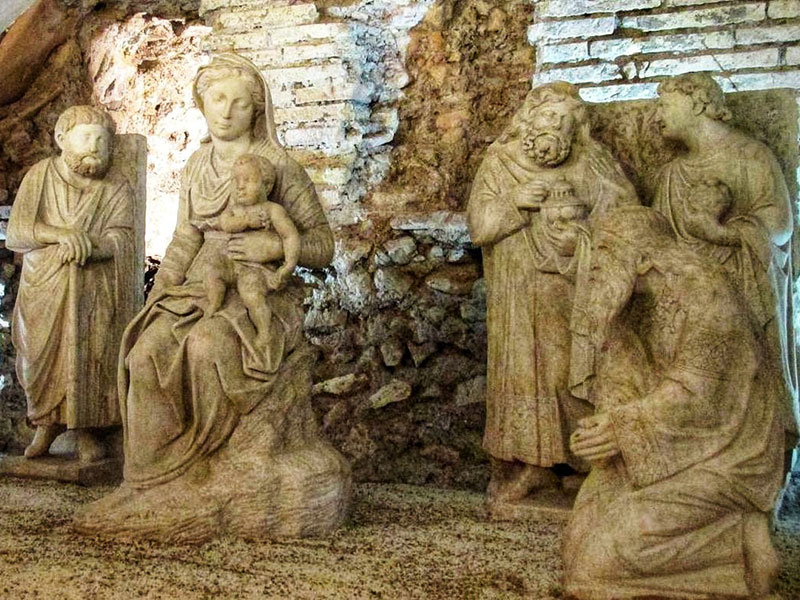 3. Admire Rome's presepi, or traditional Nativity cribs
Christmas is, after all, a celebration of Christ's birth, and if you'd like to return the birthday boy back to centre stage then you should take a trip through Rome's rich tradition of Nativity cribs, or presepi. The tradition of recreating the scene of Christ's birth in a humble Bethlehem barn is a venerable one - the first reported example was realised by none other than St. Francis of Assisi in 1223. The big-daddy of Rome's nativity cribs is the life-sized version installed each year in St. Peter's Square. Like their Christmas tree, the Vatican's presepe this year comes also comes from Trento.
Almost every major church in Rome features their own smaller scale presepe as well, so keep your eyes peeled as you wander around the city. One of our favourites is the beautiful 18th-century Neapolitan example in the church of Santi Cosma and Damiano near the Roman Forum, replete with scenes of contemporary daily life. But the real artistic highlight of the Rome's presepe is to be found in Santa Maria Maggiore, where the peerless medieval sculptor Arnolfo di Cambio sculpted a beautiful marble group featuring the Holy Family, the Magi, and even an on-looking cow and donkey venerating the infant Christ at the request of Pope Nicholas IV way back in 1291!
If that isn't still enough crib action for you, then head to Sala San Pio X on Via della Conciliazione in the Vatican City to take in the annual 100 Presepi in Vaticano exhibition. The show features, you guessed it, 100 nativity scenes hailing from across Italy and 25 other countries around the world, and encompasses historical models and bespoke cribs made specially for the occasion. It's open every day from 10 AM to 8 PM until January 12, and entrance is free. See the official website for more.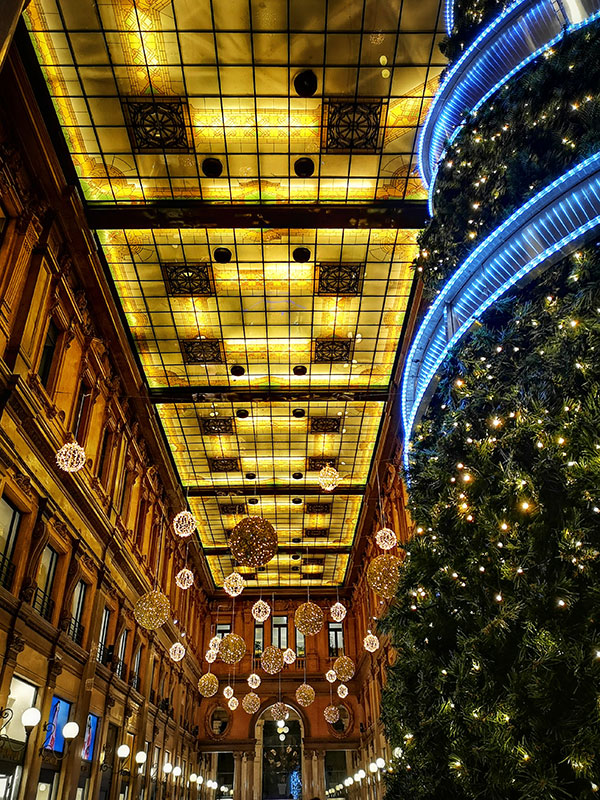 4. Indulge in some seasonal shopping in Rome's historic centre
If you're in the Eternal City over the Christmas period it's a fairly good bet that you'll be doing some seasonal shopping. The best place to start is on Via del Corso, where big name chains and smaller boutiques cheerily rub shoulders on Rome's premier shopping street. If you're looking to splash the cash then nearby Via Condotti and Via del Babuino should be your first ports of call, where lux designers Gucci, Bulgari, Louis Vuitton and all the rest await.
Whether you're planning on making any purchases or not, make sure to stop in at Galleria Sordi a stone's throw to the south. This spectacular art-nouveau shopping arcade is magnificently decorated every Christmas, and is the perfect spot to really get in the festive mood. The jumble of medieval alleyways around bustling Campo de' Fiori meanwhile are full of smaller-scale (and more affordable) boutiques.
If you're keeping things eco-friendly this Christmas, then head instead to the trendy Monti neighbourhood, where an array of brilliant vintage shops will help you keep your seasonal shopping carbon footprint to a minimum. Our favourite spots to bag a retro bargain are Kingsize, Pifebo, Vesti di Messalina and Humana.
5. Take in a Christmas concert in spectacular surroundings
Nothing says Christmas quite like some seasonal music heralding the arrival of the Messiah, and if you're in the Eternal City over the festive period you're in luck. Rome probably boasts more spectacular historic churches and palaces than anywhere else on earth, and many throw open their doors for recitals of everything from choral numbers to operatic arias and orchestral ensembles to ring in the return of the king. The soaring Renaissance church of San Marcello al Corso is one of the best places to take in a concert in atmospheric surroundings, and their events are free, too. The magnificent Renaissance churches of San Lorenzo in Damaso and Santa Maria dell'Anima meanwhile will be hosting Christmas concerts on December 20th and 21st respectively.
For something a little more full-on, check out the Baroque New Year's concert at Sant'Agnese in Agone on Piazza Navona - a fitting slice of the 17th-century in one of the era's most impressive monuments. Equally suggestive is the series of operatic recitals being held in the glittering Baroque halls of the Galleria Doria Pamphilj as well as the unique Christmas concert held in the eerie surroundings of the Capuchin bone crypt on Via Vittorio Veneto.

6. Eat yourself silly with seasonal specialities
For Italians (as, let's face it, for the rest of us), the main goal of the festive season is to gorge yourself on rich seasonal food and drink in a desperate bid to keep the winter blues at bay. In Rome the real food action begins in earnest on Christmas Eve (La Vigilia), where fish is the order of the day – a remnant of the Catholic custom of abstaining from meat on the eve of important religious feasts. Look out for the delicious brodo di arzilla, a traditional Roman soup of broccoli, pasta and skate fish, as well as seppie con piselli – squid and peas cooked in tomato – and fried calamari.
When Christmas Day itself rolls round, you'll usually see Romans tucking into tortellini in brodo as well as fresh pasta with ragù or lasagna, followed by fried lamb cutlets or roast lamb. For the more adventurous, another Roman Christmas classic is coratella con carciofi – lamb offal and artichokes slow-cooked in white wine. Side dishes of choice? Crunchy puntarelle, spiked with anchovies, oil and vinegar, and artichokes simmered in oil. Many restaurants across Rome will be featuring these dishes on their menus throughout December and January, so be sure to give them a try.
If you've got a sweet tooth, then don't miss out on obligatory Italian Christmas classics Panettone and Pan d'Oro. Panettone literally means 'big bread,' and is a large and fluffy yellow loaf usually studded with candied fruits, raisins and lemon zest. Pan d'Oro is Panettone's more venerable cousin, a rich bread whose origins can be traced back to the Middle Ages when it was reserved for Veronese royalty. If you're looking to stuff your suitcase with Panettone and other seasonal treats to bring back home this Christmas, then head to historic food shop Volpetti, with branches on Via Marmorata in Testaccio and Via della Scrofa in the historic centre.
7. See the Colosseum, Vatican and more – without the crowds!
All that eating, drinking and festive cheer can take its toll, and so it's a good idea to walk off the excess with a trip or two around the Eternal City's magnificent monuments and galleries. The good news is that Rome's archaeological sites and museums will generally all be open throughout the Christmas period with the obvious exceptions of Christmas Day on December 25th and New Year's Day on January 1st. December and January are in fact the ideal times to plan your visit to the Colosseum, Roman Forum, Vatican and the rest, where visitor numbers are a tiny fraction of what they are at other times of the year. The cooler weather makes a morning's traipse around the world's most extensive remains of antiquity a more than appetising proposition.
For the perfect post-Christmas stroll, we recommend taking a trip out to the jaw-dropping ancient remains at Ostia Antica, an archaeological site that rivals Pompeii for the window it offers into the distant world of antiquity. It's wonderfully peaceful at this time of the year, and chances are you'll have the site virtually to yourself. What better way to walk off the Christmas calories?!
Buone Feste from Through Eternity!