With a story stretching back over a thousand years, historic Borough Market is London's most famous and best-loved food market for good reason. Spreading out across a series of magnificent Victorian buildings in the shadow of Southwark cathedral and surrounded by railway viaducts, the sprawling complex features hundreds of produce traders and gourmet street food stalls whose delectable wares have made Borough Market one of London's leading foodie destinations.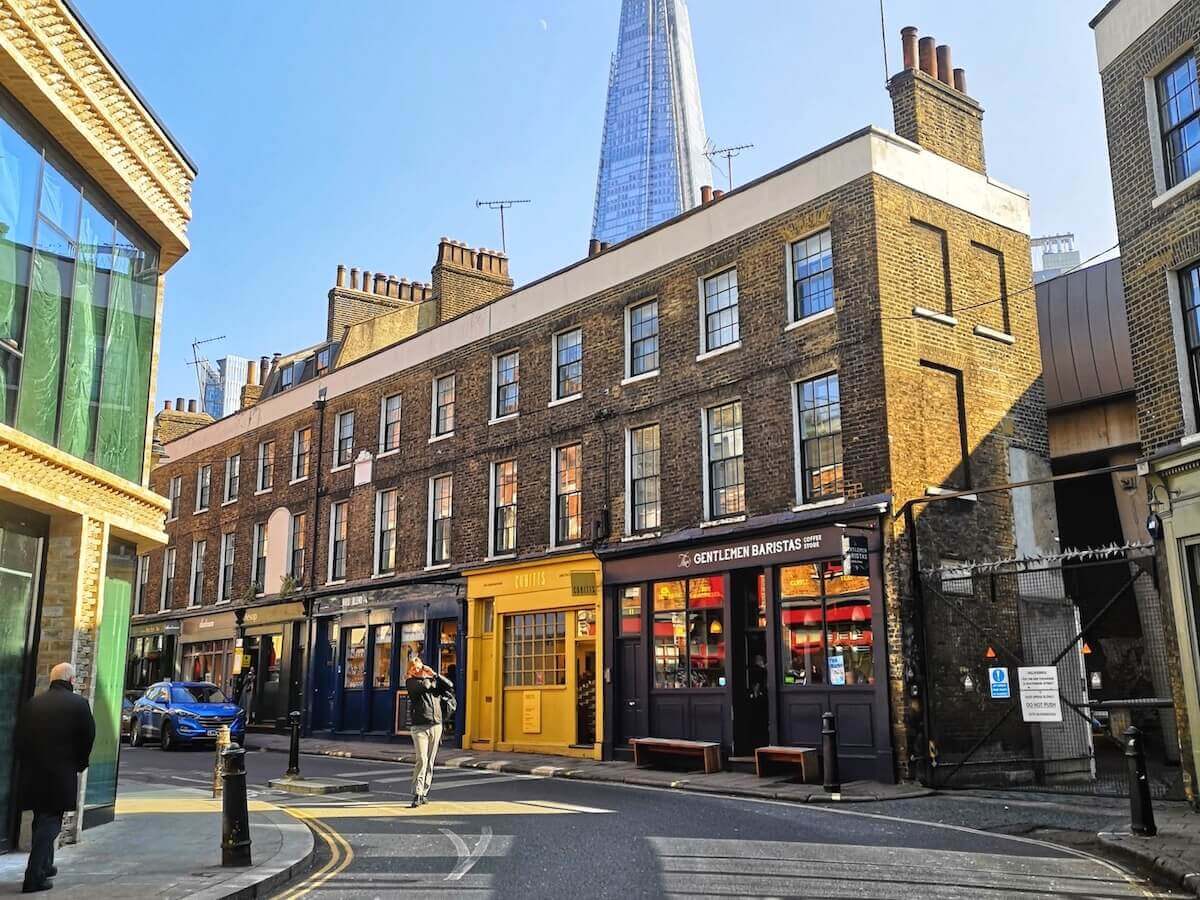 Whether you're looking for cured meats and cheeses, super fresh fruit and veg, street-food classics like scotch eggs and fried fish or even substantial west-African stews, Thai curries and some of the capital's finest fish and chips, you'll be sure to find what you're looking for here! Read on to discover why Borough Market needs to be near the top of your culinary agenda when visiting London.
A brief history of Borough market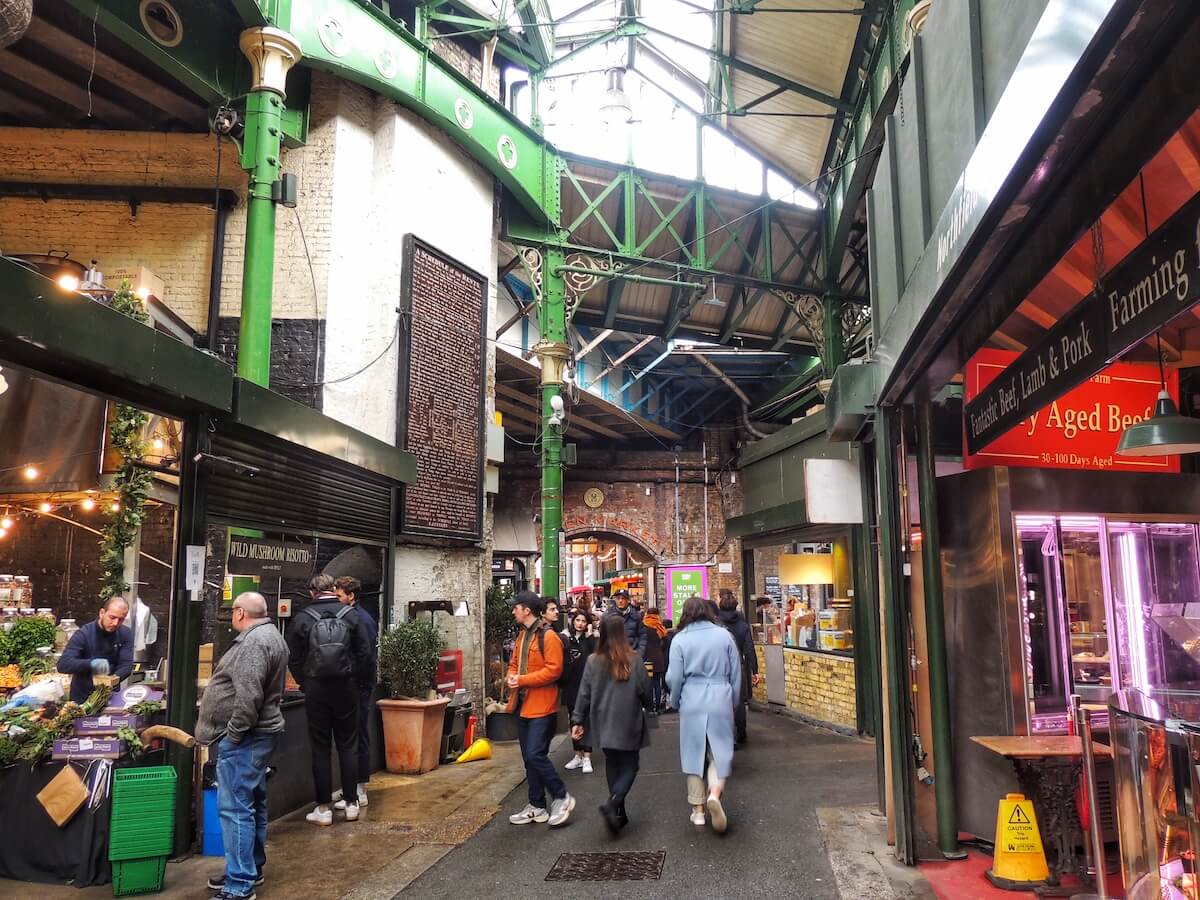 A market of some kind of other has existed in Southwark, located just to the south of the river Thames, since at least the 11th century. In the Middle Ages the area was not actually part of London at all, but rather a distinct, rough and rowdy frontier town outside and across the river from the imposing city walls. A bridge was built to connect Southwark to London in the year 990, and it soon became an important access route in and out of the city for the entire south of England. Traders moved in to flog their goods to passersby, and two informal markets sprang up around the bridge and along the road leading out of town - something that greatly vexed the authorities across the river, frustrated at the rogue traders operating just outside of their jurisdiction.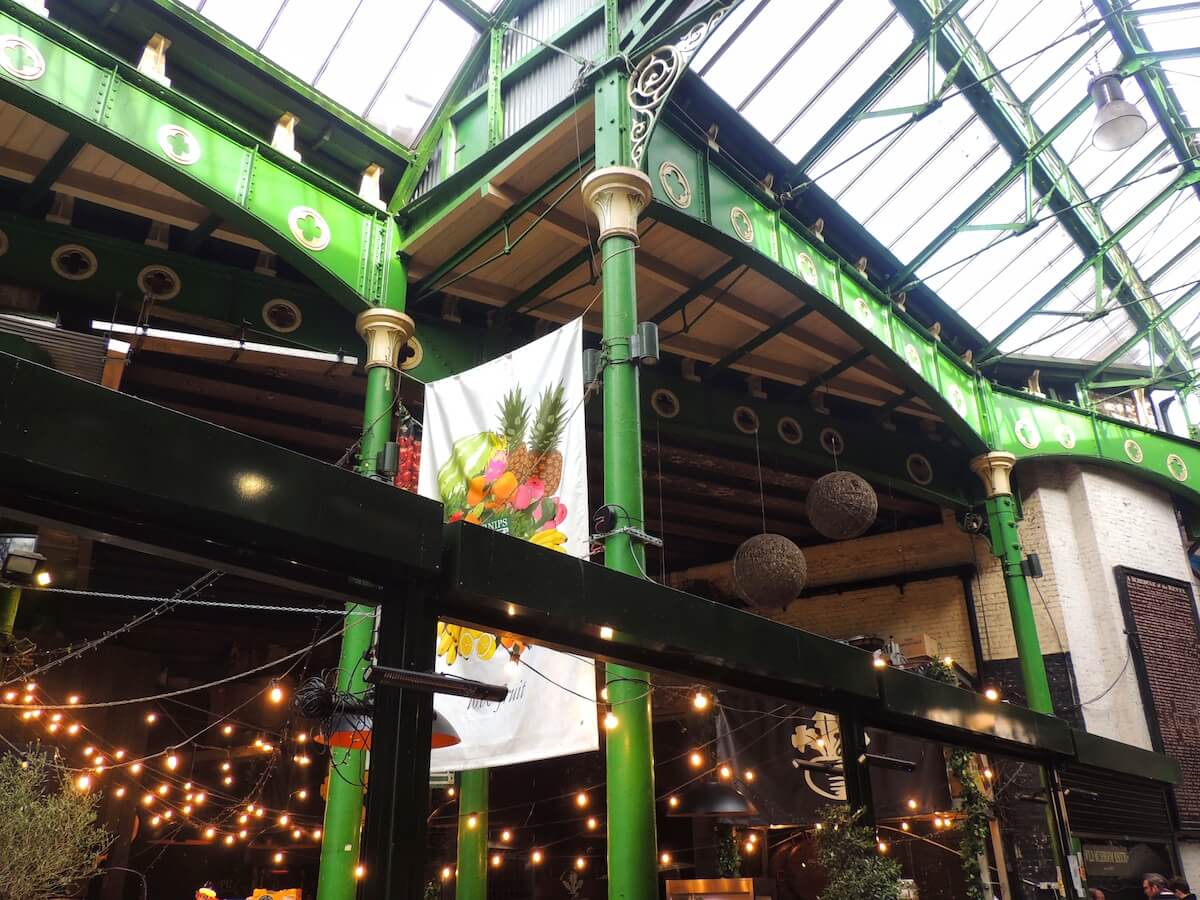 Southwark was eventually incorporated into London via a series of royal charters in the 15th and 16th centuries, culminating in the official sale of the borough to the City in 1550. The by-now consolidated market on Borough High Street continued to grow in size and importance, a heaving place where grain merchants and butchers, greengrocers, farmers and bakers all set up shop alongside countless taverns, brothels and other houses of ill-repute. Such was the chaos that reigned in the unruly street market, however, it was shut down by the authorities in 1756 with the proviso that a new market away from the high street could be set up to take its place. Local citizens soon procured an appropriate tract of land, and the Borough Market that we know today opened for business on the 25th of March in that same year.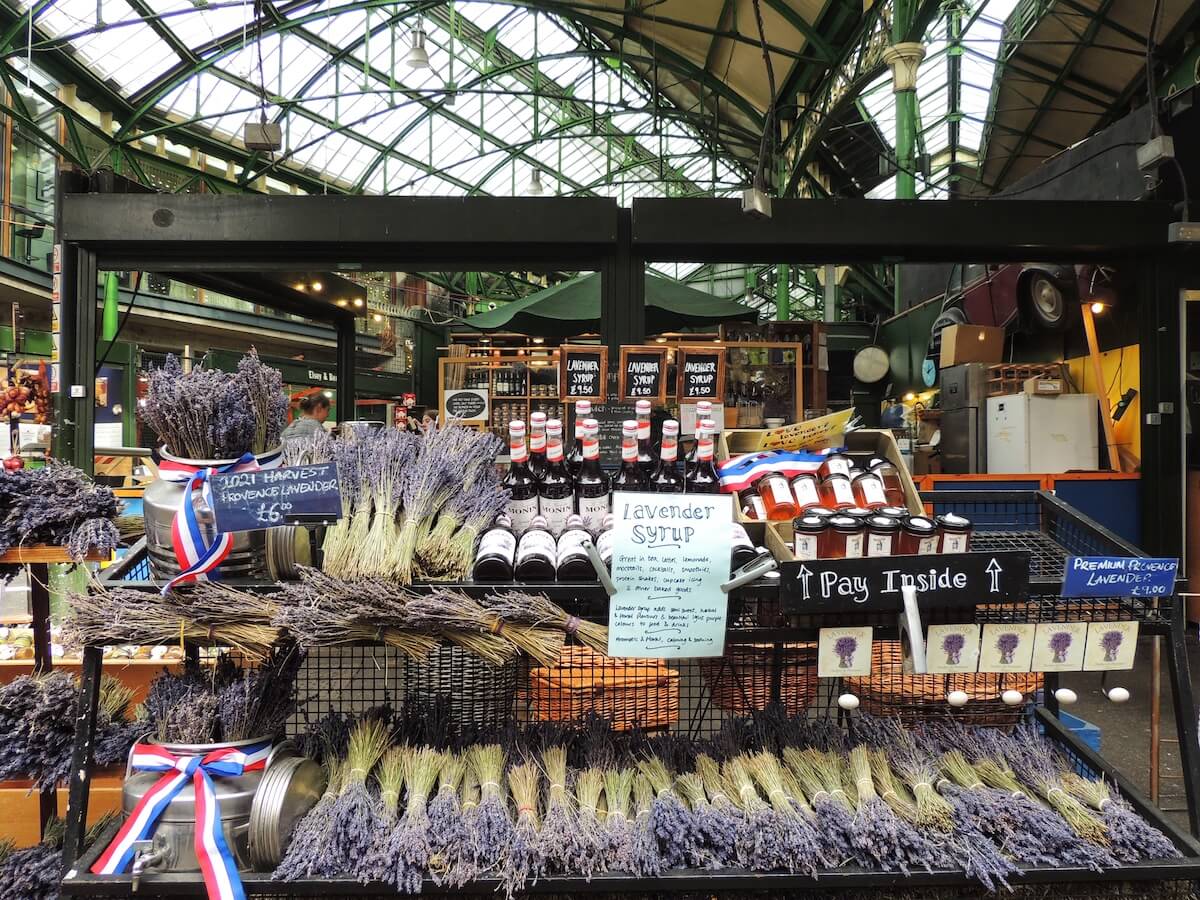 Although nothing like as chaotic as its ramshackle predecessor, Borough Market steadily grew over the years until it became arguably the city's most important fruit and vegetable wholesaler in the 19th century, buoyed by south London's rapid industrialisation and the advent of the railway. Fabulous new buildings in iron and steel sprang up to house the expanding stalls, and for much of the 20th century Borough Market remained primarily a wholesale market supplying the greengrocers of south London and beyond. The market suffered a decline in the latter part of the century with the rise of supermarkets and consequent waning importance of produce markets, before reinventing itself in recent decades as an important culinary destination in its own right after a series of highly successful gourmet events hosted in the semi-abandoned halls and warehouses in the 1990s. These days it's a must-stop on any food tour of London.
EAT: Tuck into a dizzying array of street food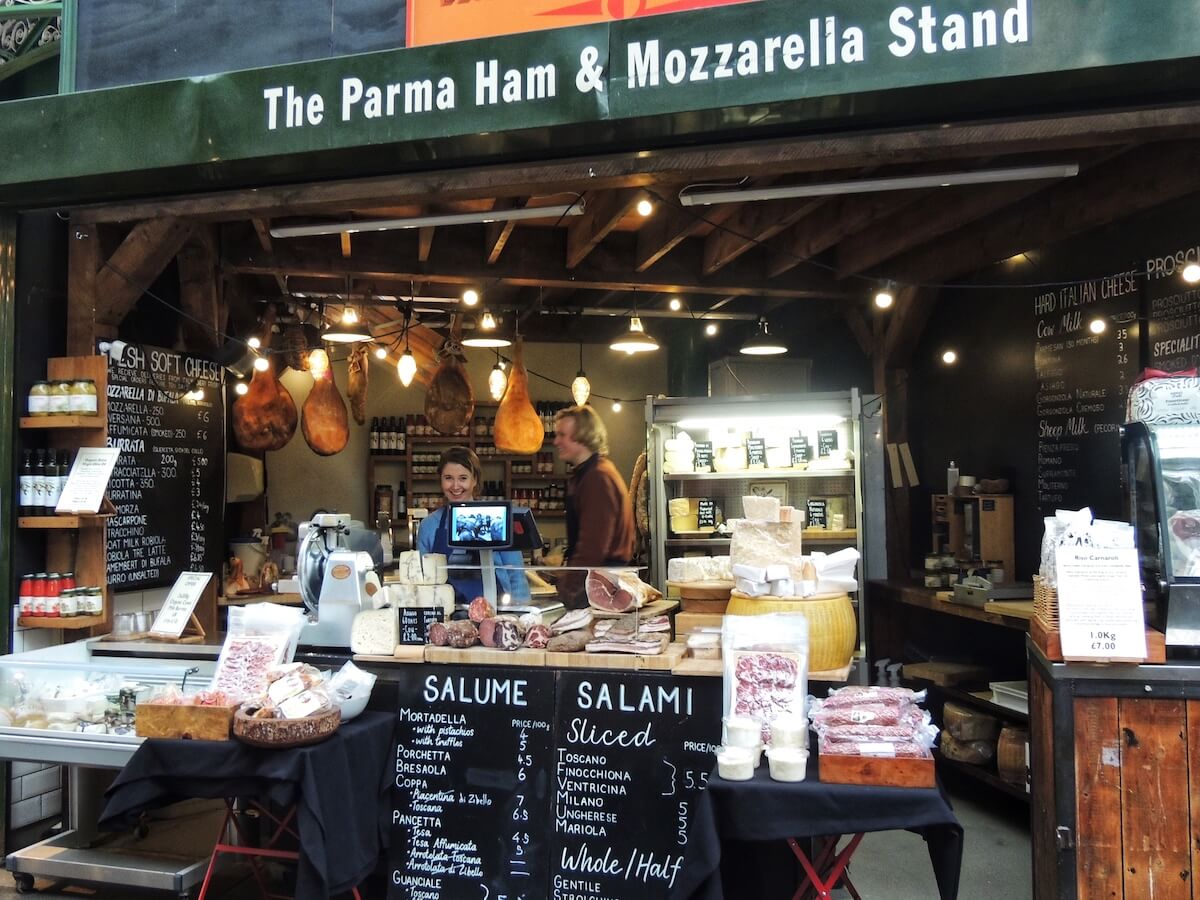 The seemingly endless rows of food stalls extending as far as the eye can see beneath the iconic green-painted steel and glass architecture make up a veritable gourmet's paradise - a feast for the eyes, ears and nose as much as it is for the palette. You'll find the vivid colours, vibrant bustle and sheer energy irresistible to photograph, so make sure to have your camera ready to capture the display.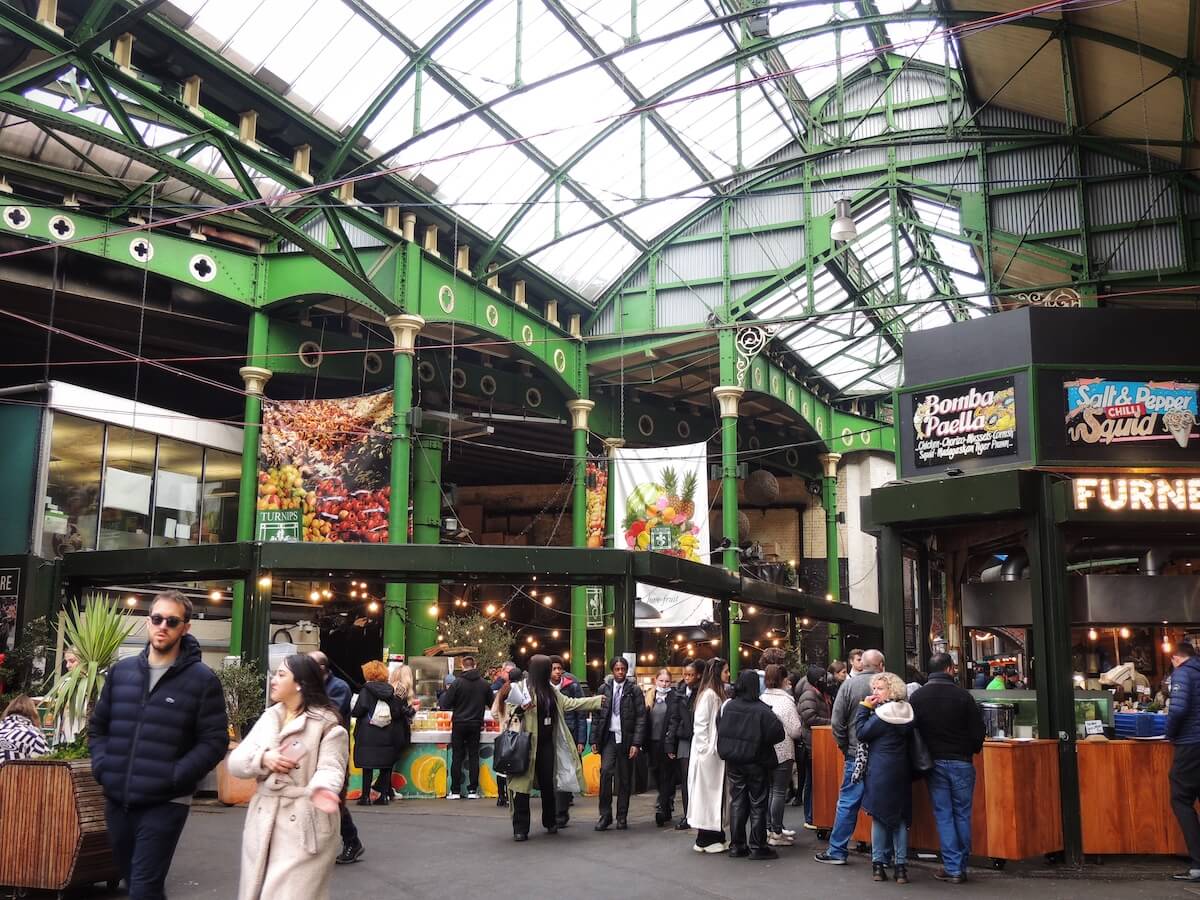 If you find that the sheer variety on offer in this cornucopia of delights makes it difficult to choose what to order, fear not: many of the stall-holders are more than happy to offer up free samples of their wares with no obligation to buy. Mouthwatering options are far too numerous to mention, but depending on your tastes and your mood you might find yourself tucking into melt-in-the-mouth Cypriot goat stew and wraps at Gourmet Goat or delectable chorizo rolls at iconic Spanish tapas outpost Brindisa. If Indian street food is your thing then Horn OK Please and Gujarati Rasoi have you covered, whilst the legendary Bill Oglethorpe of Kappacasein Dairy dishes up pungent Raclette made with Bermondsey-produced cheese.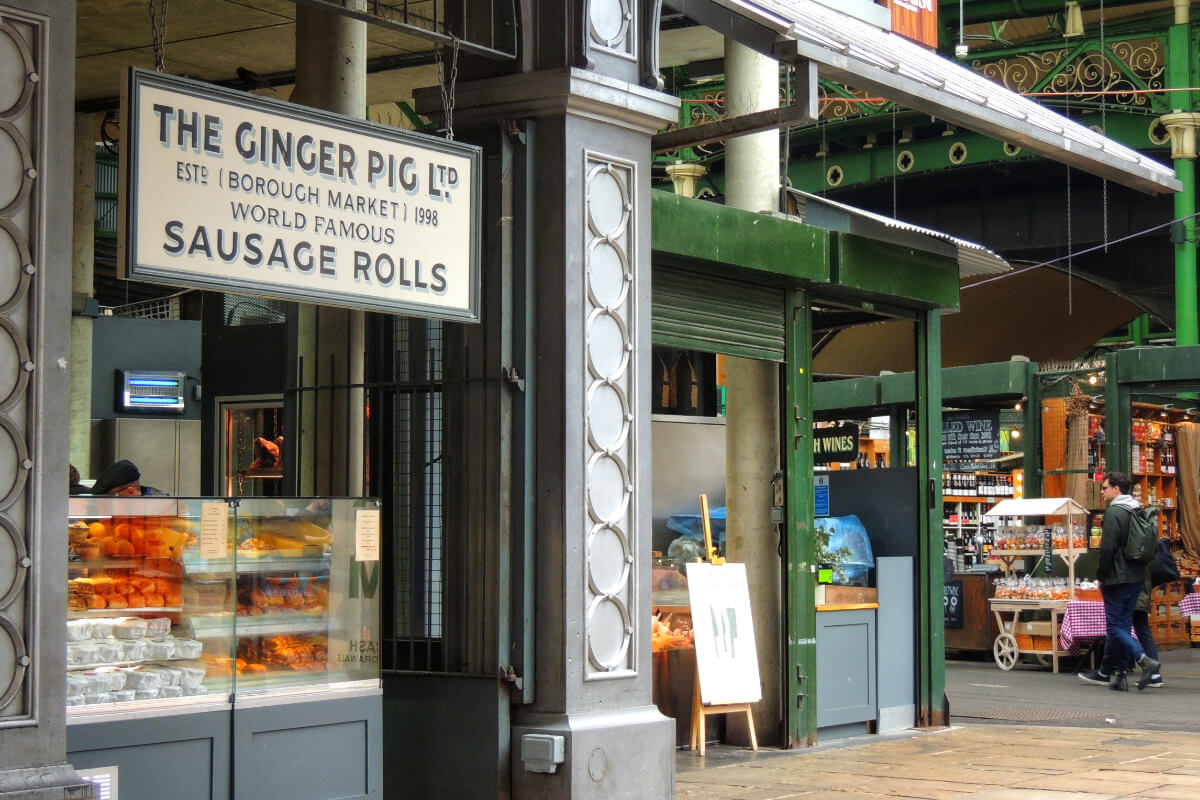 The pasta at Padella is widely regarded as some of the best in London, meanwhile, as are the oysters at Wright Brothers. Our sentimental favourite though has to be the extraordinary sausage rolls at the Ginger Pig butcher shop: immense doorstops of the flakiest pastry imaginable stuffed with delicately seasoned free-range pork from heritage breeds of English pigs.
SHOP: Take home some artisan produce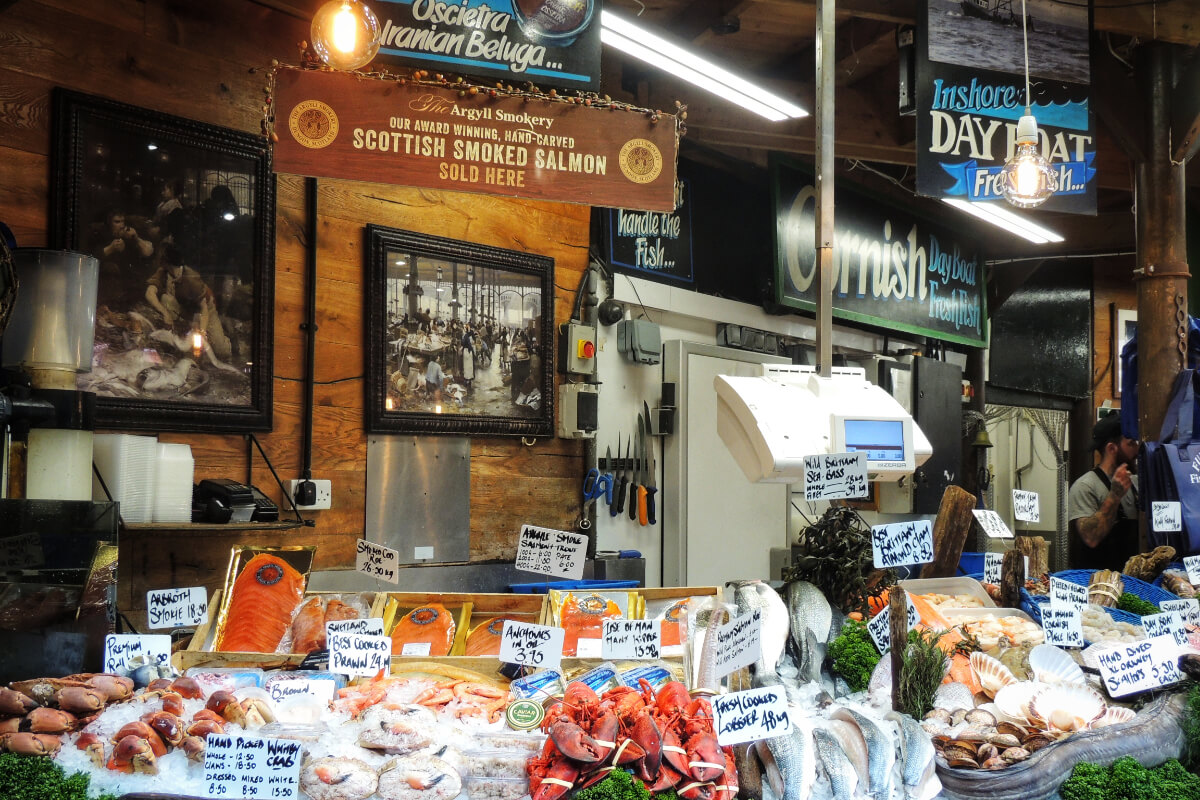 Although the street food stalls are perhaps the main draw of Borough Market today, wholesalers, producers and farmers still have plenty of space in which to ply their wares. If you're looking for the highest quality locally produced ingredients, then you'll find it at Borough Market. From fruit and vegetable stalls offering up organic produce to the fishmongers hawking everything from fresh oysters to daily catch of halibut, plaice, turbot, crab and practically any other sea creature you care to mention, the makings of a gourmet lunch or dinner are within easy reach here.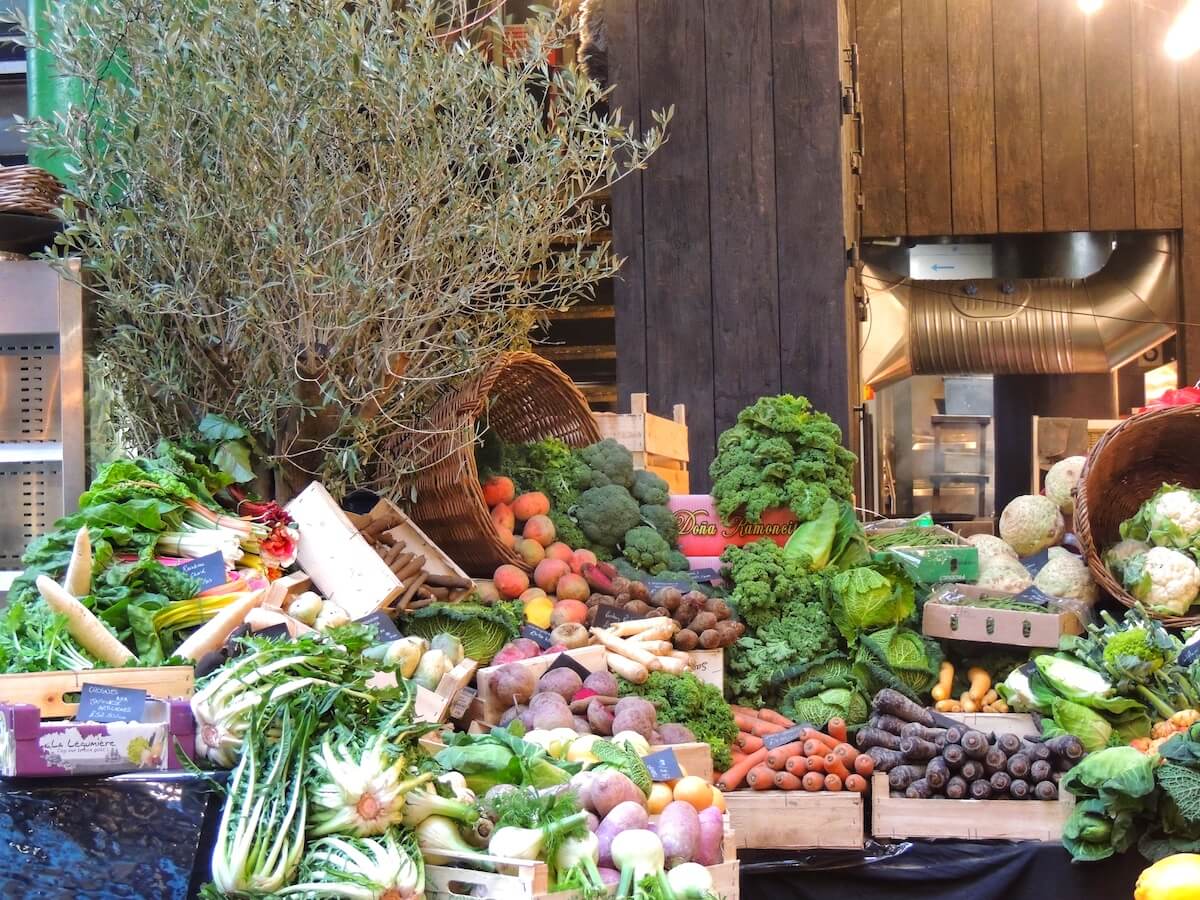 Artisan food producers are also amply represented: London's finest bakeries have stalls in the market offering up top-tier sourdough and rye bread, as well as irresistible cakes and pastries. British charcuterie produced from the meat of heritage breeds reared to strict higher-welfare standards, meanwhile, easily rival the best cold cuts that traditional powerhouses Spain, France and Italy can offer - don't miss chorizo from Suffolk, wild Venison salami from Wales and Saucisson Sec from Dorset amongst other unexpected specialties.
DRINK: Artisan ales, craft ciders and London's best coffee

It's likely that all that feasting and shopping will have made you thirsty. Luckily, Borough Market is surrounded by some great watering holes. For the quintessential London Bridge experience make a beeline for the Market Porter pub located at the edge of the market. A vast, daily-changing array of real ales are available on tap from Britain's best breweries. Settle down in the cozy wood-lined interior or spill out onto the street to keep an eye on the action in the market across the road.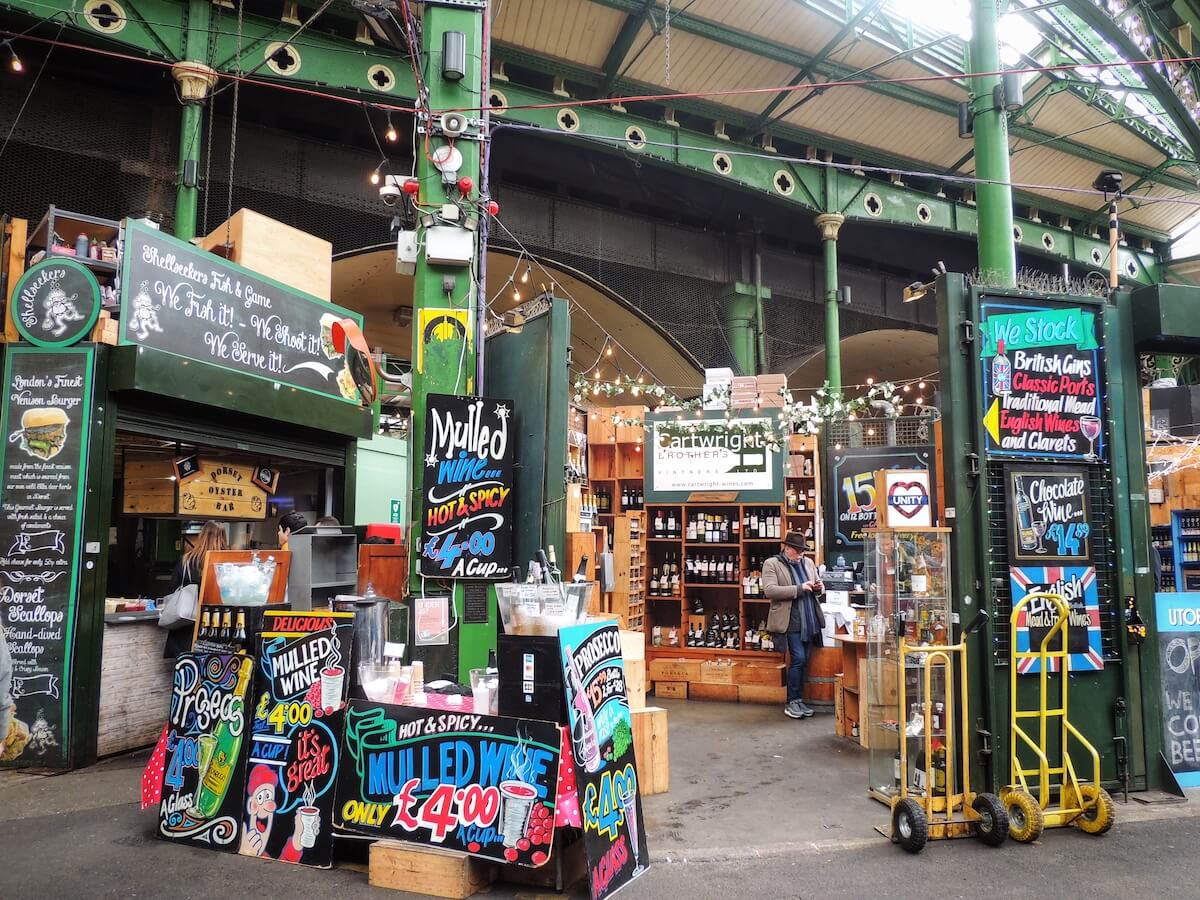 If cider is more your tipple, then make sure to grab a pint from the London Cider House stall in the market to keep you warm as you window-shop. For a caffeine boost, head to Monmouth Coffee across the road from the Market Porter, long-renowned for offering up one of the best brews in the city.
WHEN to visit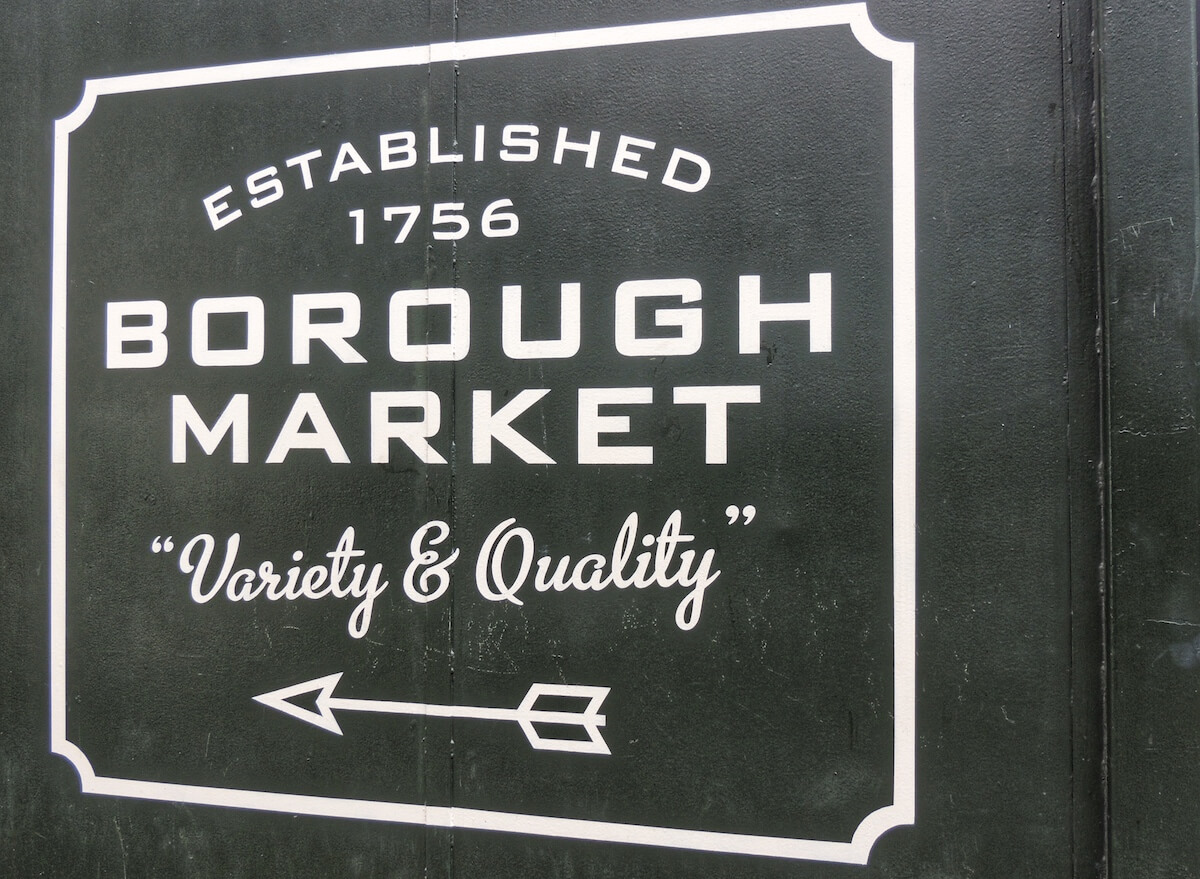 Borough Market is open from 10am to 5pm from Monday to Friday, and from 8am on Saturday. On Mondays and Tuesdays some stallholders are closed. Note that the market is justifiably popular with locals and tourists alike, and can get very crowded at peak hours. If pushing your way through the throng and facing long queues to snag your favourite nosh isn't your idea of a good time, then aim to arrive at the market before the lunch-time rush. Skip breakfast and arrive at Borough Market sometime in the late morning with an empty stomach for the best experience. Saturdays are always extremely busy.
HOW to get there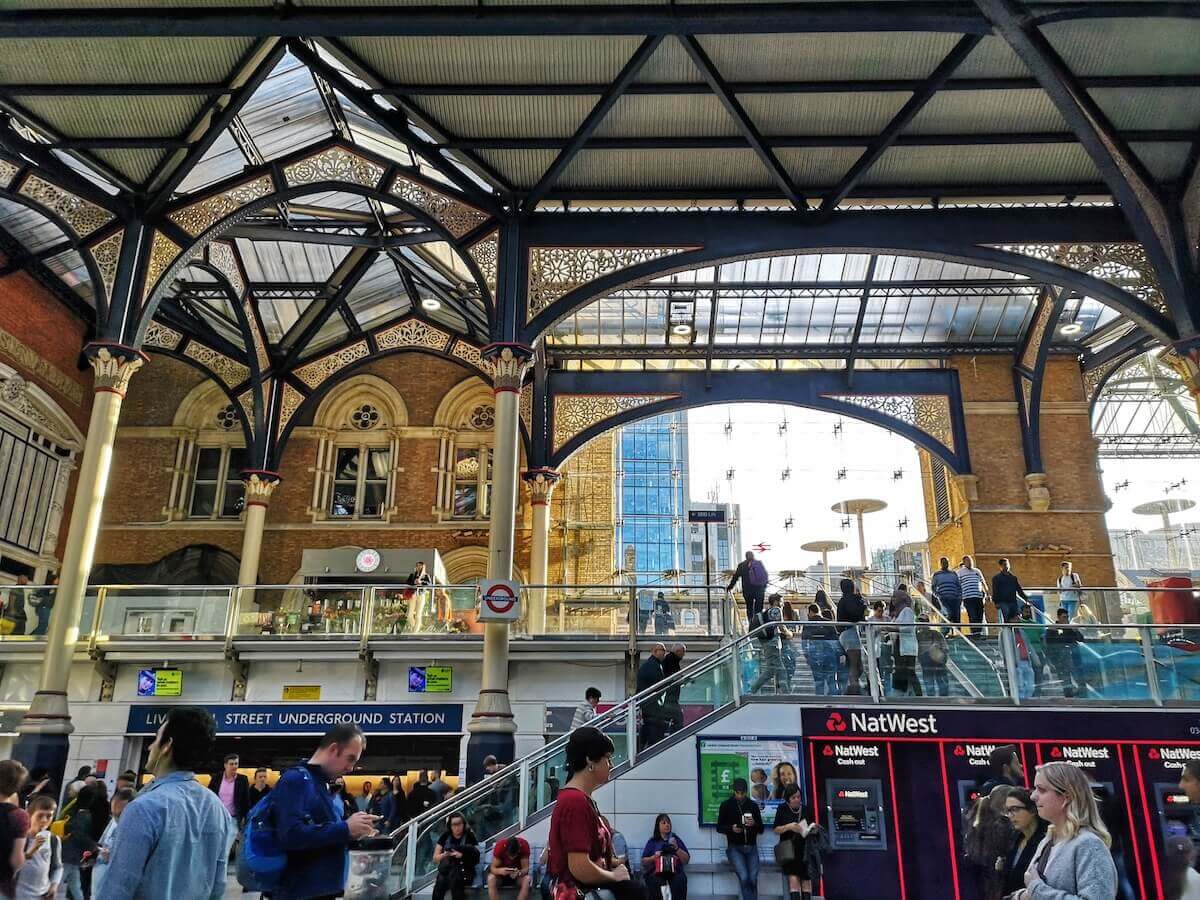 Borough Market is located just a stone's throw from London Bridge train station, where most mainline train routes make a stop. London Bridge Underground station meanwhile is served by the Northern and Jubilee Lines.
WHAT to do nearby

Borough Market is conveniently located as a pitstop on the South Bank walk, and makes the perfect lunch stop after a morning exploring Tate Modern or before a matinee performance at Shakespeare's Globe Theatre. Borough Market is also just a short walk from Tower Bridge and the Tower of London, another of the capital's must-visit sites.
If you're planning a visit to London and want to get the best out of your time in the city, then be sure to check out Through Eternity's range of private, expert-led London tours. We visit Borough Market on our Tower of London and Borough Market Tour. Get in touch today to start planning your London adventure!