Rain or shine, Paris in Fall is chock full of fabulous things to see, to do… and to eat!
As mentioned in our previous dispatch from la Ville Lumière, there are countless reasons to love Paris every moment of the year. But the warm days and cool mornings and evenings of autumn, with the occasional shower that leaves the cobblestones glistening, have you feeling like you're walking around in a dream state, a classic film, or a painting by one of the Belle Époque masters.
In that most recent Paris missive, we sent you to the Sip Babylone café, La Grande Épicerie, Rue Cler, and the Saint-Ouen flea market. This time we give you some suggestions for floating out a little further, without ever going beyond the reach of the city's extensive public transportation system.
Odette
Let's kick things off right, indulging in something dainty and delectable: choux, or cream puffs, from Odette. With filling flavors from classic chocolate and vanilla to the more complex concoctions of passion fruit and praline, these petite puffs will have you sighing in serendipity. To accompany your wee pastries, choose between a variety of coffees and tees, or a dark thick hot chocolate, or – why not, you're on holiday – a flute of champagne. Order several little choux and eat them all! You'll be walking it all off anyway. The location is absolutely part of the experience. Odette is near the Seine on the Left Bank, housed in a 17th-century building behind the magnificent English-language bookstore, Shakespeare & Company. It is tucked in an odd little corner across from the church of Saint-Julien-le-Pauvre (one of Paris' oldest) and Square Viviano-Montebello, which is home to the oldest tree in the city. The tiny counter area has just enough room for you to admire your options. Then walk up a narrow wooden stairway to the two tiny Art Deco-inspired rooms, one stacked on top of the other, where you will find a fascinating cross-section of people speaking quietly: genteel matrons catching each other up on the happenings since last they met, students between classes (or more likely skipping them), local shopkeepers on a quick break. As if all this weren't enough, the windows look out over the river, affording a dreamlike view of Notre-Dame.
77, rue Galanade. Open every day from 10:00 a.m. to 7:45 p.m.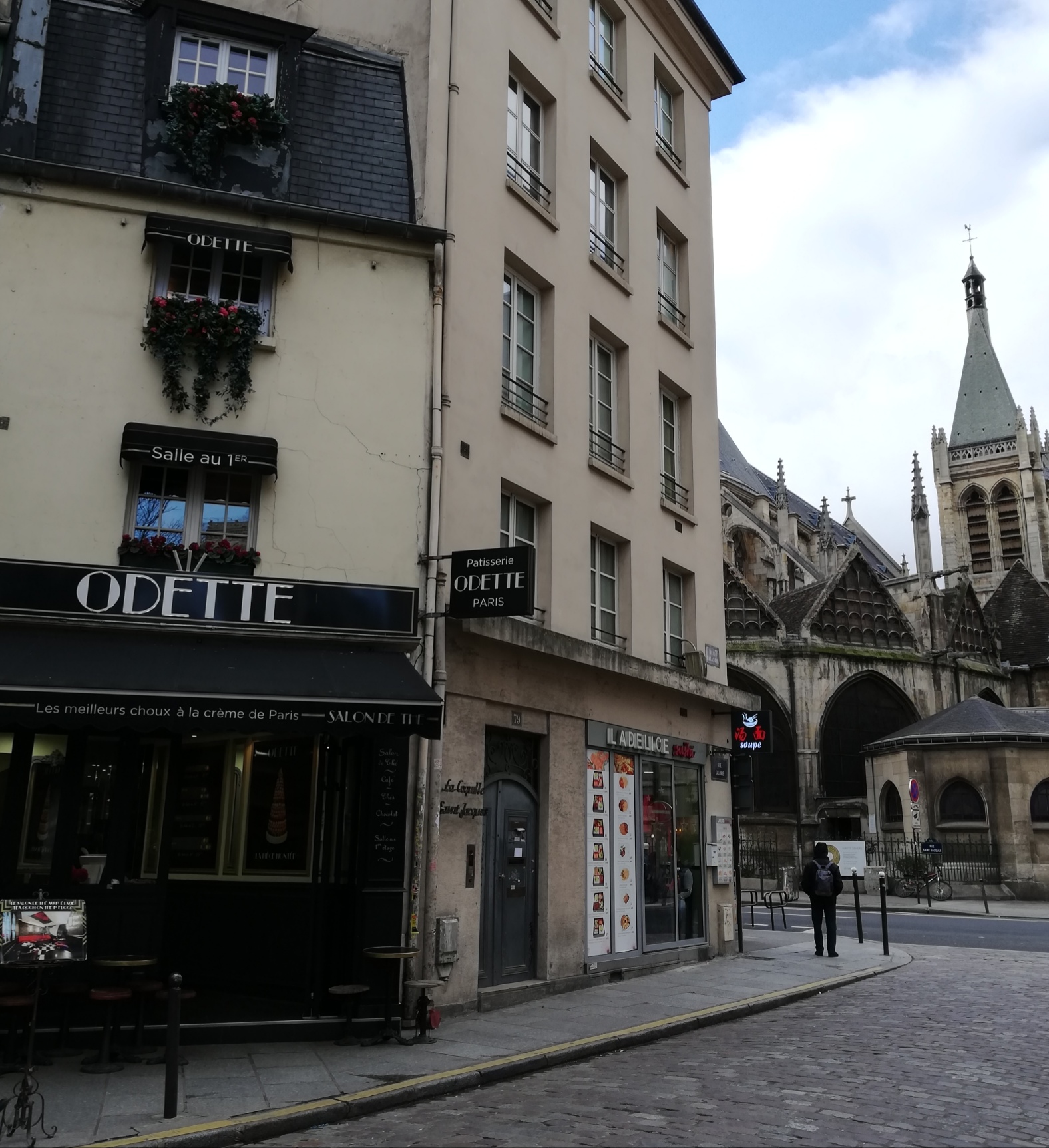 Père Lachaise Cemeter
Yes, it's the most famous of Paris' resting places for the dearly departed, but there are good reasons for that. In the Autumn, when the whether can be a bit tetchy, visitors tend to stick to places that permit a bolt indoors should the rain start to fall. Just bring an umbrella and wear good shoes for tromping around a graveyard and you'll be well rewarded. Meandering among the mausoleums and memorials inspires an unexpected sense of awe, prompting introspection and reflection. On our last visit here, accompanied by a gaggle of cackling in-laws, within moments a comfortable and companionable silence gently fell, as each of us wandered and wondered. A meaningful kind of melancholy – more reflective serenity than sadness – prompted thoughts on the ephemeral nature of our existence and the complementary sense of endurance, of lasting impact, of the perennial presence of those who have gone before us and who yet walk with us.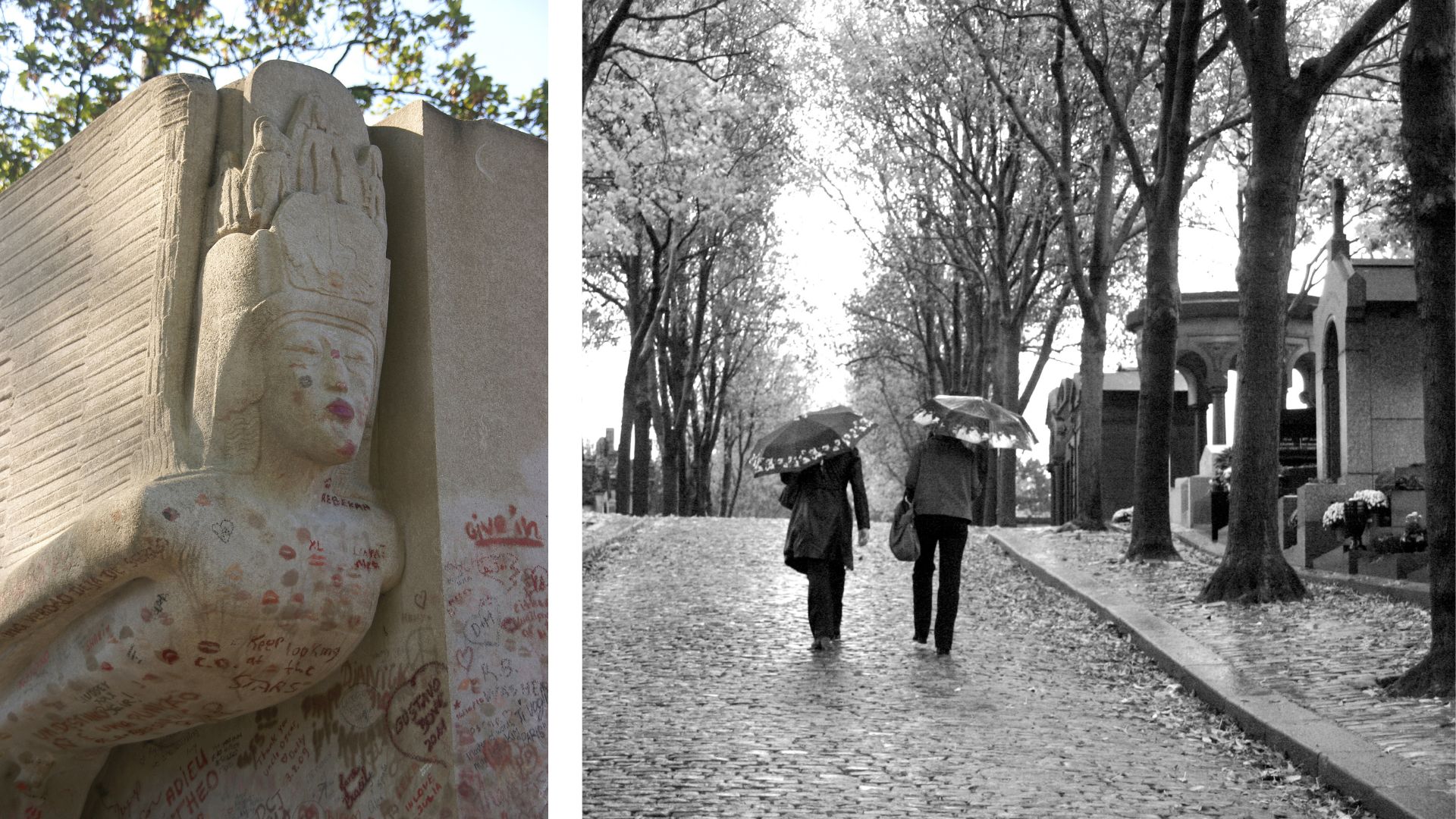 Then of course there are all the celebrities: opera diva Maria Callas, brilliant pianist and composer Chopin, Edith Piaf, Yves Montand, and Molière. And of course Oscar Wilde (be sure to have your red lipstick ready so you can deliver a scarlet smooch to the Hopton Wood limestone monument) and Jim Morrison (leave a wet wad of chewed gum on the nearby tree, you'll know which one!). A bit camp, to be sure, but that's all part of the fun, a heady concoction of retrospection and ribaldry, of memory and merriment. Like life itself.
16, rue du Repos. Served by metro lines 2 and 3, station Père Lachaise. Open Monday to Friday from 8:00 a.m. to 6:00 p.m., Saturday 8:30 a.m. to 6:00 p.m., Sunday 9:00 a.m. to 6:00 p.m.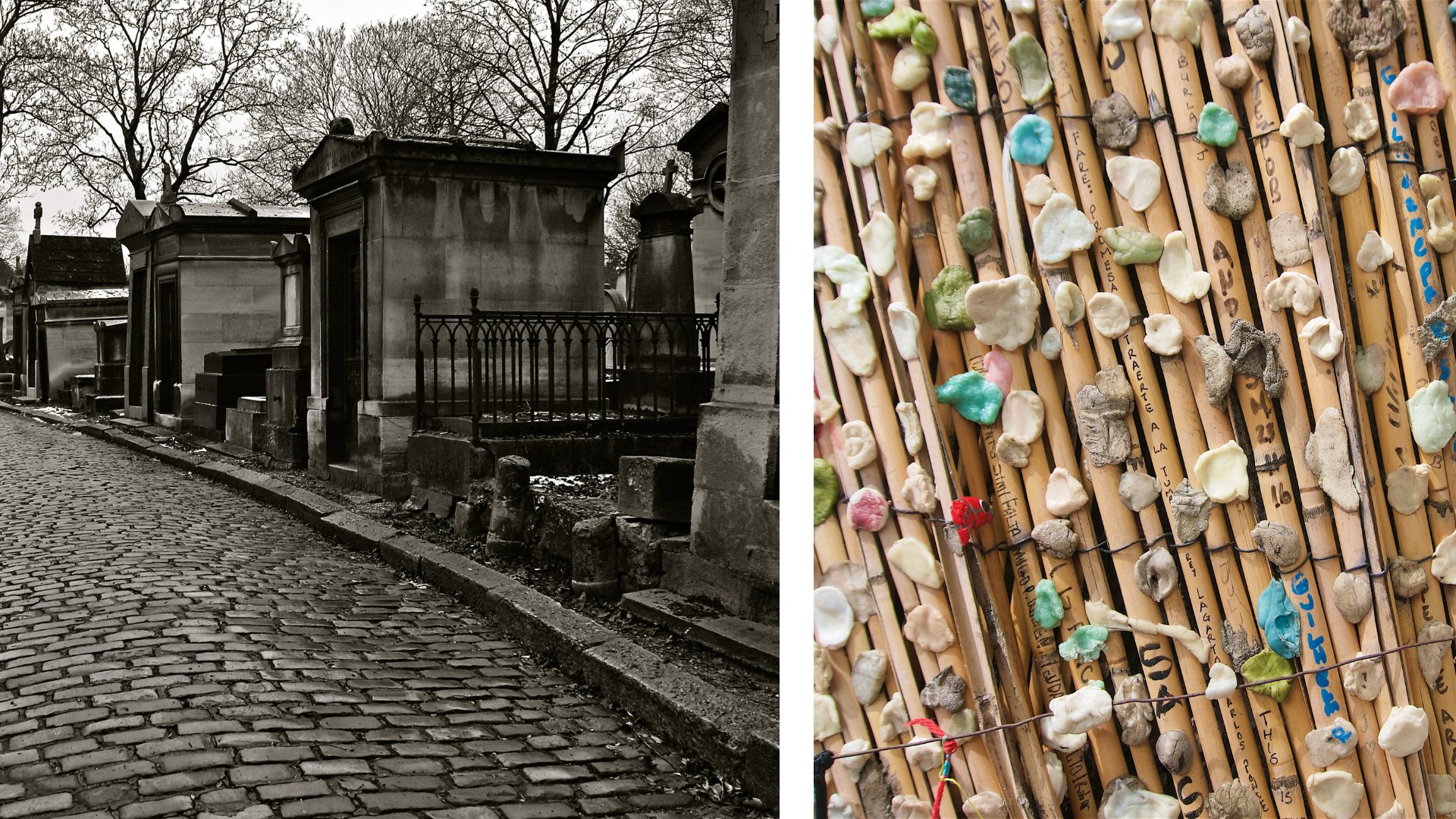 Château de Vincennes
The French themselves – and mostly those from the region – constitute the majority of visitors to this spectacular site. No one else seems to know about it. What began as a rural retreat for King Louis VII in 1178 was to become, a century and a half later, a fortress featuring a 52-meter (172 feet) donjon, or keep (central defensive tower), medieval Europe's tallest. The Château de Vincennes station is the eastern terminus of metro line 1 (also served by RER A station Vincennes), making it quick and easy to get to.
While the ticket gives you access to the courtyard and the first two levels of the keep, it is well worth taking the guided tour that brings you to the upper levels of the keep. Besides providing exciting context, the wrap-up at the top of the tower offers a spectacular view of Paris' east end.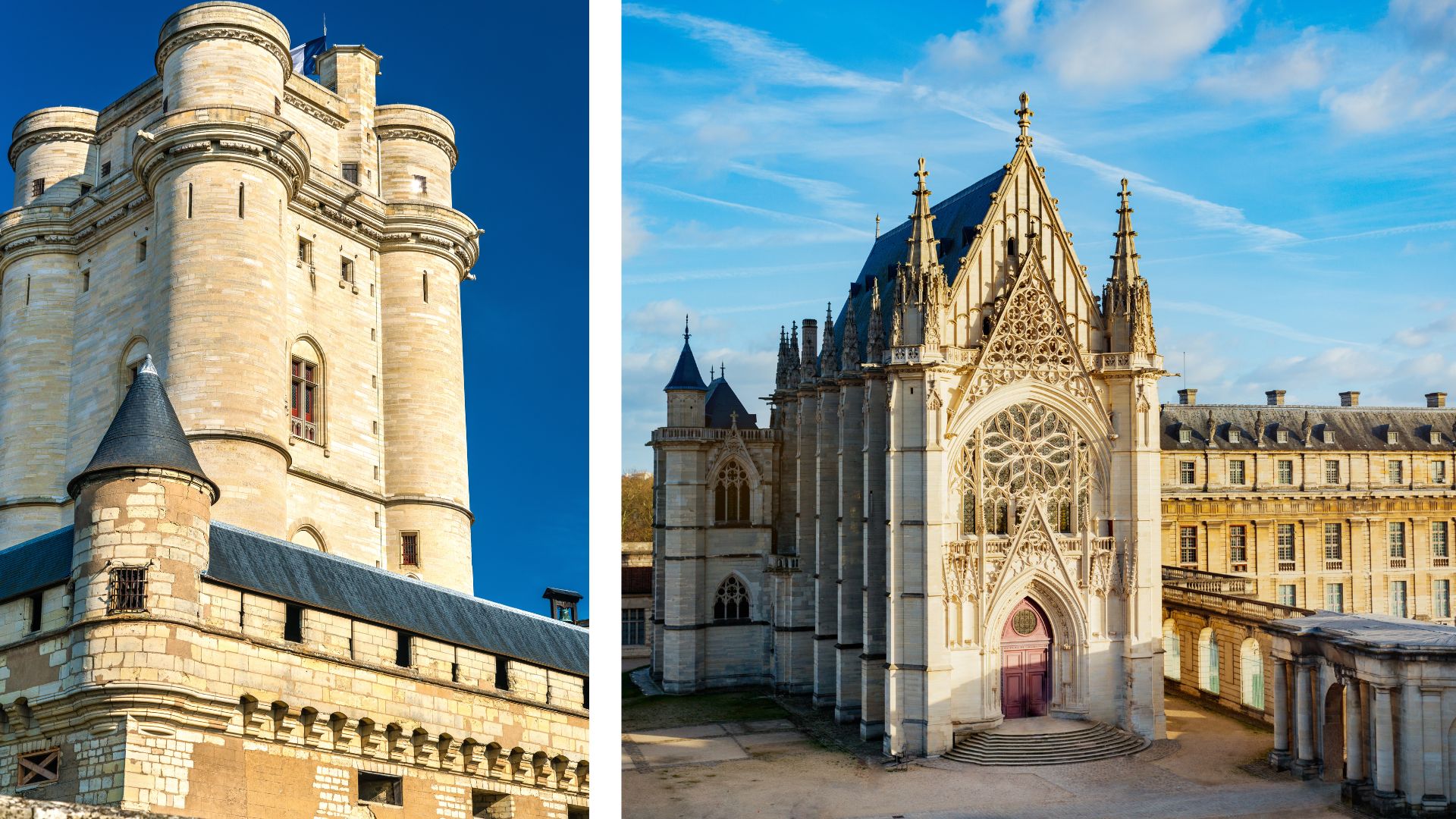 Be sure to stop in at the Sainte-Chapelle de Vincennes as well. Located right on the grounds and included in the general admittance ticket, it was inspired by its more famous cousin in Paris. Though work began in the 1370s, the violence of the final decades of the Hundred Years' War and the political turmoil during the twilight of the Capetian dynasty meant that the chapel would be completed until the 1550s. The glorious stained glass windows, among the last elements to be added, retain a distinctly medieval mood but with a Renaissance flair of sensuous form and explosion of color. The interior space is breathtakingly beautiful, defined by slender, sinuous ribs of ivory-toned stone and the windows' broad range of shade and hue. The effect is one of ethereal otherworldliness, but also of unquestionable stability and substance.
Autumn Hours: Open every day from 10:00 a.m. to 5:00 p.m. The Sainte-Chapelle is open every day from 10:00 a.m. to 4:30 p.m., closed 1:00 p.m. to 2:00 p.m. for lunch.
The Bois de Vincennes
Following the muscular donjon and the lace-like spires of the chapel, what could be better than an airy walk in the park? Encompassing 995 hectares (nearly 2460 acres), the wood is Paris' largest open green area. Its four lakes are all connected by canals, making for a splendid scenic stroll. Lake Daumesnil, the largest of the four, features two small islands that are accessible by bridge. Along its banks are the picturesque Pagoda of Vincennes and a working Buddhist temple.
The Botanical Garden of the City of Paris is divided in to four different sites, two of which are here in the Bois de Vincennes. The Arboretum is an impressive collection of 1200 trees, featuring 800 species, forming a veritable living museum. The Floral Park is truly a wonder to behold: vast expanses of lawn carpeted with seasonal blooms, reflecting ponds with floating water lilies, even free-roaming peacocks. Stop in for lunch or a spot of tea at Les Magnolias Restaurant and Tea House, or have a gnosh in the charmingly rustic setting of Le Bosquet, which has bistro-style bites on offer.