Fair Verona is one of Italy's most charming cities, a treasure-trove of fantastic art and architecture, foodie delights, boutique shopping, great views and much much more. We think it's a must-stop on any northern Italy itinerary, and you could easily spend a weekend or more enjoying the delights of this historic city on the banks of the river Adige.
But if you don't have that long and can only spare a single day in Verona on a day trip from Venice, then you're going to have to be strategic about planning your visit to get the most out of your time in the city. To help you get started, we've come up with our suggestions on what to do in a single day in Verona. You could easily spread this itinerary out over two or more days if you've got a little more time on your hands, but if you've got bags of energy and a good pair of shoes it's more than doable over the course of a single day. Let's get started!
MORNING
Breakfast at Caffe Borsari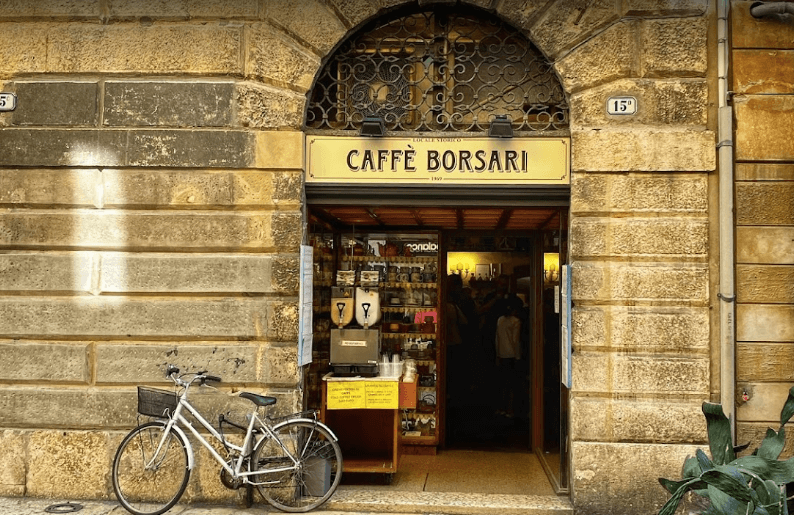 There's no better way to start your day than with a cappuccino and cornetto in the vibrant streets of Verona's historic downtown, and Caffe Borsari fits the bill perfectly. This charming little boutique cafe located on a sidestreet just a few steps from Piazza delle Erbe serves up arguably the best coffee in the city. Artisan blends and a wide variety of styles will leave you spoiled for choice, whilst the always-fresh pastries will give you the sugar rush you need to get your busy day in Verona off to an energetic start. Caffe Borsari is somewhat diminutive in scale, so if you can't find a seat and don't fancy standing then try Pasticceria Flego a few doors down on the same street, where top-notch cakes and pastries await.
Stroll through Piazza delle Erbe and surrounds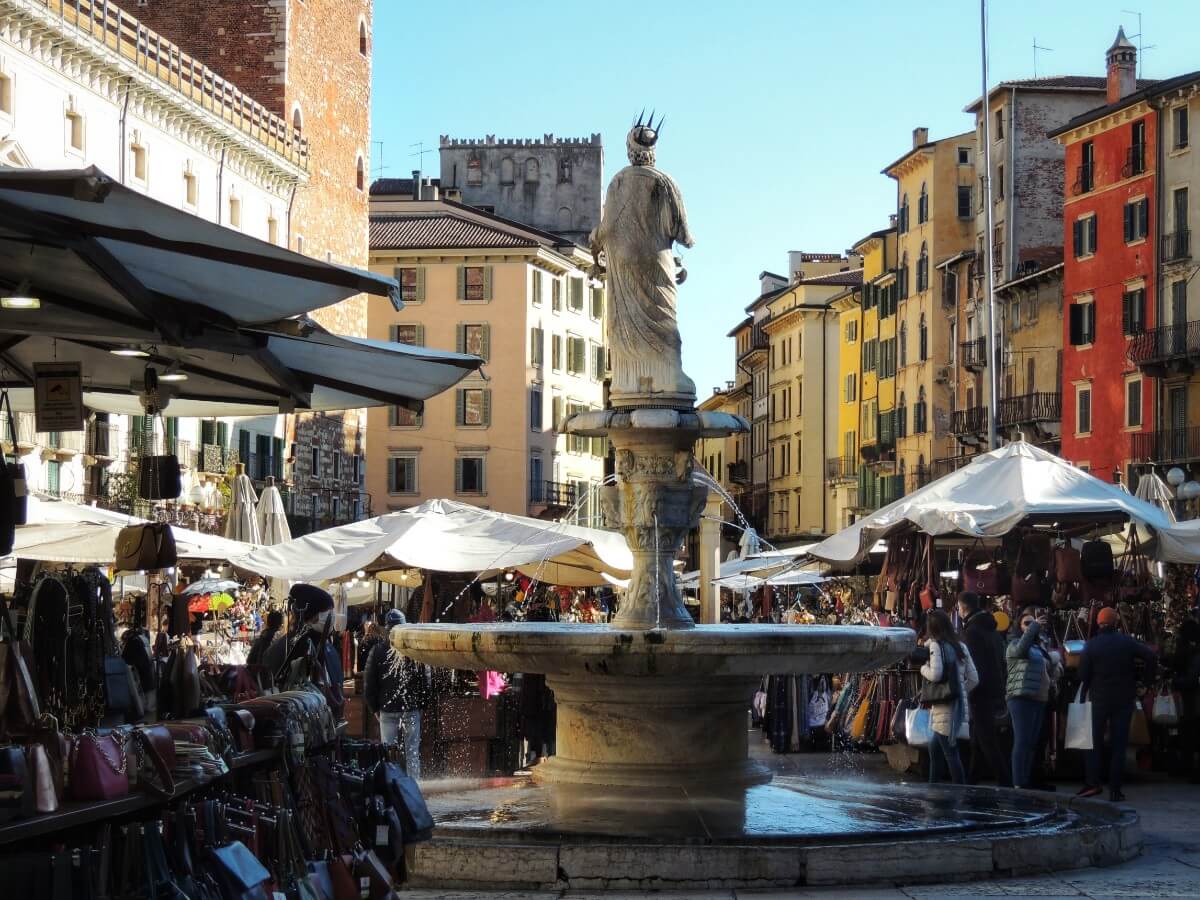 Duly energised, head to nearby Piazza delle Erbe to drink in the atmosphere of Verona's central square. Originally the city's ancient Roman Forum, in the Middle Ages the piazza evolved into Verona's most bustling market where vendors sold everything from leather-goods to spices, and still today Piazza delle Erbe is packed with stalls. As it's morning the market will be busy, so take in the scene and have a rummage before admiring the stunning architecture all around - the medieval Torre dei Lamberti is spectacular, and offers great views over Verona if you choose to make the climb to the top.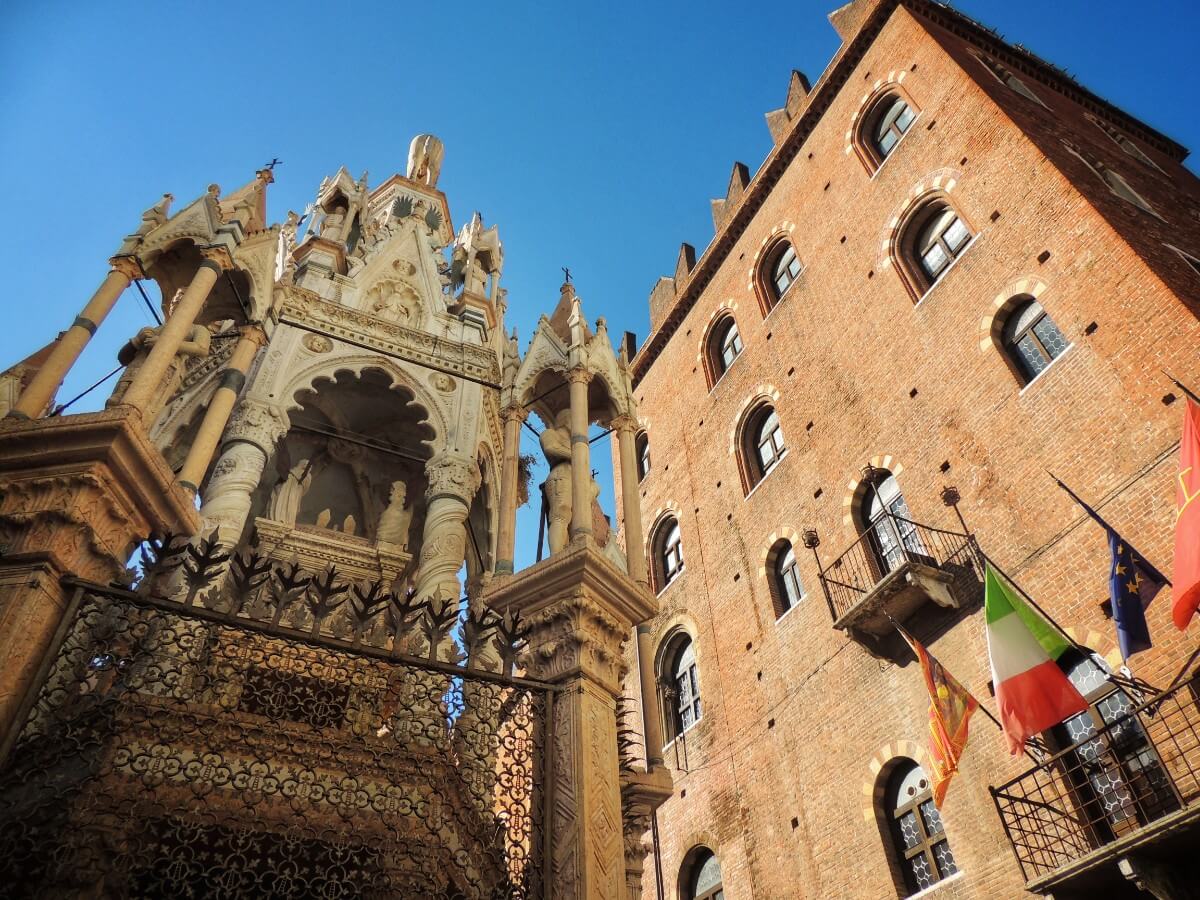 Continue eastwards towards the river Adige and pass through elegant Piazza dei Signori, where a statue of Dante dominates proceedings - Italy's greatest writer spent much of his exile in Verona, and he wrote the third book of his Divine Comedy, Paradiso, here. A few steps further on will lead you to the incredible Scaliger Tombs - medieval funerary monuments celebrating the all-powerful Scaglieri family that ruled over Verona in the 14th-century. The equestrian statues of the rulers, posted high on elaborately sculpted and pinnacled baldachins, are amongst the highlights of Italian Gothic art.
A Late Morning Meeting with Juliet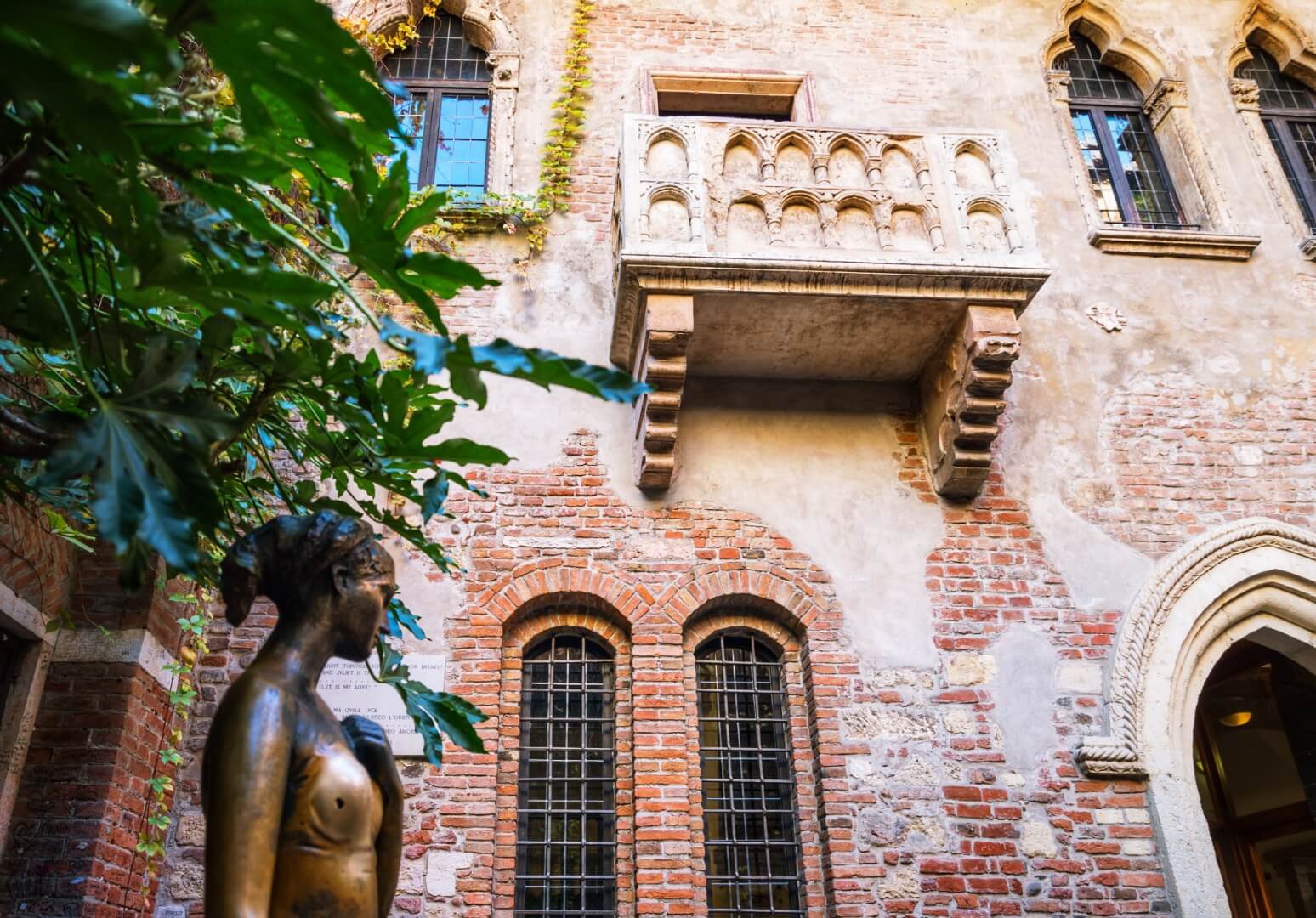 Verona, of course, is synonymous with William Shakespeare's tragic tale of doomed young love, and the city formed the fictional home for the rival Montague and Capulet clans in the iconic play. No visit to Verona would be complete without paying homage to the Bard and his most famous heroine: make your way to the Casa di Giulietta, a heavily remodelled Renaissance townhouse surrounding a picturesque courtyard where a bronze statue of Juliet greets visitors from across the globe. The star attraction here is the world famous balcony, from where it's easy to imagine Juliet delivering the immortal line 'Romeo, wherefore art thou Romeo?' In reality none of this has much to do with the historical Shakespeare or the events that inspired Romeo and Juliet, but it's easy to be carried away by the romance of the place!
Walk in the shadow of the ancients at Verona's Arena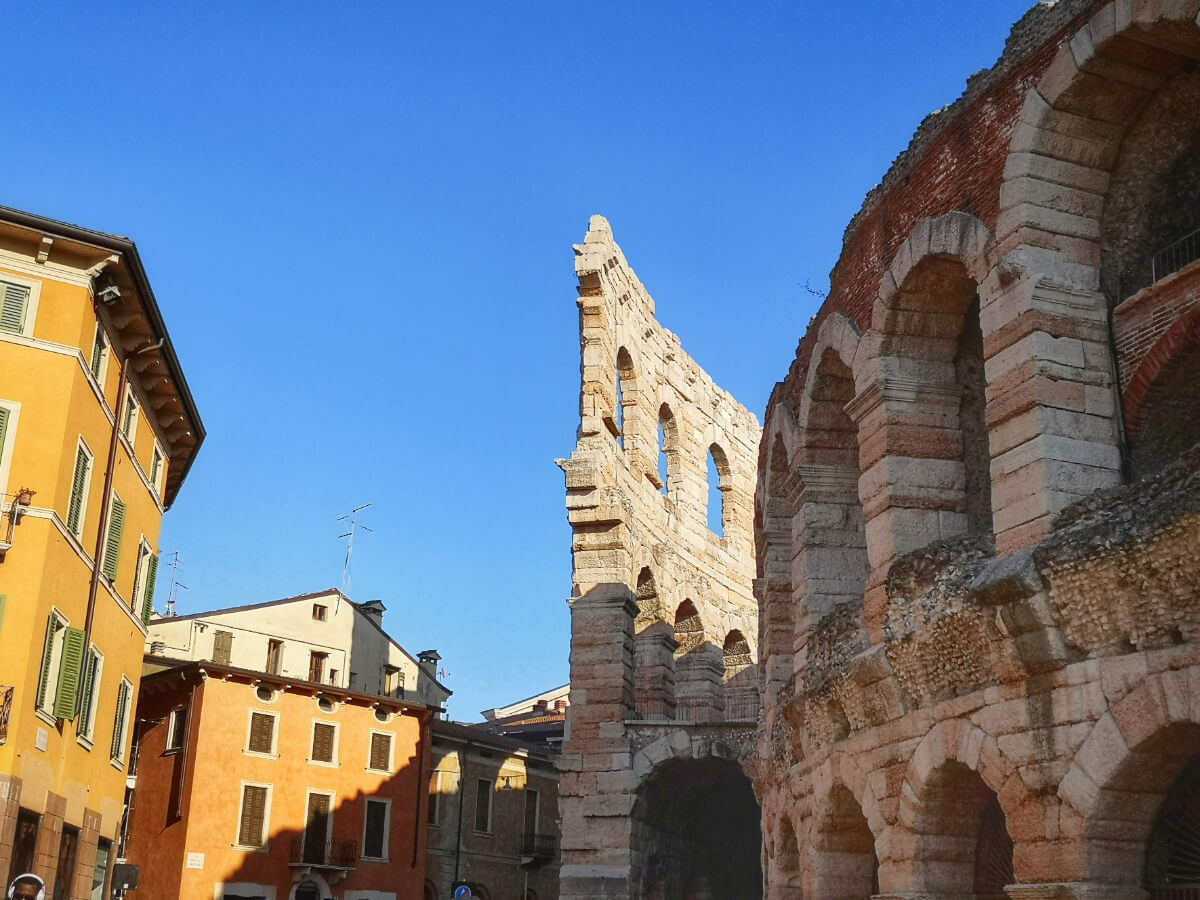 Verona was an important city in the ancient Roman empire, and nowhere is this antique heritage so impressively reflected than the city's extraordinary amphitheatre. Head to Piazza Bra where the imposing bulk of pink-tinged Valpolicella marble dominates the large square, and admire the ancient monument still in a fabulous state of preservation. With a capacity of over 30,000 spectators Verona's amphitheatre was one of the largest in the ancient Roman empire, and pre-dates the Colosseum in Rome. You can explore the interior of the amphitheatre as well - book your tickets online from the official website to avoid the queues., and experience one of the ancient world's most impressive monuments. Each summer the Verona Arena is host to a series of spectacular evening open-air operas and concerts - if you are lucky enough to be visiting the city whilst the festival is ongoing, it's an absolute must-do. Make sure to book your tickets well in advance, as these events sell out early.
AFTERNOON
Refuel with some freshly made pasta for lunch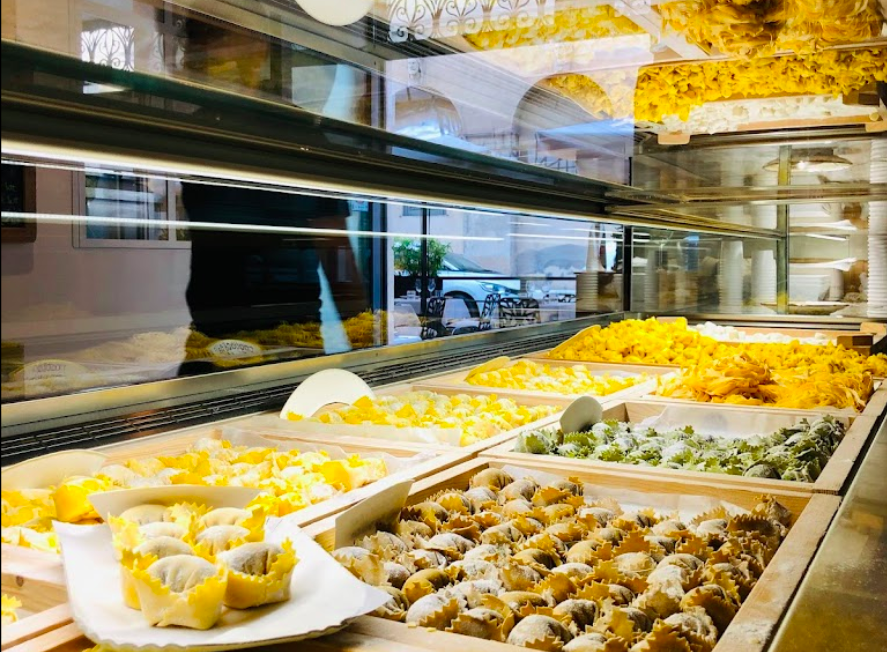 By now you'll certainly be in need of refuelling, and luckily in Verona foodies are spoiled for choice. One of our favourite stops for an informal lunch is La Bottega della Gina, where a vast assortment of ravioli, tortelli and other filled pastas are freshly made each day in their thousands in full view of the customers thronging this small pastificio. Glance over the daily offerings in the window, make your choice, pay at the counter and then find a seat upstairs or outside whilst awaiting your order. Don't expect any frills or luxuries like table service and be prepared to eat from paper bowls, but for pasta lovers there is nowhere better.
Pop into Verona's spectacular churches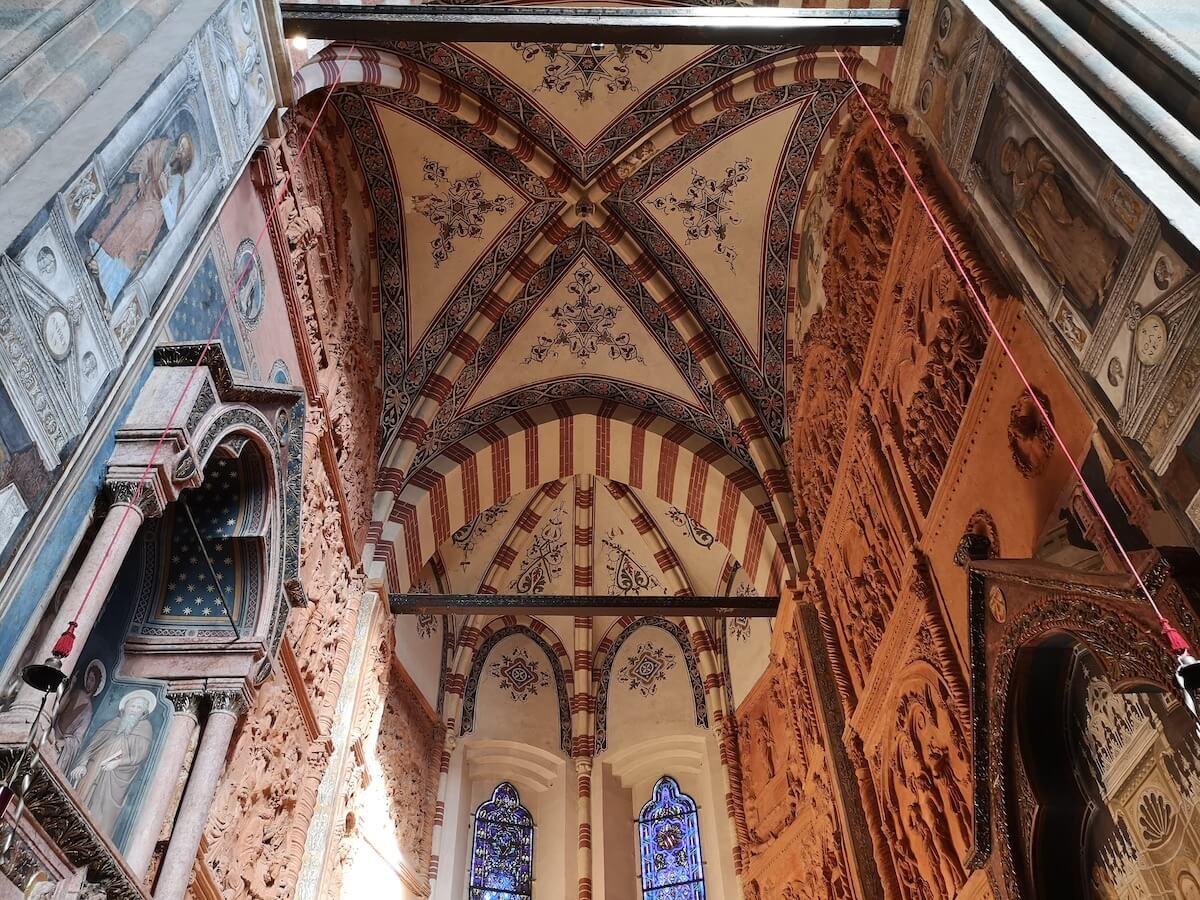 Suitably reinvigorated after all that pasta goodness, it's time to delve into Verona's spectacular art scene. Just across the road from La Bottega della Gina you'll find the city's most impressive church: the spectacular Gothic basilica of Sant'Anastasia. As soon as you enter into this 13th-century edifice you'll be wowed by its beautiful ceiling, richly decorated with floral motifs. Various chapels play host to masterpieces of painting and sculpture, culminating in Pisanello's fresco depicting St. George and the Dragon - a masterpiece of courtly charm.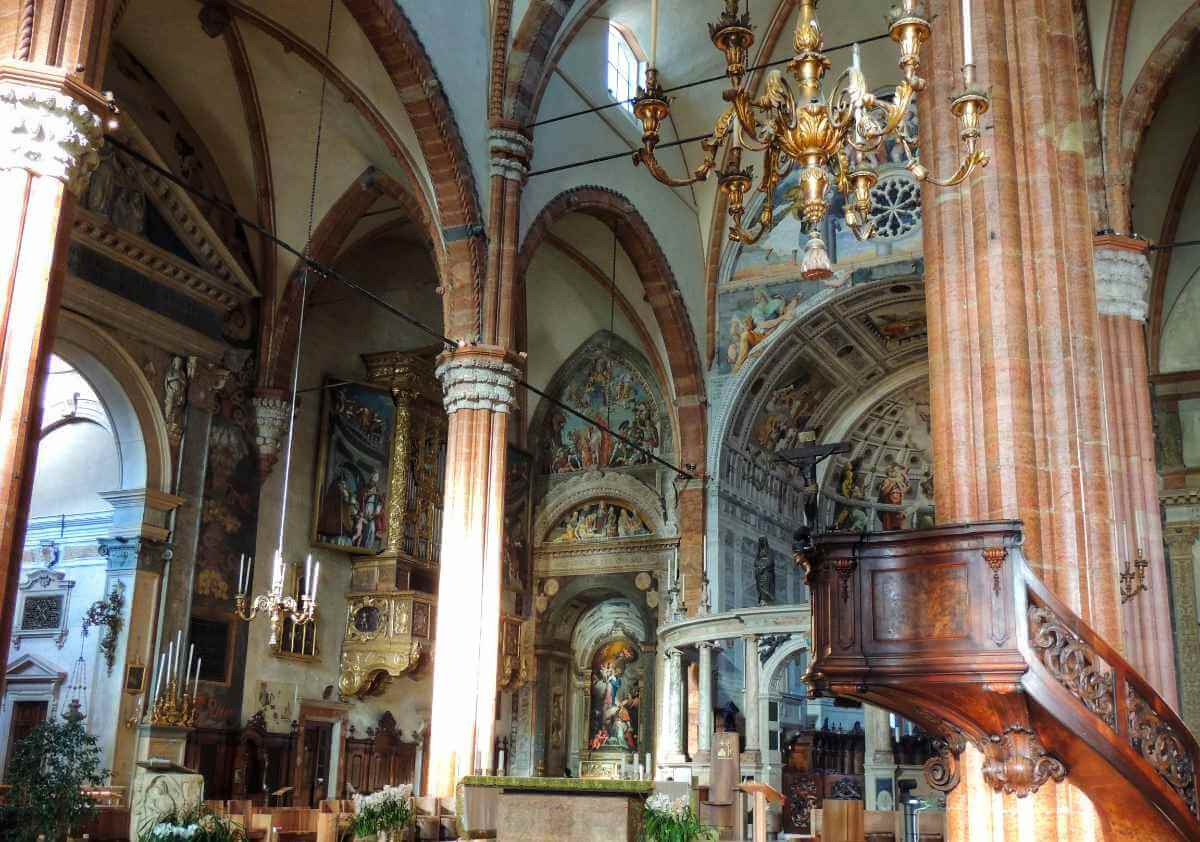 If you are an art-lover or church-buff, there are two further basilicas you need to visit in central Verona: split-level San Fermo, where an atmospheric lower church conserves medieval frescoes and an upper church boasts a spectacular wooden ceiling, and the cathedral of Santa Maria Matricolare, a complex conglomeration of various churches, baptisteries and cloisters housing masterful artworks like Titian's Assumption of the Virgin.
Get Your Culture on in the Castelvecchio Museum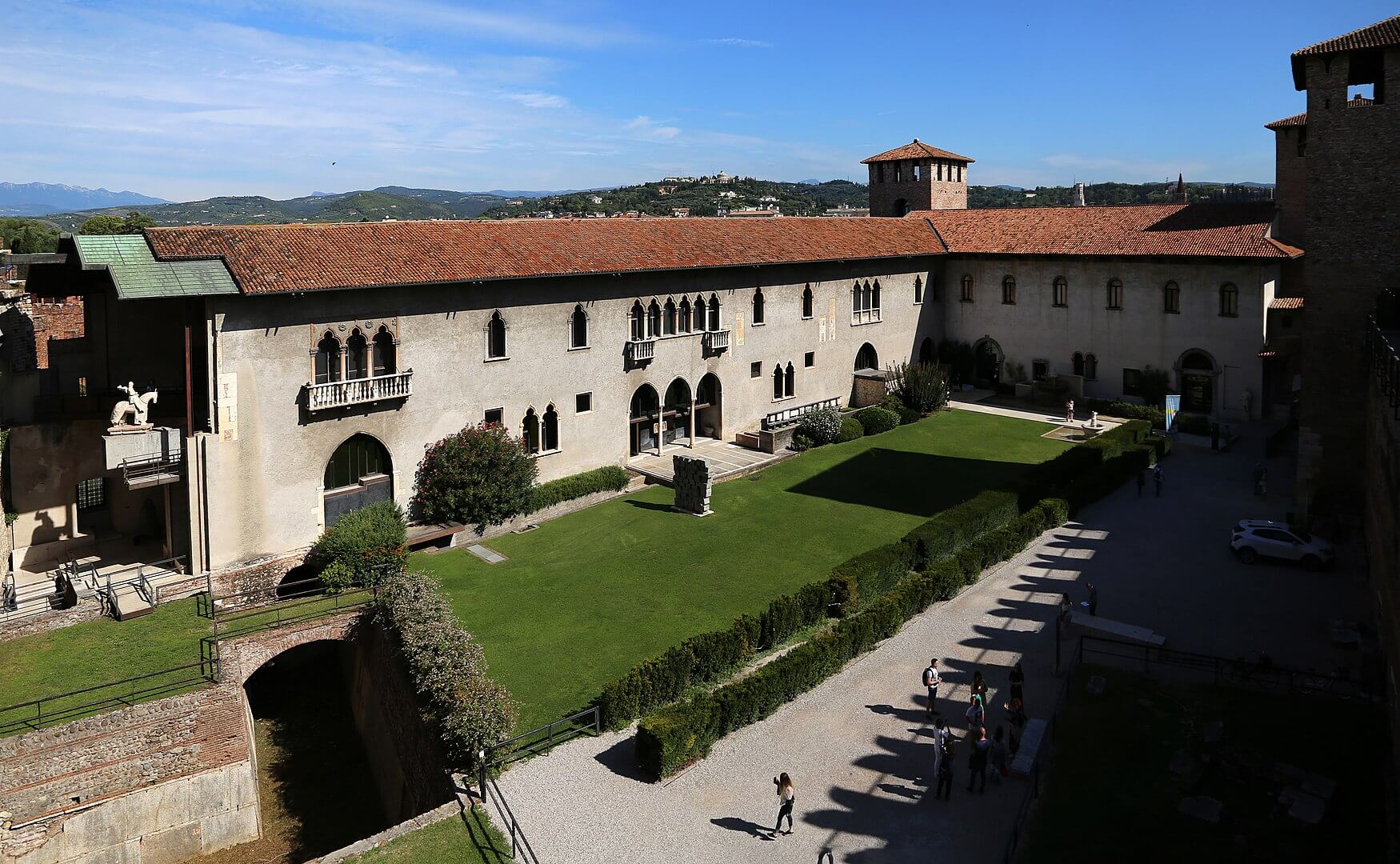 Photo by Sailko, CC BY-SA 4.0, wikimedia
Head westwards along central Corso Cavour towards the final major stop of the day, the Castelvecchio Museum. Along the way you'll pass beneath the ancient Porta Borsari, an arched entranceway to the Roman city dating from the 1st century AD that boasts a series of beautiful archways on 3 separate levels. A short distance further on is the Arco di Gavi, a fine ancient Roman arch commissioned by the powerful Gavi family. Just after the arch is the Museo del Castelvecchio, Verona's most impressive museum.
Housed in an imposing 14th-century castle on the banks of the Adige, this recently renovated collection houses precious sculptures and paintings from Verona's past as well as a highly impressive collection of weapons and armour. Take a moment in the castle's peaceful courtyard before strolling onto the Ponte Scaligero, a picturesque brick bridge dating from the 14th century that functioned as a means of escape from the city for the Scaligers in case of popular uprising against their rule.
Cross the Ponte di Pietra and Climb Castel San Pietro for sunset views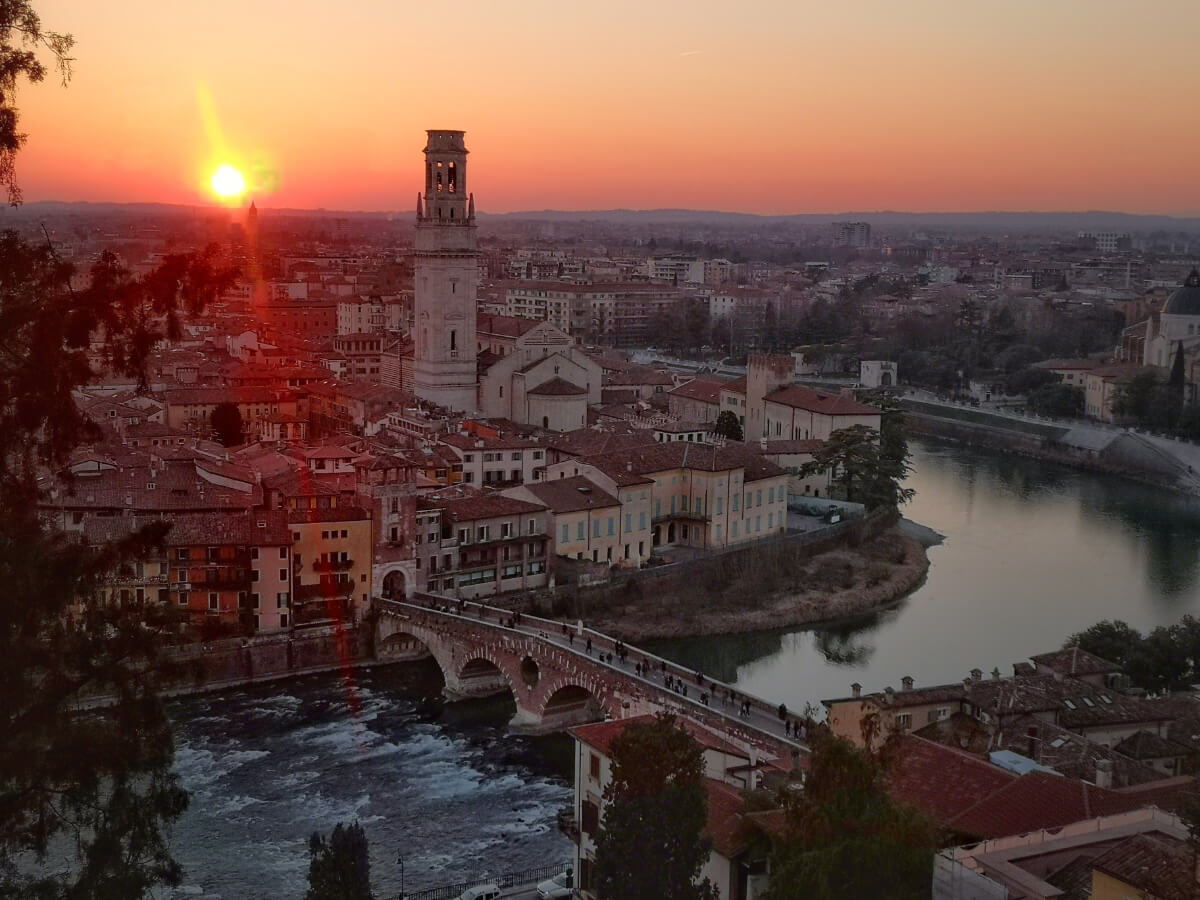 Evening is fast approaching, and by this time your dogs are surely barking after a full day exploring Verona, but if you've got anything left in the tank you won't regret making your way back westwards along the river to Ponte Pietra, an iconic Roman bridge made from local stone that has been the city's principal crossing of the river Adige since 100 BC. The magnificent arched bridge was blown up by retreating German soldiers in World War II, but was painstakingly rebuilt stone by stone and today stands as one of the city's most impressive landmarks.
Cross the bridge and hop on the Castel San Pietro funicular on the other side to ride up to the Romanesque fortress of Castel San Pietro at the top of the hill for breathtaking views of Verona and the surrounding countryside as the sun dips towards the horizon in a thousand shades of red.
EVENING
Chill out with an aperitivo, Verona style
OK, you've definitely earned that drink! Hop back on the funicular and retrace your steps back into the historic centre of town across the river, and make your way to one of the innumerable characteristic bars full of Verona charm. Our favourites include Osteria la Mandorla and Osteria a la Carega for a good spritz, or l'Antica Bottega del Vino if you are in the mood for a serious wine like local top-shelfer Amarone. We like Aladdin's cave-like Cantina del Zovo for its vast and eclectic range of wines on offer. If you're looking for a more youthful vibe, try shabby-chic La Tradision.
Tuck into local delicacies for dinner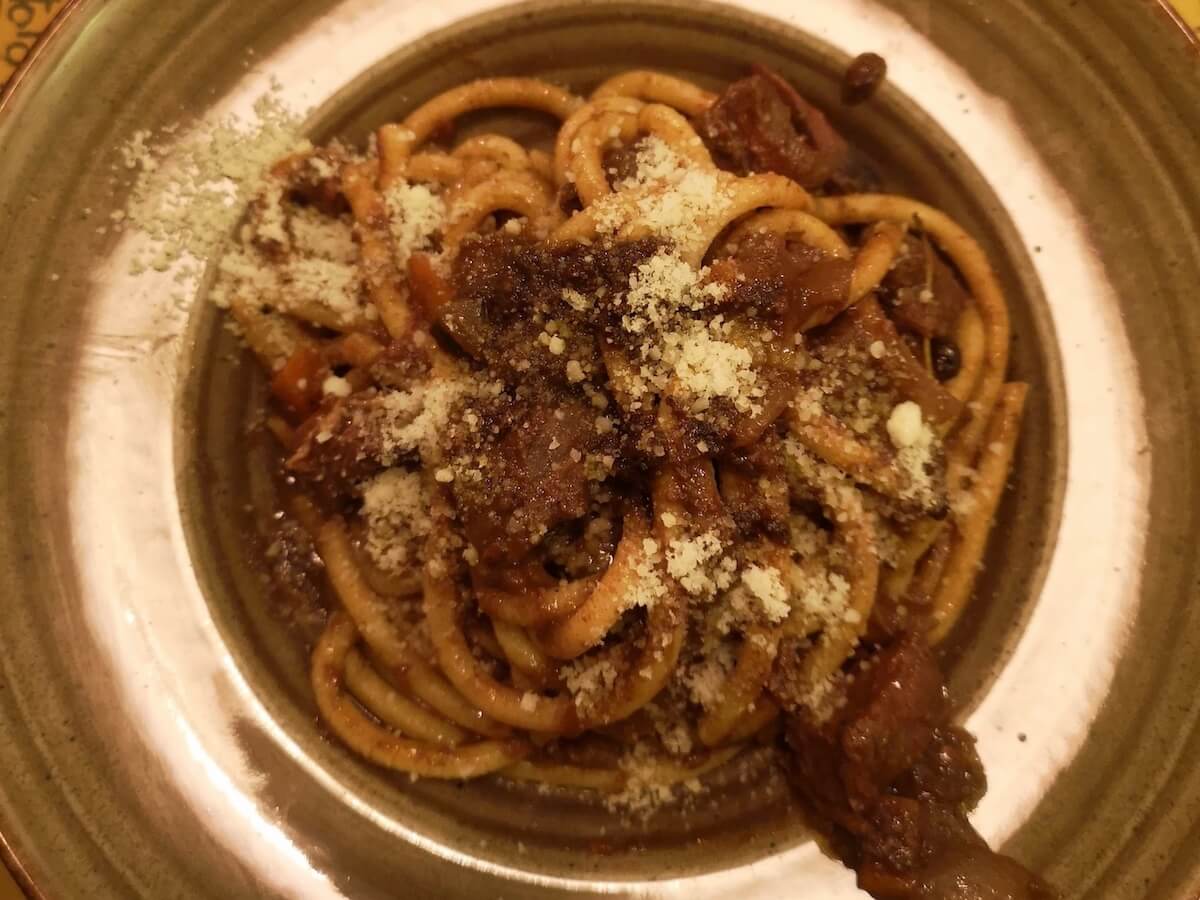 Verona is a paradise for food lovers, and excellent restaurants are everywhere you look in the city of Romeo and Juliet. Wherever you end up going for cena, make sure to sample local delicacies like Pastisada de Caval - slow-cooked horsemeat marinated in Valpolicella red wine, pappardelle or bigoli pasta with duck ragu, and the wonderful risotto all'Amarone, a deliciously rich concoction of rice, red wine and cheese. Some of our favourite moderately priced restaurants in the city include Osteria al Ciottolo, Trattoria Arco dei Gavi, Trattoria al Pompiere and La Taverna di Via Stella.
We hope you enjoyed our guide to 24 Hours in Verona! Through Eternity Tours offer carefully crafted expert-led tours of Verona and the Veneto. If you'd like to see the city of Romeo and Juliet in the company of an expert local guide, then be sure to check out our Essential Verona Tour!